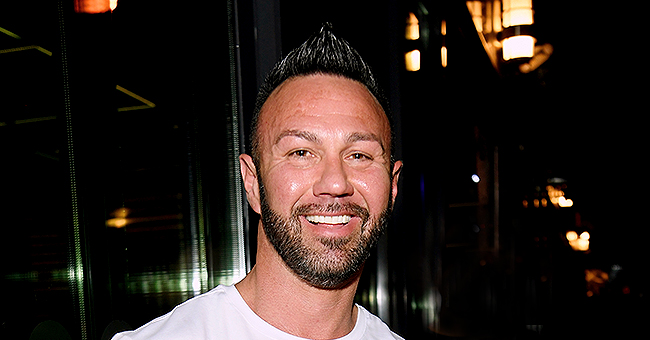 Getty Images
JWoww's Ex Roger Mathews Slammed for Fake Cigarettes in Halloween Costumes of His Kids with the 'Jersey Shore' Star
A photo posted by Jwoww's ex Roger Mathews has earned him tonnes of criticism from sections of social media after he included fake cigarettes in the costumes of his two children.
Roger Mathews is getting a lot of bashing from some fans after his latest post on Instagram.
The businessman shared a series of images of his two children with his ex JWoww, Greyson Valor Mathews, 3, and Meilani Alexandra Mathews, 5, wearing costumes from a 1978 movie.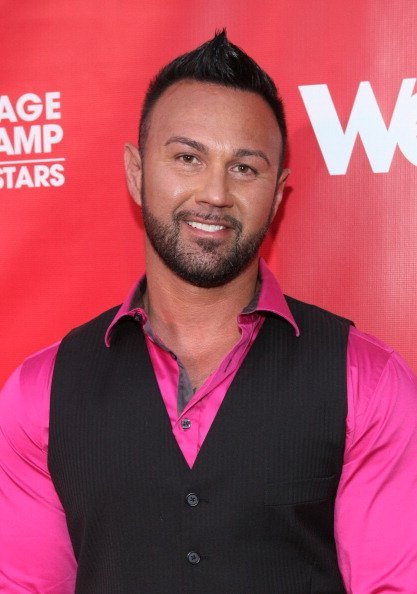 Roger Mathews at the "Marriage Boot Camp: Reality Stars" event in New York City.| Photo: Getty Images.
The children looked great in their outfits, but it was the fake cigarettes that it came with that generated criticism from fans.
"This is not OK… the fake cig is the reason why teens are vaping"
In the post, Roger Mathews shared seven pictures showing his kids in the costumes of the legendary T-Bird Danny Zuko, and "bad" Sandy Olsson, characters from the movie musical, "Grease."
There was an addition to the kids' look that was always bound to generate talk from social media enthusiasts, with Roger Mathews adding fake cigarettes to his children's ensemble.
Some of the pictures showed the cigarettes in each of his kids' lips, while a short video clip showed Meilani pretending to puff it.
Mathews must have foreseen the criticisms that would come his way, and didn't look like he was going to care judging by his caption to the post which said:
"Never was there a better Danny Zuko and Sandra D. Grease came to New Hope Railroad. Please comment on the fake cigarettes so I can block you. Please. They nailed the role and if you don't get it you most certainly would never get us. #Peace."
Roger's threat to block anyone who comments on the cigarettes fell on deaf ears as many people criticized him still. One person said:
"Much respect my friend but you could have done this without the cigarettes bro. As a smoker I don't [think] it was a good idea."
A second person commented thus:
"Disgusting indeed! So much else you can dress the kids with without using cigarettes."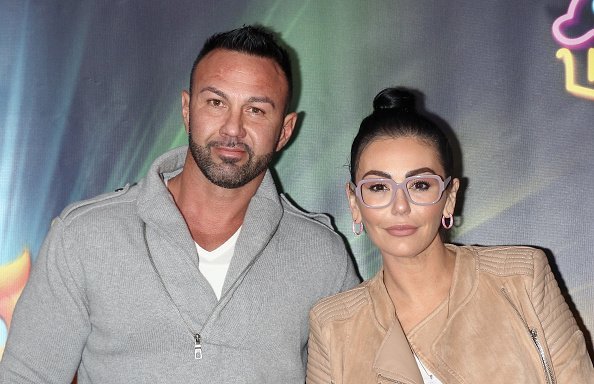 Roger Mathews and Jenni "JWoww" Farley at the Dreamworks Trolls The Experience opening in New York City.| Photo: Getty Images.
While a third had this to say:
"This is not OK… the fake cig is the reason why teens are vaping."
Not everyone was against Roger Mathews, with some fans jumping to his defense. One fan wrote:
"It's funny people try mad about the cigarettes but then let their kids have fake guns or axes or pretending to kill people on Halloween."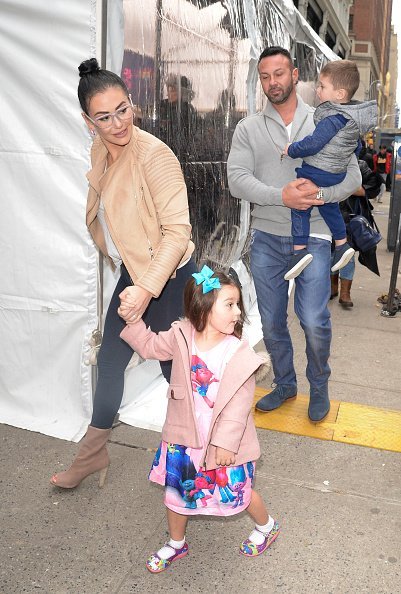 Roger Mathews, Jenni 'JWoww' Farley and Meilani Mathews walking Midtown in New York City.| Photo: Getty Images.
"Do you people really believe this father would give his children real cigarettes? Like what has social media done to humanity? Relax people. Life is not this serious."
Roger Mathews was born on June 1, 1975. The 44-year-old married his ex-wife and mother of his two children, JWoww (Jennifer Farley), in 2015.
He became quite famous following his supporting cast role in the spin-off of MTV's reality series, "Jersey Shore, " titled "Snooki & JWoww," which his ex starred in.
The ex-couple began divorce proceedings in October 2018, citing irreconcilable differences, though JWoww later claimed Mathews emotionally and physically abused her.
Please fill in your e-mail so we can share with you our top stories!