Kim Kardashian's Daughter North Seen with Bright Red Lips for Halloween after Dad Kanye Banned Her from Wearing Makeup
North West wears red lipstick for Halloween and fans are wondering why Kim Kardashian let her wear lipstick, after she admitted Kanye West has banned their daughter from wearing make-up until she's a teenager.
After Kourtney Kardashian shared a Halloween picture of North West wearing lipstick, many fans think Kim Kardashian has a lot of explaining to do.
A week ago, Kim Kardashian admitted that her husband, Kanye West has banned their 6-year-old daughter, North, from wearing make-up until she is a teenager. However, for Halloween, she appeared to have ignored the new make-up rule.
Wearing all red in a long sleeved velvet outfit, North is dressed as a devil for Halloween. Kim has shared that North likes to dress herself, so for her costume she chose fury slippers to match the feathers on her sleeves.
Her cousin, Penelope Disick and a family friend coordinate their outfits to match the devil and angel theme.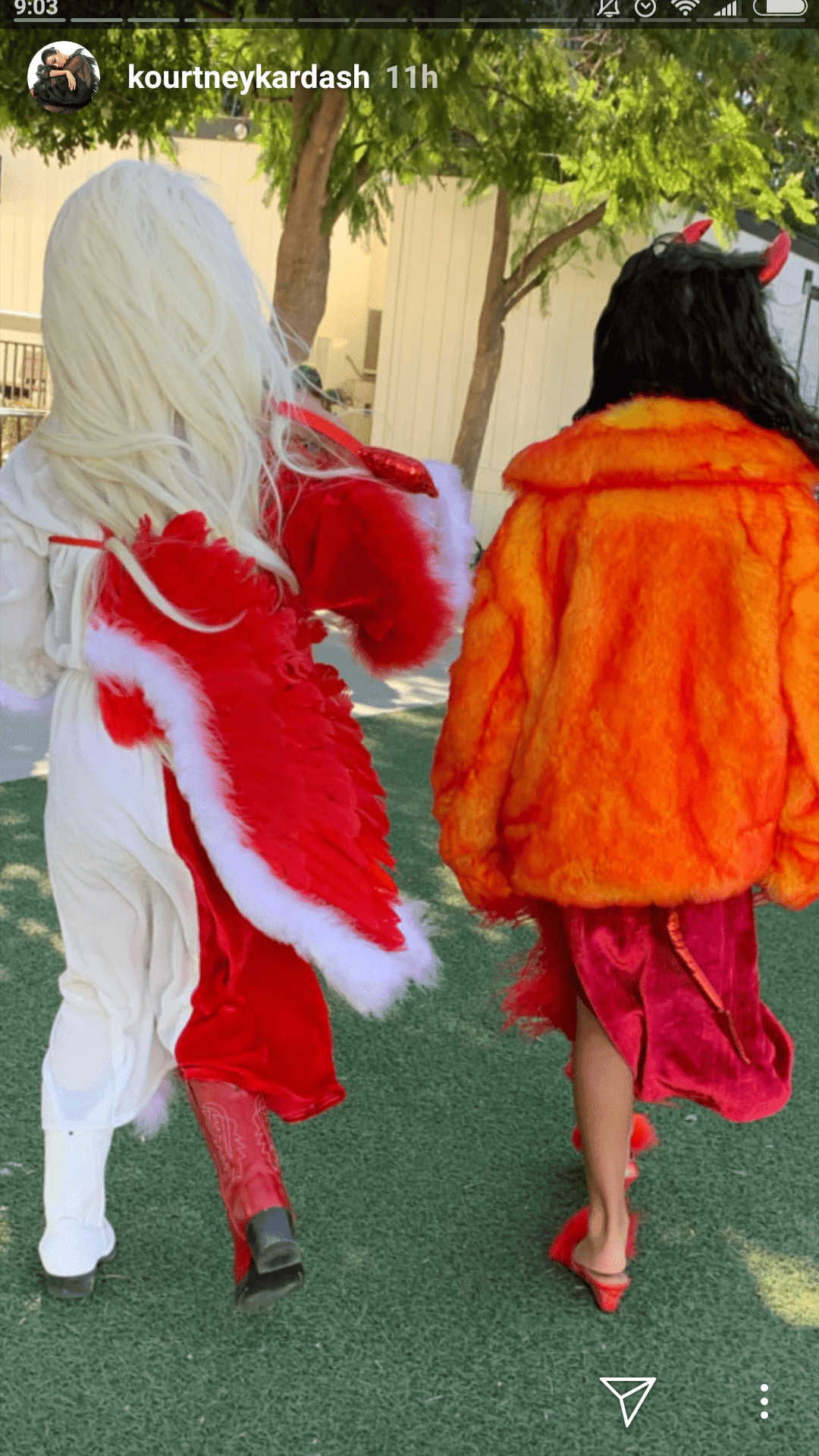 Accentuating every detail of the all-red look, North had her nails painted red and wore a dark red lipstick. Recalling Kim's comment about banning North from wearing make-up, on fans asks:
"Who let north wear the lip stick ?."

"Did Kanye approve of North's outfit?" Another fan says.

At the launch of her KKW beauty line for Ulta stores Kim reveals that North is starting to show a lot of interest in make-up, but Kanye is banning her from using it, she says:
"North is trying to get in on the makeup but she's being blocked heavily because her dad has stopped all makeup for her until she is a teenager."
In the past year, Kanye has confessed to being a born-again Christian. His religious revelation has changed the rapper's outlook on his music, family and fame. 
Kim and Kanye last butted heads when he tried to convince not to wear her corseted met gala dress because the sexy look didn't sit well with his new outlook.
Just like their discussion over her met Gala dress, which ended in an agreement, Kim says Kanye banning North from wearing make-up is "a big discussion, a big fight" the family is dealing with right now.
As if the make-up alone isn't enough to stir up issues, fans also criticized the fact that North wearing a devil outfit. While Kanye champions being a born-again Christian and promotes the release of his "Jesus is King" gospel album, fans say the costume is coming off as offensive to the rapper's spiritual journey.