Linda Hamilton Says She Trained & Didn't Eat Carbs for a Year in Preparation for 'Terminator: Dark Fate'
'Terminator' star, Linda Hamilton says for a year before filming she went on an intense workout and diet regime to get back into shape for the newly released, 'Terminator: Dark Fate.'
A year before Linda Hamilton was set to reprise her role as Sarah Connor in the "Terminator" sequel titled, "Terminator: Dark Fate," she dedicated a lot of time to training before filming began, she says:
"I worked for a year to get ready for this one, Dark Fate. Speaking about the sequel she adds, Terminator: Judgment Day was maybe three months. But they kept postponing the filming."
It has been almost 30-years since she played the role of Connor. In an interview with PEOPLE, she describes the specifics of her workout routine compared to her previous training, years ago, she says:
"We worked on functional mobility. Everything we did was with movement and trying to get the fast-twitch muscle going again, so that I could spring into action and turn, and run, and do the things that were required. So, the training was very different [to Judgment Day]."
Hamilton says she has been living a relatively quiet life since they wrapped filming for "Terminator Judgement Day" in 1991.
In the years following her breakout role, the action star, divorced the movie director, David Cameron in 1999. The couple two children together; Dalton and Josephine.
With her children grown up and her career at standstill, she reveals that she thought twice about taking the role, she admits:
"I wasn't sure if I wanted to. I did't want it to look like a shameless money grab. I am living this quiet, lovely life that doesn't involve being a celebrity, and you really have to think, do I really want to trade that in again for another 15 minutes?"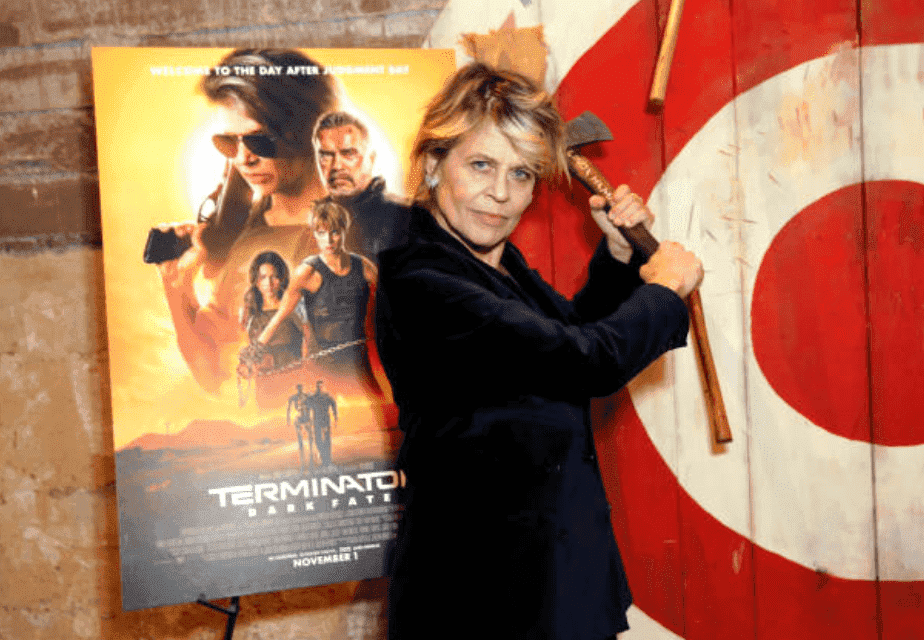 Arnold Schwarzenegger, who stars alongside Hamilton says he jumped at the opportunity to star in the movie because was blown away by the script. 
However, months before filming Schwarzenegger suffered a life threatening complication during heart surgery. 
At 72-years old, he admits that just weeks after his surgery, Schwarzenegger was back in the gym vigorously preparing for iconic cyborg character, "Terminator."
Hamilton says, on top of her gym workout, she also incorporated a carb free diet because playing a female role she as trying to avoid putting on muscle.
Both Schwarzenegger and Hamilton admit that with all the effort they put into their workout, they both realized that their bodies are not quite as agile as they used to be. 
Nevertheless, the action stars continue to set inspiring fitness examples, as they motivate so many fans around the world to maintain a healthy lifestyle.