Prince Harry Reportedly Reminds Young Fan That He's Married after She Called Him Handsome during Japan Trip
After a Japanese school girl compliments Prince Harry on his looks, he playfully flashes his wedding ring to remind the young girls that he is officially off the market.
Prince Harry is no stranger female attention, but since marrying Meghan Markle on May 19, 2018, the newlywed recently showed he is gently setting some boundaries with his female admirers.
Harry was in Tokyo, Japan for the 2019 Rugby World Cup on Saturday, November 2 visitng local school children.
The Duke of Sussex meets Paralympic hopefuls in Tokyo ahead of rugby final
He warmed up for the Rugby World Cup final at a training session for would be Japanese Paralympians and discovered that one or two of them were rooting for England's opponents. #PrinceHarry #Tokyo pic.twitter.com/eXxeXAFhUt

— The Royal Family Channel (@RoyalFamilyITNP) November 2, 2019
In a clip of Harry with young students at a local school getting ready to pose for a group picture and waving Union flags, a young girl appears to call him "handsome."
In response to the girl's compliment, Harry charmingly points at his wedding and says, "I'm married." The girl imitates the same gesture of pointing her ring finger, to which the students burst into laughter.
According to Hello!, going by personal preference, most of the men in the royal family don't usually wear wedding rings. 
Harry broke royal tradition with his choice of ring by choosing a modern platinum design, instead of the traditional Welsh gold design from the Clogau St. David Gold Mine in Dolgellau, Wales.
Unlike Prince Philip and Prince William, who have chosen not to wear a ring, Harry chosen to wear a ring like his father, Prince Charles. In a statement from the palace about Harry and his wife, Meghan Markle's rings, it is revealed:
"Ms. Markle's ring has been fashioned from a piece of Welsh Gold, gifted by Her Majesty The Queen. Prince Harry's ring will be a Platinum Band with a textured finish. Both rings were crafted in the Cleave workshop."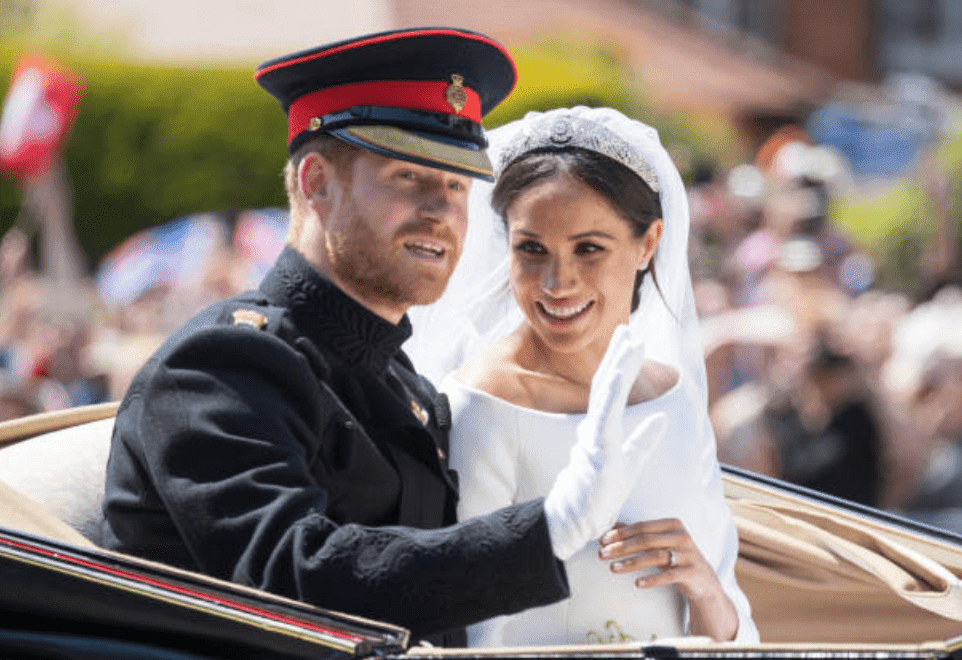 Harry had visited the school and the Nippon Foundation Para Arena to chat to with students before going to watch England compete against South Africa in the 2019 World Cup final. Commenting on the result he says:
"Tonight was not England's night, but the whole nation is incredibly proud of what @EnglandRugby have achieved over the past few months. Hold your heads high boys, you did an outstanding job and we couldn't have asked more from you."
It is reported, Before the Rugby World Cup Final, Harry personally delivered a message to the English team, from Queen Elizabeth praising them for the performance throughout the tournament. Harry also shared with the them a picture of his son, Archie wearing Red Rose Jersey.