50 Cent Says He Is Sorry for Making Fun of 'Power' Co-Star Naturi Naughton in a Meme
50 Cent showed his humble side by apologizing to his "Power" co-star, Naturi Naughton, after making fun of her hairline with a meme on social media.
Aside from being famous for hit rap songs like, "Candy Shop," occasional frolics into movies, and becoming the executive producer of the Starz series, "Power," 50 Cent is known for his inability to apologize when he is wrong.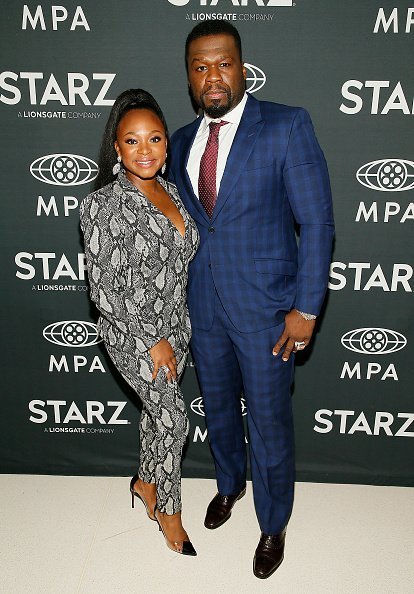 50 CENT'S APOLOGY TO NATURI
Thus, it came as a surprise when he issued an apology to his "Power" co-star, Naturi Naughton after he made fun of her receding hairline.
50 Cent made the apology on Instagram alongside a screenshot photo from Naughton's Instagram story, which had the words,
"Um, mean much @50cent? Don't I make you look good every Sunday night? But cool."
In his caption, the rapper turned actor, wrote,
"Yes, you do a great job on the show @naturi4real. I'm sorry if I hurt your feelings."
The photo shared by the actress on her Instagram story is a screenshot of a meme shared by 50 Cent on his Instagram account.
The meme got created after the two co-stars appeared in Washington D.C. for the screening of "Power" for congressional leaders, with the actress rocking a high ponytail that showed off her hairline.
50 CENT JOINED THE TROLLS
The other part was created from a scene from last week's episode of the crime drama.
The scene showed Omari Hardwick's character, "Patrick' Ghost' St. James," aggressively shoving his on-screen wife, and Naughton's character, "Tasha" in the head after a heated argument.
Rather than ignore the meme, or put a stop to it, 50 Cent joined internet trolls in making fun of his co-star. He shared a before and after photo collage. 
The top part showed Hardwick shoving Naughton's forehead with his fingers, while the down part had a close-up photo of the actress that put her hairline in full view. 
The rapper captioned the Instagram post,
"Power never ends. Ghost [expletive] the edges, lol."
HE GOT CALLED OUT FOR IT
The post offended 50 Cent's followers, and they called him out for it. One person wrote in the comment section,
"Oh @50cent, you [just] humiliated [Naughton]. Wow! I can't believe you put her on blast like that."
"How do you do this to your own cast member? This is wrong."
It appears the words worked in showing the rapper the error of his ways, and since the internet never forgets, 50 Cent would most likely be careful about trolling those he works with in the future.