Tarek El Moussa Shares Sweet Pic of 'Selling Sunset' Star Girlfriend Heather Rae Young with His Son Braydon
Fans shower Tarek El Moussa with compliments after he share's a picture of his girlfriend, Heather Rae Young holding his four-year-old at a soccer game.
On Saturday, Tarek El Moussa was accompanied by his girlfriend, Heather Rae Young and son Braydon El Moussa, to support his daughter, Taylor El Moussa at her soccer game, in Newport Beach. The proud father of two gushes:
"❤❤❤I just had to share this because it melts my heart:) Tay is sooo good at soccer!! Yesterday was her play off game and they went again a team that beat them bad last time!"
Celebrating his daughter's victory, Tarek shares with his followers the exciting story of how Taylor helped her team secure their win, he explains:
"They won 1 to 0 yesterday and she scored the goal winning goal. She only scored because she never quit! She drove through 4 defenders who couldn't stop her and got her team to the semi finals!!"
In the picture Tarek and his family sit on the side-lines of the soccer field, under tented camping chairs. Braydon looks comfortable holding a cell phone, while sitting on Heather's lap, in his post he continues:
"Tay!!! Daddy loves you and it so proud of you!! And Mr. Handsome I'm glad you had fun chillin with @heatherraeyoung ❤."
"Those kids will be so proud to have such strong father who knew how to move foward for greater and better things! They are learning from their daddy to try their best and be the best!!!! You're a great example Tarek ?? Bless you and your kids and your relationship ???," a fan says in response to Tarek's post about his children.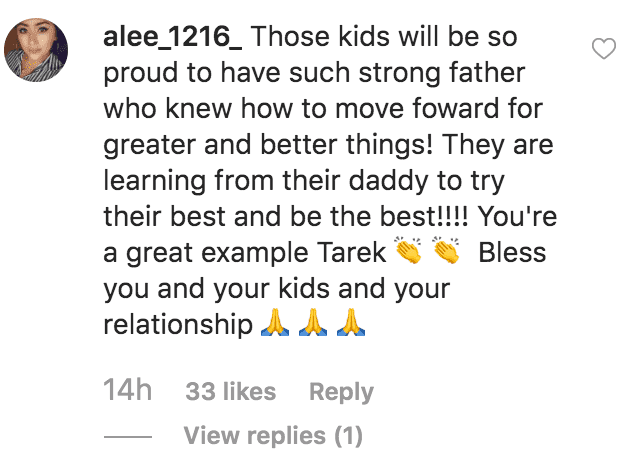 After divorcing Christina Anstead in 2018, the couple have managed to maintain a good co-parenting relationship. It is reported, he has been dating Heather since July, 2019. Commenting on his new relationship a fan says: 
"Sometimes good things need to fall apart so great things can happen ?."

"That is one proud papa! ?," another fans adds.

Speaking to US Weekly about his future plans with Heather, Tarek reveals that the couple have definitely spoken about getting engaged. He says they are "kinda rolling with things right now" and are looking forward to travelling across Europe together soon.
He tells the magazine they plan on travelling to Paris and Amsterdam. With engagement talk already on the table hopefully Europe will give him the perfect setting to pop the question.