Bode Miller's Wife Morgan Beck Paid Emotional Tribute to Late Daughter Emmy on Her Birthday
Morgan Miller honored her late daughter with a tearful tribute on her supposed birthday, 16 months after she drowned.
Bode and Morgan Miller lost their daughter Emmy after she accidentally drowned in 2018. The toddler was supposed to turn three today, which her mother remembered with a heartfelt tribute on Instagram.
MISSING LITTLE EMMY
Morgan posted two photos of her late daughter on November 5, with the first snap of her Emmy as an infant and the second as a toddler wearing a pink dress. She wrote:
"Happy birthday baby girl. Today would have been your 3rd birthday. We miss you so much."
Morgan recently gave birth to twin boys who joined her two kids, Nach and Easton. The Olympic skier is also a father of two kids from his previous relationship.
Despite having kids, Morgan still keeps little Emmy on her mind, which often reflects on her Instagram posts.
Last week, the mom-of-two posted about her little girl during an afternoon out with her four-year-old son Nash. She captured a rainbow above Emmy's pictures on the wall and said:
"You guys! Did anyone else see this rainbow orb over her pictures? My baby girl is seriously everywhere."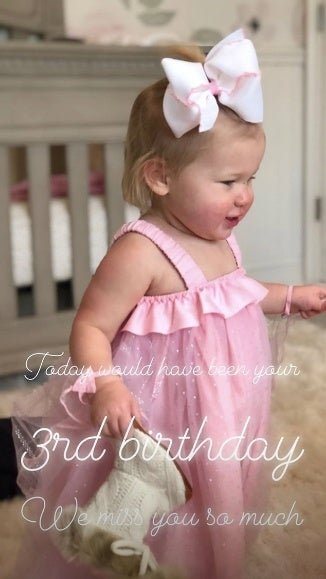 EASTON COMES AFTER EMMY'S DEATH
Last August, Morgan again posted about her daughter as she penned a reflection about losing a child while pregnant with her son, Easton. She shared:
"Losing a child while pregnant was the most confusing experience of my life. The conflict of emotions from what was pure joy turned to guilt and terror overnight. How could I love this baby the way I loved Emmy?"
The grieving mom added that Easton's arrival was not a replacement of her daughter, but a connection that brought them closer to her. "My joy and grief could coexist," she said.
TEACHING EASTON HOW TO SWIM
After losing a child to a tragic drowning accident, the couple made sure that their son Easton was taught the basics of swimming, which they believe is a skill that can save lives.
Morgan shared that her son was enrolled in a program called Infant Swimming Resource (ISR), which teaches the basics of water safety for infants.
She shared photos of her son and the mixed emotions of happiness and sadness she felt because of her daughter's accident.
Emmy drowned in a backyard pool accident of their neighbor at 19-months-old. Brode was not present then, while his wife was inside the house.