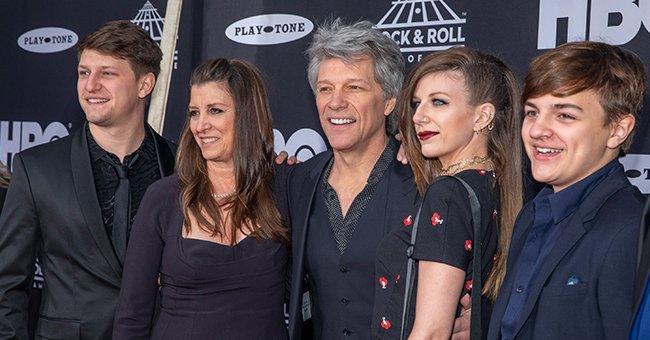 Getty Images
Jon Bon Jovi Has Been Married to His Wife for 33 Years and Is a Proud Father of 4
Jon Bon Jovi is one of the most successful rock 'n' roll icons to date, but he takes the most pride in being a doting father to four beautiful kids, who he shares with Dorothea Hurley. Despite his busy schedule, the musician made it a point to fulfill his shoes as a father, which his kids appreciated.
Born John Francis Bongiovi Jr., the rock star gained fame through his music with the stage name Jon Bon Jovi. While many know John as the frontman of the band Bon Jovi, which formed in 1983, he is a loving husband and a doting dad behind the stage.
Before the fame, John was a student at Sayreville War Memorial High School in Parlin, New Jersey. During these years, he met his wife Dorthea Hurley. with who he has a bond of over 40 years, 33 of them as a married couple.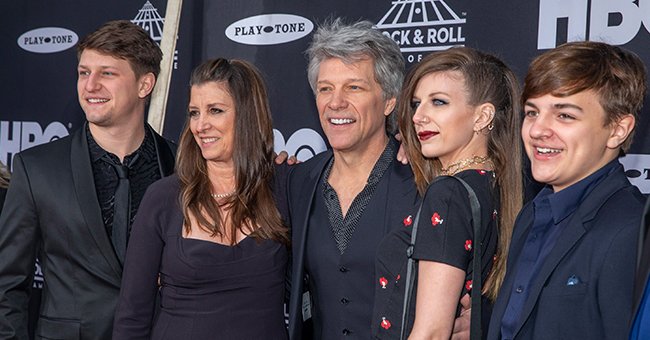 Jon Bon Jovi and his family during the 33rd Annual Rock & Roll Hall of Fame Induction Ceremony at Public Auditorium on April 14, 2018 in Cleveland, Ohio. | Source: Getty Images
BECOMING A COUPLE
The couple reportedly met while John attempted to cheat on his test from her paper. They later knew each other more when Dorthea dated John's best friend, Bobby. It wasn't until they were in their 20s that a romantic relationship began.
In 1989, nine years after they met, John and Dorothea became husband and wife. While in Los Angeles during his "The New Jersey Syndicate Tour," the musician secretly went to Las Vegas to tie the knot at the Graceland Wedding Chapel.
Although there were challenges that tested their relationship, the couple stayed strong. In an interview with People, John said their mutual respect contributed to their long-lasting marriage. "We work hard at it," he added. "But we enjoy each other, and we never fell for the trappings of what [a] celebrity can do."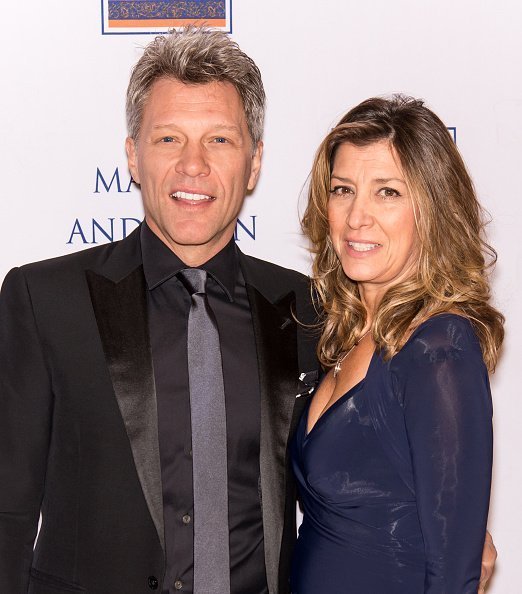 Jon Bon Jovi and Dorothea Hurley together at the Kimmel Center for the Performing Arts on November 18, 2014 in Philadelphia, Pennsylvania. | Source: Getty Images
EXPANDING THEIR FAMILY
John and Dorothea welcomed their firstborn, Stephanie, in 1993. After two years, they had a son, Jesse, and welcomed another son, Jacob, in 2002. Their youngest child, Romeo, was born in 2004.
While raising his children, John was also traveling to further his career. He never let his music be better than his fatherhood despite the busy schedule. In a previous interview, John said:
"It's just what I do; it's not who I am. I write songs. I happen to be very good at performing them. That's it."
STEPHANIE'S TIMES IN THE SPOTLIGHT
Stephanie Rose Bongiovi was born on May 31, 1993, and is the only daughter of John and Dorothea. Like her father, she pursued a career in the entertainment industry but worked behind the scenes as a camera operator. Some of her productions include the Comedy Central series "Impractical Jokers."
Amidst the pandemic, Romeo was able to quarantine with all his other siblings, as revealed by his mother.
Despite choosing to live away from the spotlight, Stephanie has caught the public's eye a few times. Once was in 2012 when she was arrested on drug charges after an alleged overdose. At that time, Stephanie was a student at Hamilton College who was found unconscious with heroin in her possession.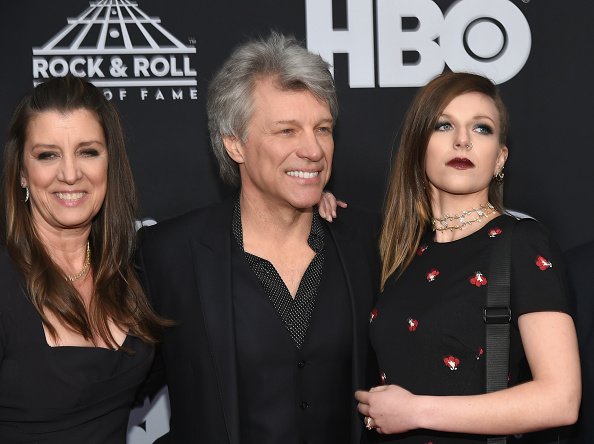 Dorothea Hurley, Jon Bon Jovi, and their daughter Stephanie at Public Auditorium on April 14, 2018 in Cleveland, Ohio. | Source: Getty Images
Although her charges were dropped, thanks to a law that prohibited the prosecution of those who experienced an overdose, Stephanie's father felt his lowest. According to the "Livin' On a Prayer" singer, it was his "worst moment as a father." He said:
"The first thing she said [was] 'I'm alright.' But then she said, 'This is what happened.' [... As a parent,] you wake up, you shake it off, and put your shoes on and say, 'OK, I am on the way home.'"
Her other time in the limelight happened when she joined her father on stage during a concert, performing the song he wrote for her, "I've Got The Girl."
JESSE AS A BUSINESSMAN
Born on February 19, 1995, Jesse Bongiovi is the eldest among the boys and the second child of John and Dorothea. Although he didn't follow his father's footsteps as a musician, Jesse became a star in his own right as a wine entrepreneur.
Following his graduation from the University of Notre Dame in Indiana, Jesse launched the rosé brand Hampton Water Wine Co. with his father. The brand, which collaborated with winemaker Gerard Bertrand, made it to the Wine Spectator's Top 100 Wines of 2018 list. According to Jesse:
"We wanted Hampton Water to challenge the norms of the rose market and shift perceptions that rosé was consumed by females in warm weather months."
He added, "Our goal was to establish Hampton Water as the go-to-year-round rosé, a brand that challenged 'traditional' gender roles through our 'Pink Bottle Boys' brand extension. Real men drink pink!"
With all that he has accomplished, Jesse couldn't help but credit the man who pushed him beyond his limits to succeed. Jesse revealed that his hard-working father woke him up during summertime to tell him that John did a six-mile run. Leading by example, John carved a path his kids could follow.
A piece of advice John also told Jesse was to be patient and take his time. "I apply that to all aspects of my life now, especially when there's an important decision to be made," Jesse said. "It's best to take your time to make sure it's done exactly the way you want it because there's no turning back."
JACOB'S LOW PROFILE
John and Dorothea's third child, Jacob, was born on May 7, 2002, and has a striking resemblance to his father. Jacob is a high school graduate from the Pennington School, New Jersey, and a student at Syracuse University, New York.
Although he hasn't set his career path, Jacob previously made headlines for helping organize a national student walkout in protest of the government's lack of response to mass school shootings.
Jacob's name was highlighted on the news again when he was spotted holding hands with actress Millie Bobby Brown. However, their relationship was never confirmed nor denied.
ROMEO'S STUDENT LIFE
Born on March 29, 2004, Romeo is the youngest of the four children of singer-songwriter and his wife. Romeo keeps a relatively low profile and is only seen by the public through his father's posts. However, he has attended several awards with his family, including Grammy Awards.
Romeo is currently focusing on his life as a high school student in Manhattan under his parents' care. Amidst the pandemic, Romeo was able to quarantine with all his other siblings, as revealed by his mother. In a previous interview, John said:
"For about a month, our whole family was intact. Then the big kids finally said, 'We're out,' and made a run for it."
Meanwhile, Dorothea said she was grateful to have her family together, spending quality time. Although already adults, the couple's children continue to contact their parents.
Please fill in your e-mail so we can share with you our top stories!