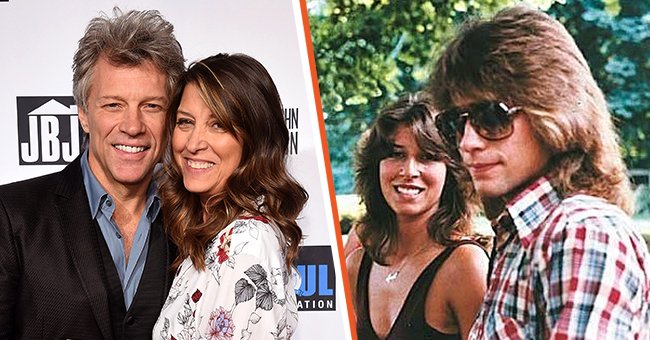 Instagram/jonbonjovi
Jon Bon Jovi 'Got It Right the 1st Time' as he Turned His School Love into a 40 Years Romance
Iconic singer Jon Bon Jovi has enjoyed a remarkable career spanning several decades, but his forty-year romance with his school sweetheart is the best part of his life.
Jon Bon Jovi has remained an icon in the music industry for several decades. Asides from being an obvious talent, the 59-year-old has been a standout star for his way of life, which many have considered exemplary.
While most of his peers struggled with the demands of fame and drug addiction, Jovi kept himself out of trouble and maintained focus on his career. The award-winning singer credits this decision for the good health he enjoyed throughout his career.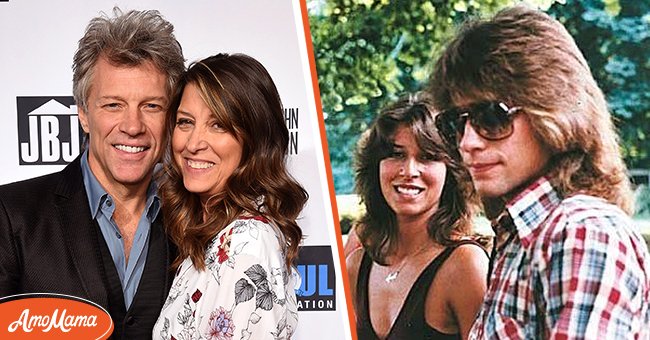 Rock singer Jon Bon Jovi at an event with his wife Hurley. [Left] | Jon Bon Jovi in a photo with his wife Hurley during their youth days. [Right] | Photo: Getty Images
WHO IS JOVI?
Jovi was born in Perth Amboy, New Jersey, on March 2, 1962. His parents, Carol and John Bongiovi, raised him to love arts. By the time he was a teenager, he was already hanging out at local bars, confident that he would be a rockstar one day.
Jovi broke out into the music scene in the '80s, and since then, he has remained a force to be reckoned with. Despite the career success he has enjoyed, the best part of Jovi's life is away from the stage.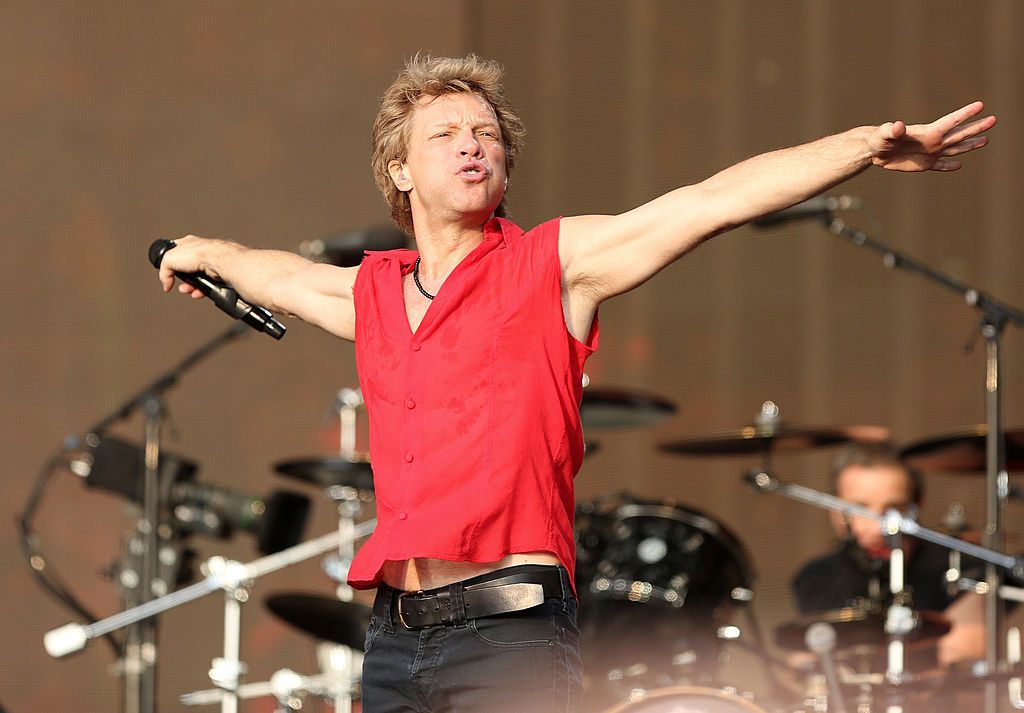 Jon Bon Jovi on stage during day one of 'British Summer Time Hyde Park' at Hyde Park on July 5, 2013. | Photo: Getty Images
Jovi's personal life is almost as successful as the career that has endeared him to thousands of fans. The rockstar shares a 40-year bond with his longtime wife, Dorothea Hurley.
Life with Hurley has been remarkable and fulfilling. Unlike most Hollywood stars that barely stick together, Jovi and his high school sweetheart are aging gracefully and are still in love like they first were several decades ago.
Both can still complete each other's sentences showing how bonded they are. Jovi has known his wife of over three decades for the best part of his adult life, and the duo shares a lovely family.
HOW THEY MET
In high school, the lovebirds met each other when Jovi, who was not yet famous, tried to cheat on a test by looking at her work. Following that incident, they struck up a friendship but waited until they were in their '20s to begin a relationship.
Jovi never lets his status as a celebrity cloud his relationship with his wife
Hurley was dating Jovi's best friend, Bobby, at the time and was simply casual with the singer. The duo tied the knot in 1989 during one of Jovi's tours. Although she does not have the superstar status of her husband, Hurley has done quite well for herself.
In her younger days, she was a junior karate champion and later became a karate instructor. She also co-runs the "JBJ Soul Kitchen Restaurant" chain, which helps homeless people get pre-purchased meals.
LIFE TOGETHER
The duo is doting parents to four beautiful children, daughter Stephanie Rose and sons Jesse James, Jacob Hurley, and Romeo Jon. The famous singer is a family man, and when he is not performing, he loves to spend time with his family.
Life with Hurley has been more than a dream come true. In truth, Jovi's love life has inspired his career as some of his hit songs have come from the pleasure of his relationship with his sweetheart.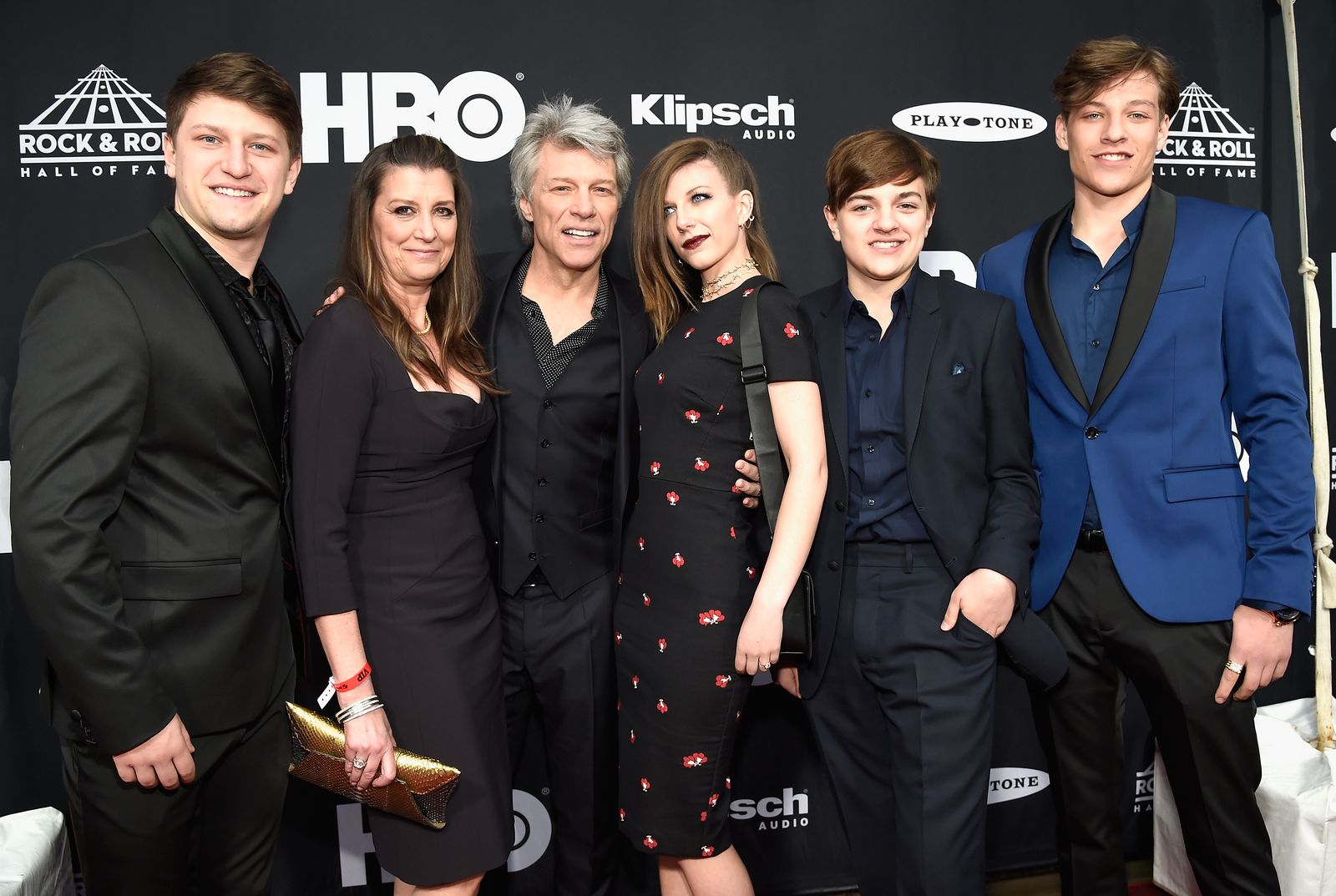 Jon Bon Jovi with his wife Hurley and their kids attend the 33rd Annual Rock & Roll Hall of Fame Induction Ceremony at Public Auditorium on April 14, 2018 in Cleveland, Ohio. | Photo: Getty Images
The couple has also weathered through storms together and has emerged stronger from it. Jovi considers his wife his rock through challenges. Their biggest concern came after receiving a call saying their daughter had overdosed on drugs.
Jovi described the situation as his worst moment as a father. Bongiovi, then a student at Hamilton College in Clinton, N.Y., and her friend, Ian Grant, were later arrested and charged with criminal possession of a controlled substance. Still, New York state laws prevent overdosed people and their helpers from being prosecuted, so the charges were later dropped.
THEIR BIG SECRET
Every magical story has its secret, and Jovi and Hurley's certainly has one, and the couple has been generous enough to share it with their fans. According to the hit singer, mutual respect and deliberate work on their relationship is their secret.
Jovi never lets his status as a celebrity cloud his relationship with his wife, and despite how busy their life can get, the couple prioritizes spending time with each other. Having spent 40 years together, the singer is glad he got it right the first time.
Please fill in your e-mail so we can share with you our top stories!