Derek Hough Tries to Dance for Girlfriend Hayley Erbert While Dressed in Hospital Gown as He Recovers from Emergency Appendix Surgery
After undergoing emergency surgery to remove his appendix, Derek Hough is in high spirits as he dances in his hospital gown for his girlfriend, Hayley Erbert.
"Dancing With The Stars" alum, Derek Hough is literally back on his feet and dancing in his hospital room for his girlfriend, Hayley Erbert, after undergoing emergency surgery to remove his appendix. 
"Woke up at 3am with a severe and a sharp pain in my abdomen. Knew something wasn't right. Turned out it was appendicitis and had surgery to remove my appendix straight away," he explains.
In a video shared on Instagram, a sensual instrumental plays in the background while Hough is shown standing next to his hospital bed and doing a sexy dance, he reveals:
"This is me immediately after, still a little(a lot) medicated, giving @hayley.erbert a (sexy) little dance.

Me: Is this doing it for you babe?

Hayley: So hot.

Thank you for lying to me babe ;)"
In the video, the "World of Dance" judge pulls up the front of his gown up to show off his legs, which he twirls around in tune with the beat before giving the camera a sexy smirk of approval for his dance moves.
Hough and Erbert, who share a passion for dance met in 2015 on "Dancing With The Stars," where they first danced together to Ed Sheeran's song, "Thinking Out Loud,"
Getting front row action of the impromptu hospital performance, Hough's girlfriend, Erbert gushes:
"I don't know anyone that would be sexier than you in a hospital gown and blood clot socks ?."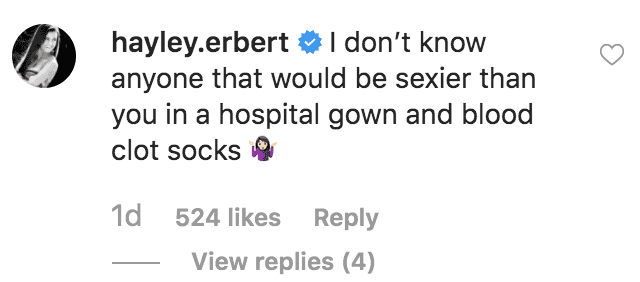 Keeping off his feet while recovering at home, Hough his channelling his energy into another form entertainment and trying his hand at playing piano.
Sharing a picture of himself sitting in front of a grand piano and focusing on the keys he is playing he reveals that he is in the early stages of learning to play the piano, he says:
"Learning something new while recovering."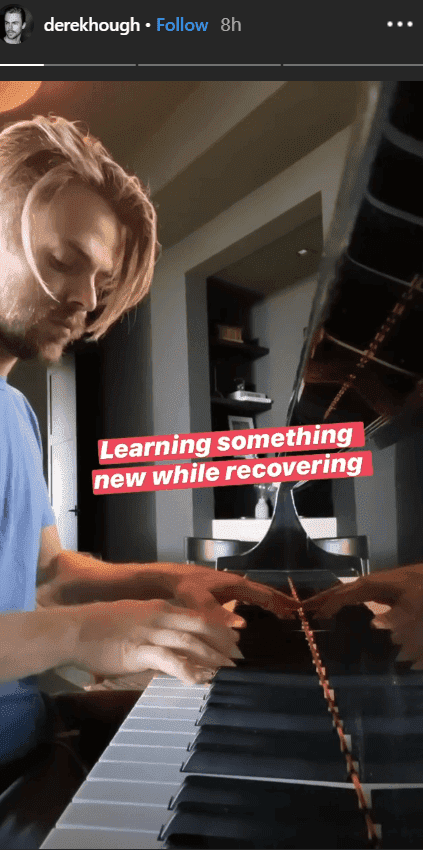 According to PEOPLE, Hough first noticed the pain in his lower abdomen soon after returning from a trip to South Korea he had taken with Erbert.
He says the severity of the pain he felt left him unable to walk in the early hours of morning and forced him to go to the hospital, where he immediately opted for surgery, after finding out he had acute appendicitis.