Theresa Caputo's Daughter Victoria Called out for Her Makeup Routine after Posting New Tutorial Video
After posting a video in which she shares tips on how she applies her everyday makeup look, Theresa Caputo's daughter claps back at people for criticizing her beauty tutorial.
"Long Island Medium," Theresa Caputo is known for her being a ballsy and outspoken mother and wife. 
Taking after her mother, Victoria Caputo is embracing her mother's fierce spirit and clapping back at trolls who criticized her recent make-up tutorial. In the caption she writes:
"Everyday makeup routine."
Showing off the brands, she uses, Victoria says she prefers to wear a thick layer of makeup and has started mixing two heavy-based liquid creams. Criticizing her for her choice of foundation, a fans remarks:
"If you need to wear makeup on your neck and cheat then you're wearing the wrong color on your face!!! You should put makeup YOUR SHADE on your t zone then blend out. It will come out seamless so no need for neck makeup....yuck!"
Victoria responds to the commenter, 
saying: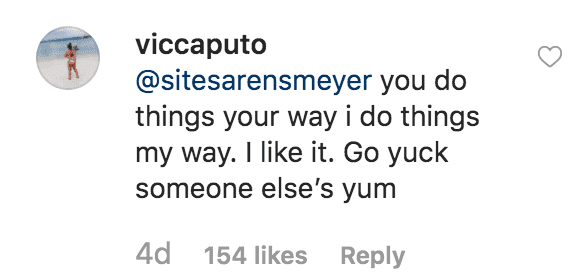 Her video has received a lot positive feedback from fans who liked her tips, but some people are not impressed and after on commenter says she looks too orange, she responds:
"@raynamcdade I like being orange. Thanks though."

This is not the first time she has dealt with harsh comments about her looks. A year ago, Victoria addressed peoples comments about her weight, in part of her message she says:
"Just want to give a shout out to all my haters. Yes i have gained weight recently and although I am not happy about it and have my insecurities it does not change me as a person."
Speaking about the cyberbullying she and her daughter have endured Theresa admits: 
It's kind of disheartening when you post a picture of yourself and people are saying negative things 'Oh, your hair, your nails are gross, what's with that hairdo?'" 
Since dealing with cyberbullying Victoria has spoken out about struggles and has given a talk to young children about her experience, which aired on an episode of "Long Island Medium."