Ice-T from 'Law & Order: SVU' Shares Sweet Family Photo with Wife Coco Austin and Adorable Daughter Chanel Nicole
Rapper Ice-T celebrated his family with a sweet picture of the three of them all dressed up and fans couldn't help but notice his lookalike daughter. 
Tracy Lauren Marrow, best known by his stage name Ice-T, showed off his source of happiness on Tuesday when he shared a heartwarming photo of his wife and daughter. 
Ice-T, 61, looked smart in an all-black ensemble as he sat next to wife Coco Austin, 40, and daughter Chanel Nicole, three, who sat on her mother's lap. The post is found below.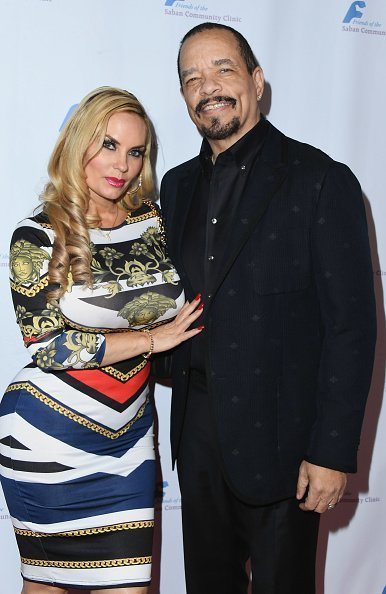 Ice-T and Coco Austin looked stunning
The actor topped off his outfit with a black Panama hat and finished out his black theme with some loafers. He also wore a pair of large aviator sunglasses. 
Next to him, Coco was glammed out in a patterned yellow long-sleeve dress that highlighted her curves even as she sat. The low chest and mid-thigh cut showed off ample skin. 
She completed the look with a pair of green open-toed stilettoes and had on heavy makeup including a bright red lip. Her blonde hair was let loose. 
Even baby Chanel was dressed up
Meanwhile, little Chanel Nicole wore an appropriate white and pink dress that featured puffy sleeves and a flowery design. She wore a pink bando to match and a pair of closed white shoes. 
In the caption, Ice-T wrote: 
"The most valuable thing in my life is Happiness.. I work for that every day."
In addition to working to be a good father and husband, the actor also works every day on the set of the long-running crime series "Law & Order: SVU." 
Are Ice-T and Mariska Hargitay friends?
He and co-star Mariska Hargitay have both remained since the show's very beginning, so some may wonder if the two actually get along and are even friends. 
The pair did an interview on "Late Night with Seth Meyers" and gave fans some insight into their relationship. Both by their words and actions, it was obvious the two get along very well. 
Before they started working together though, they were strangers. Ice-T explained: 
"We could see each other's house from where we lived in Los Angeles, but we didn't know each other. It was just odd, it was weird, and now here we are together."
Chanel Nicole visits the set of "SVU"
With the pair's closeness, it's no surprise then that Hargitay was the one who held up little Chanel Nicole when she visited the set back in October. 
Mom Coco shared the post via Instagram along with the caption "SVU Girls!!" She revealed that her daughter felt special that day thanks to being part of the rehearsal for a scene. 
Kelli Haddish and Jamie Gray Hyder were also in the first picture of the post. In the second, Chanel Nicole sat in a crew chair in front of a computer. The last showed her in a scene with her father nearby. 
The little one had many Halloween costumes
Ice-T and his wife are always doting on their little girl. In late October, Coco shared the most adorable pictures of her daughter dressed up for Halloween along with several throwbacks from previous years. 
The mom of one revealed that her daughter dresses up every week in October, so there were several photos in the post. The last one showed Chanel Nicole as "Alice In Wonderland" with the cutest pouted lips. 
She even had one hand rested on her little waist. With that level of cuteness to go around, we're not surprised that both Ice-T and his wife are constantly sharing pictures of her — and we're eating them up.