Alec Baldwin's Wife Hilaria Opens up about Moment She Learned She Suffered a Miscarriage at 4 Months
Hilaria Baldwin leans on peoples support on social media as she continues to open up about her loss, just days after suffering a miscarriage for the second time this year.
After Hilaria Bladwin announced the news the she and Alec Baldwin had lost their fifth child to a miscarriage, she opens up to her followers on her Instagram story and explains:
"[I] was so excited to have my scan and see my daughter. I was so nervous all day. Perhaps it was some sort of knowing what was going to come or evidence that pregnancy after loss is stressful."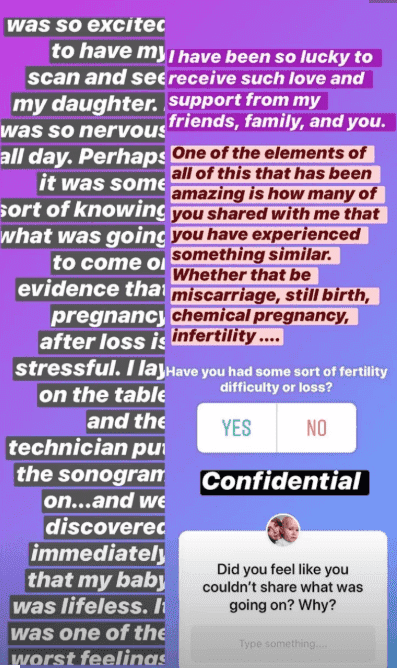 Only five months after Hilaria experienced her first miscarriage in April, she announced the exciting news of fifth baby, in September. 
After revealing that she was excepting a girl, it was during her 20-week ultrasound that her doctors revealed the tragic news about her miscarriage.
During both miscarriages, Hilaria made a conscious decision to share the details about her experience, even the latest one. On her Instagram story, she recalls:
"I lay on the table and the technician put the sonogram on… and we discovered immediately that my baby was lifeless. It was one of the worst feelings."
Thanking her family and friends for the support they have shown her since her over the past week, she adds:
"One of the elements of all of this that has been amazing is how many of you shared with me that you have experienced something similar. Whether that be miscarriage, still birth, chemical pregnancy, infertility…"
After her first miscarriage, Hilaria says she opened up about her experience because she is determined to break the stigma of silence that followers so many people struggling to conceive, she says: 
"It's been an interesting experience being a part of this effort of removing stigma about pregnancy difficulties and loss. Opening up and sharing began as protective measures against industries attempting to monetize elements of my life."
Despite facing backlash from trolls who found her very personal and regular updates about her miscarriage to be "annoying," she says:
"However, it ended up in a great lesson for me on how cathartic it is to share."
Hilaria and Alec have four children together, a daughter Carmen, and sons Romeo Alejandro David, Leonardo Ángel Charles and Rafael Thomas.
In an Instagram video she shared of her daughter consoling her, she hinted at the possibility of trying for another child, something she had also attempted after her first miscarriage.