Kate Middleton's Son Prince George Reportedly Receives Subtle Fashion Nod in Season 3 of 'The Crown'
In episode seven for season three of 'The Crown,' the show pays tribute to Prince William and Kate Middleton's son, Prince George's, by showcasing one of his real-life outfits.
During the highly anticipated premiere episode for "The Crown," the show aired a scene from Prince George's real life.
In the seventh episode, the child actor playing Prince Andrew is filmed wearing the same traditional winter coat Prince George wore in 2016.
Replicating the look worn by George, the show featured their young actor wearing a grey double-breasted wool coat from Pepa & Co. 
According to PEOPLE, a similar version of the now outdated coat can be found from the same company, and its retail value is $206. 
It is reported, Pepa & Co. was founded by a Spanish designer, Pepa Gonzalez, whose designs are sold in a boutique in London.
In the past, several of the brand's outfits have been worn by both George and Charlotte. One of the most infamous looks was a blue and beige jumper worn by George for the official photographs taken for his third birthday.
Giving the wool coat even more historical context, the scene was shot in the same location where George was first pictured wearing the traditional coat.
Almost three years ago, George accompanied his sister, Princess Charlotte, and his parents, Kate Middleton and Prince William, to a Christmas Day church service, Englefield.
Now that the third season of the royal drama has made a real-life connection with the young royals, it remains to be seen if "The Crown" can capture their personalities, a source close to the royal family reveals:
"George is more reserved, and Charlotte is more outgoing. Maybe it's because he's the heir, and one day he might be King."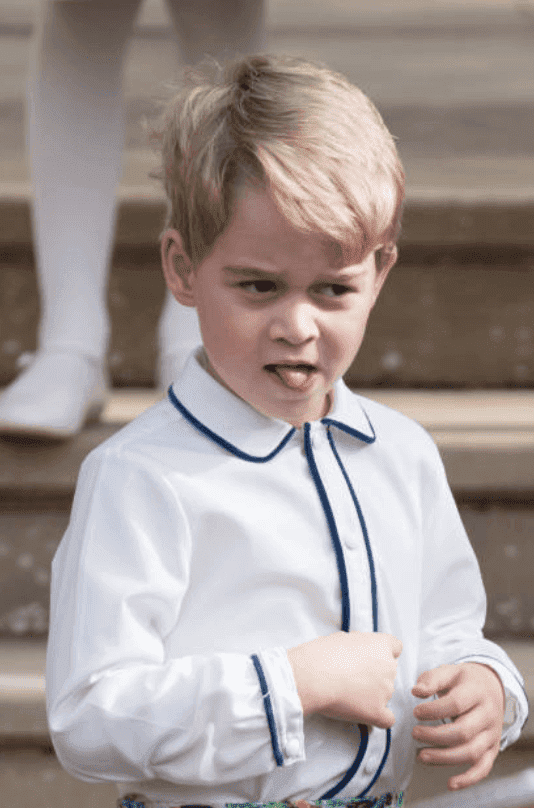 Replicating their real-life family members, the source says the George and Charlotte have a similar personalities to William and Prince Harry, it is explained:
"It's the same difference between William and Harry. Harry is much more laid-back, and William is the more serious one because he will be King one day."
Despite their very different personalities, according to PEOPLE, because they are so close in age, the two share a strong bond and often lean on each other for support.