Jada Pinkett-Smith Opened up about Will's Insensitivity to Daughter Willow's Feminine Issues on 'Red Table Talk'
Jada Pinkett-Smith shared her own story of misappropriated gynecology jokes when T.I. and his wife Tameka Harris joined her for an episode on Red Table Talk.
Almost a month ago, T.I. commented during an episode of the Ladies Like Us podcast that his 18-year-old daughter has "yearly trips to the gynecologist to check her hymen," and he took the opportunity to set the record straight while on Jada's talk show.
"I never said I was in any exam room. Never said it was being done the present day as an 18-year-old. Never said that [Deyjah's] mother (Ms. Niko) wasn't present. She was there every time. All of these things… it's a false narrative," T.I. said.
But Jada could relate to the intention of making a joke about something serious, as she herself is married to the "joker" Will Smith.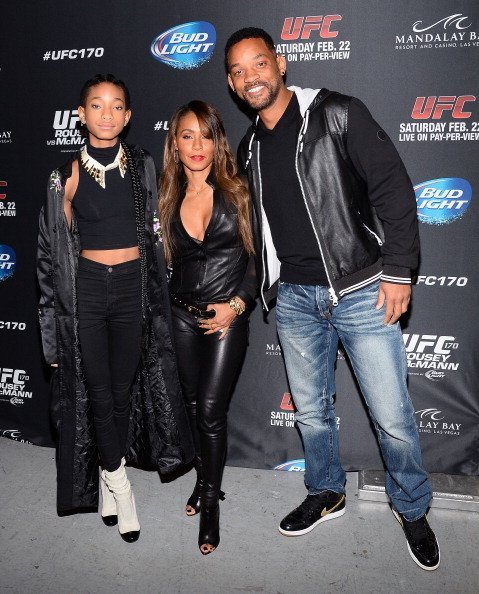 Jada understood because Will sometimes says the "craziest stuff," and while he doesn't understand certain things, Will has her and their daughter Willow to help him on the right track when he sometimes goes too far.
"Willow has gone at her dad several times for very insensitive comments, whether it's around menstruation or, you know, 'You must be PMS-ing,' and she's like, 'That right there, we are not gon' do that,'" Jada said. "Every day, it's a work in progress."
Eighteen years old, like Tameka's daughter, Deyjah, Willow is also outspoken about her views on life and romance. During a previous episode of Red Table Talk, Willow joined her grandmother on the show as they spoke polyamory.
Open about having a romantic relationship with more than one person at the same time; Willow does, however, draw a distinction between a romantic and sexual relationship.
While she is not interested in polyamory for the sake of having more sex, it's about the "emotional connection" and more love to go around in Willow's opinion.
"That's not aligned with my purpose," Willow said. "Personally, male and female, that's all I need."
Admitting that she will give people with insincere intentions a wide berth, Willow also knows that she is still young with many things ahead to learn. 
Now with Willow all grown up and finding her way in life, Jada Pinkett-Smith recently apologized to her daughter for not always being emotionally available in the past.
Looking back at how she acted tough in front of Willow for the purpose of protecting her or trying to set an example, Jada knows it can create separation even if it's not the intent.
"When you had that upset, and you were crying on the couch, and I just came to you and held you, and I said to myself, 'I wish I had done this more to her.' When you can just hold your little girl, have her tears, have her pain," Jada recalled.