Tori Roloff from LPBW Shares New Photos of Baby Lilah Ray and Shares about Her First Bath
Tori Roloff gave her new child a bath for the first time and shared on Instagram the mother-daughter happy time she had.
The "Little People, Big World" stars, Tori, 28, and Zach, 29, welcomed their new addition on November 19. The baby girl was named Lilah and she has a 2-year-old brother, Jackson.
The mother of two gave her daughter the first bath on Monday and shared the experience with fans by posting a lovely photo of Lilah wrapped in a towel.
THE FAMILY OF FOUR
Tori and her husband, Zach first met in 2010 and got married in 2015. They became parents to Jackson in 2017, and she announced her second pregnancy for the first time on "US Magazine" in May, uncovering that the baby would be a girl.
"We are so excited to announce that Jackson is going to be a big brother. We can not wait to meet our sweet baby girl!"
As Tori stated on an Instagram post in July, her second pregnancy was a lot harder than she had thought. She described her body condition and the sad feelings she had because of the inappropriate questions people had been asking.

CHILD BLISS
The reality stars' new bundle of joy has made them much happier than before and use every chance to share the great feeling with friends and fans on Instagram Story.
Amy had previously announced that the baby girl would be a little person  in a now-deleted Facebook post.
One of the new selfies showed all four Roloffs on a couch with Lilah and Jackson sleeping next to each other, probably after having a great time with mom and dad.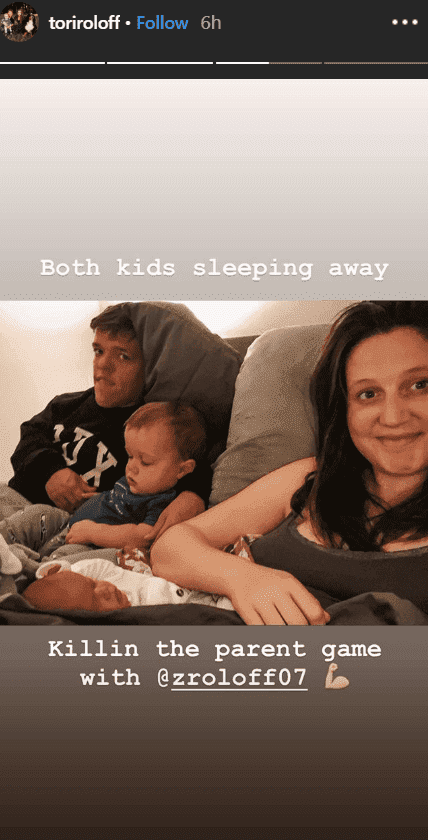 JOY FOR ALL THE FAMILY MEMBERS
Since the baby girl was born, other members of the Roloff family have met her. Amy Raloff, the grandmother shared a photo from the hospital holding the lovely granddaughter in her arms.
"[...] My grand-daughter has my heart and is loved ? so much already. She's beautiful and precious and a blessing to our family."
Matt Roloff, Lilah's grandfather has additionally expressed his love for the newest member of the family and shared a photo hugging the child and laughing.
LITTLE OR NOT?
Considering the dwarfism gene that Zach and all of his family members possess, there is a 50-percent chance that each of the couple's children inherits it.
Tori shared moments of pregnancy on Instagram with followers, and many have been curious to know whether her daughter is diagnosed with achondroplasia or not.
Although Amy had previously announced that the baby girl would be a little person in a now-deleted Facebook post, the couple hasn't confirmed it yet.
Many fans still wonder about the height of Lilah which is unknown to them, and we should wait till the couple issue a public statement regarding the baby's potential diagnosis