Gabrielle Union Thanks Her Fans as She Tweets about Feeling Lost and Alone Amid 'America's Got Talent' Exit Controversy
Gabrielle Union's controversial exit as a judge from "America's Got Talent" had her feeling "adrift," but following an outpour of support, she took to social media to show her appreciation.
Late on Wednesday, "Bring It On" star, Gabrielle Union reached out to everyone who has shown their support after her first season as a judge on "AGT" came to an abrupt end. 
"So many tears, so much gratitude. THANK YOU! Just when you feel lost, adrift, alone ... you got me up off the ground. Humbled and thankful, forever," the actress wrote.
THE PUBLIC RESPOND
Gabrielle's post had far-reaching effects, as it had some people question whether they are doing enough to stand up against racial injustice, while other netizens let the actress know just how much her actions means to them: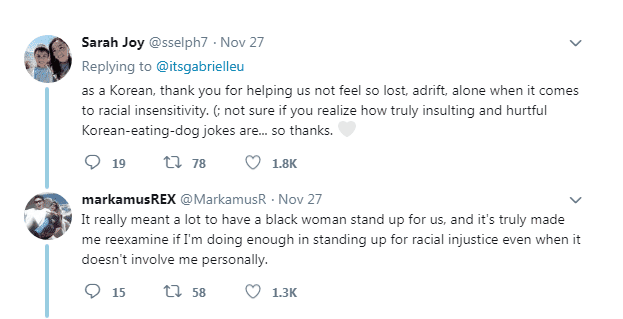 DWYANE WADE DEFENDS HIS WIFE
Both Gabrielle and Julianne Hough got the ax after allegations surfaced that the environment at AGT is "toxic," and Gabrielle's husband, Dwyane Wade soon spoke out in her defense.
In a series of social media posts, Dwyane noted that the show's numbers speak for itself and that he'd been approached by several people stating that they started watching AGT because of Gabrielle's "insight and sincerity."
November 28, 2019
Since his wife's exit from the show had nothing to do with her popularity on the show, according to Dwayne, he is upset that there doesn't seem to be an acceptable explanation to warrant the fallout that occurred.
He did, however, sing Gabrielle's praises for standing up for what she believes in, as he wrote, "As proud as I were of her being selected as a judge on #AGT— I am even more proud of her standing up for what she stands for, and that's US."
HOW THE CONTROVERSY STARTED
The situation that started it all goes back a few months to the taping of an episode of AGT, which aired early in August. Jay Leno joined the show as a guest judge and commented on a picture of Simon Cowel surrounded by his dogs and reportedly said that they looked like something "on the menu at a Korean restaurant."
When Gabrielle urged that the matter be taken up with human resources at NBC and that they needed to understand why the comment is offensive, it reportedly never reached the department. The line got cut from the episode.
NBC AND FREMANTLE RESPONDS
Variety then reported that Gabrielle and Julianne received multiple and "excessive" notes on their physical appearance, and NBC later claimed in a statement to PEOPLE that the talent show has a "long history of inclusivity and diversity.
"The judging and host line-up has been regularly refreshed over the years, and that is one of the reasons for AGT's enduring popularity. NBC and the producers take any issues on set seriously," a spokesperson for NBC and Fremantle said.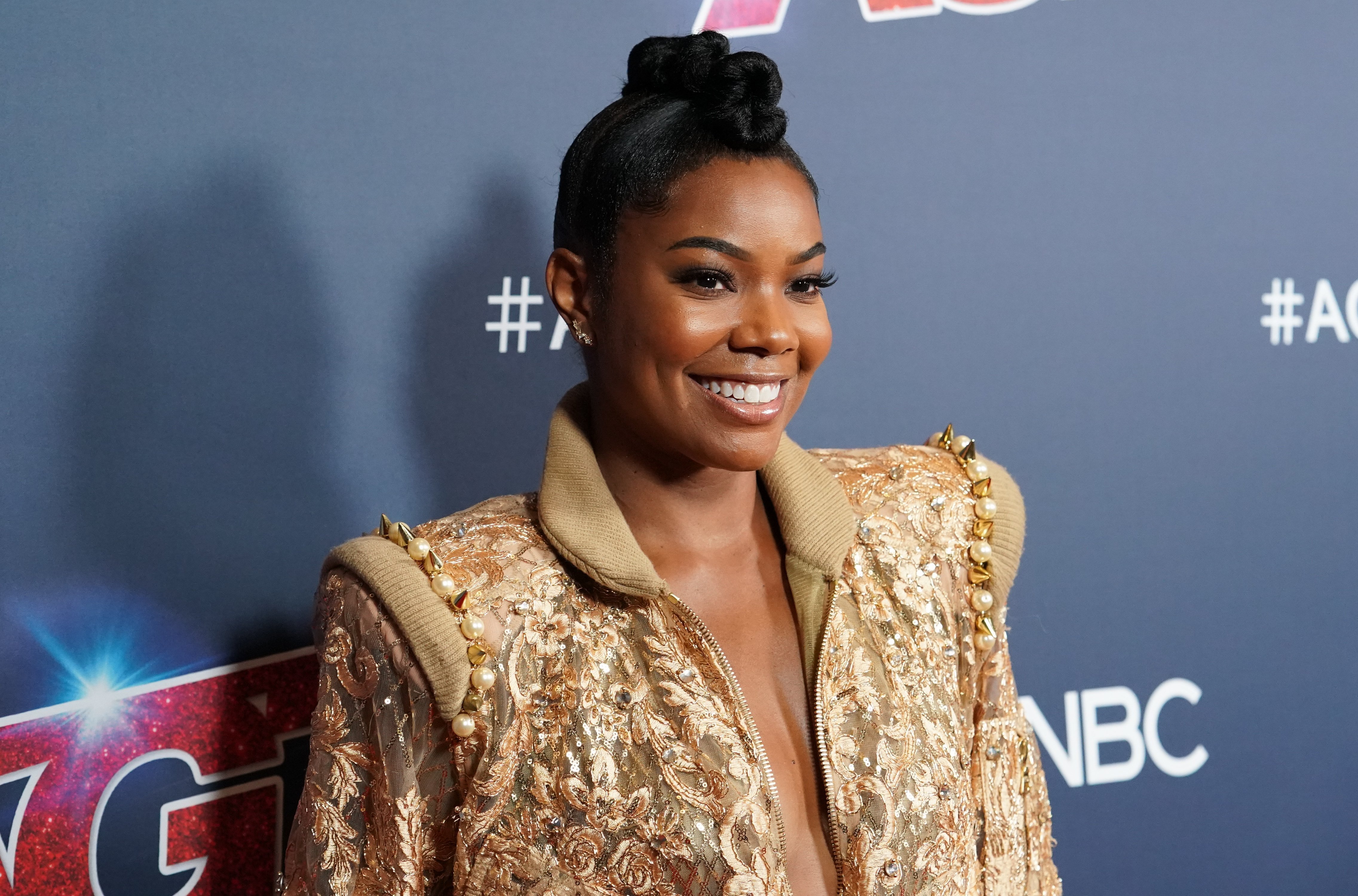 GABRIELLE GIVING THANKS 
In the spirit of Thanksgiving, Gabrielle took to social media to reiterate her feelings of "thankfulness" amid the evolving issue as she wrote alongside a family snap:
"Grateful ❤❤❤ Happy Thanksgiving, good people. To all the friends and family that have my back and all the friends and family, I've never met who show love and support when everyone is looking and when no one is looking...All praise, gratitude, and thankfulness."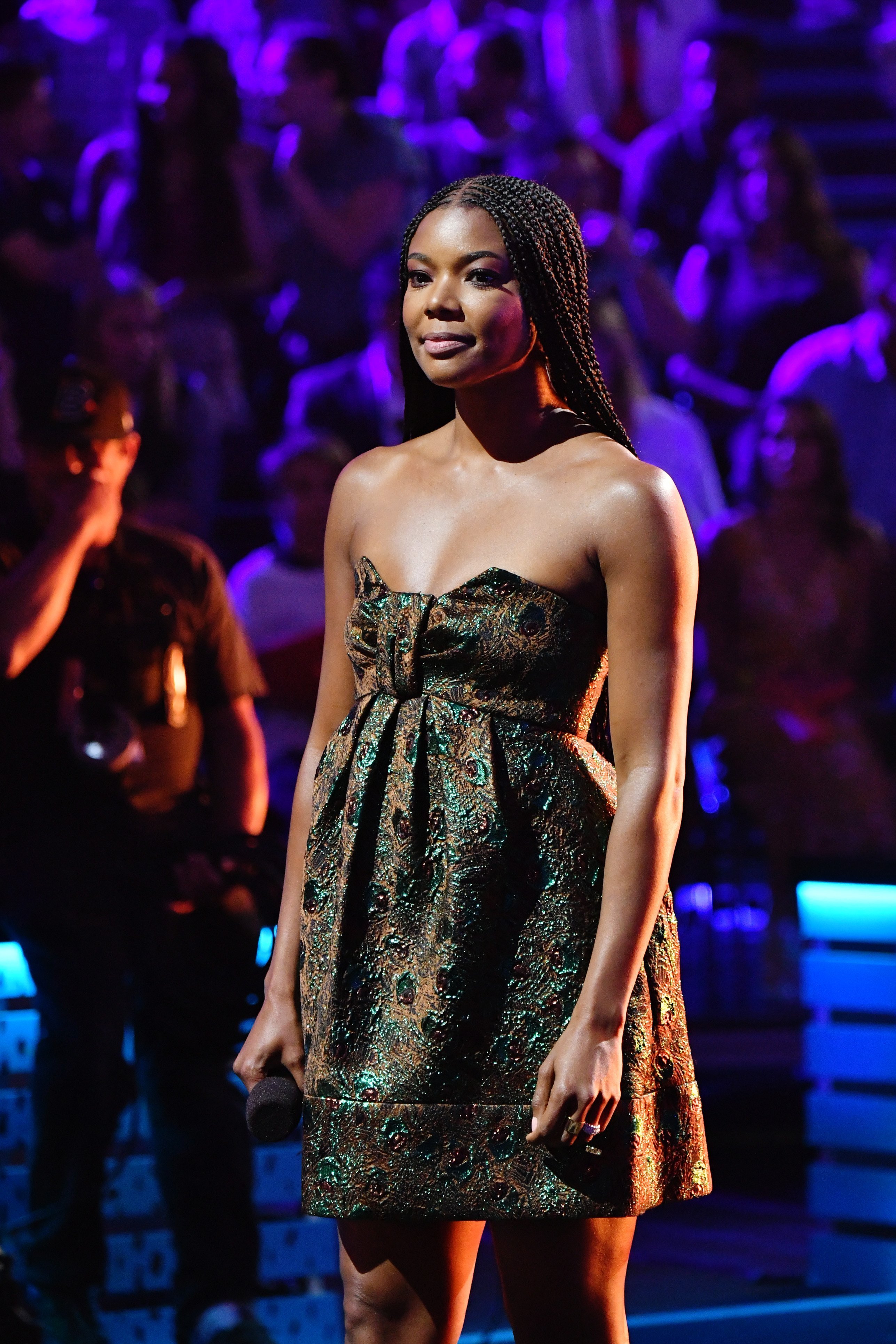 TREASURED TIME WITH KAAVIA
A few days before the story hit the news, Gabrielle Union celebrated National Princess Day on November 18 with a mischevious looking one-year-old Kaavia.
With an adorable snap posted to social media, Kaavia wore a camouflage shirt with pink sewn in petals, and her name "K Wade" written on the lapel of her shirt.
Kaavia's expression really sold the snap, as she had a gleam in her eye as she smiled up at the camera with four baby teeth hard to miss. "I meeeeaaannnn… ❤❤??????" Gabrielle captioned the adorable picture.