Man Sparks Heated Debate for Telling His Wife She Has to Pick between Him or Her Family
The "front page of the internet," Reddit played host to a heated debate when a man posted about how he told her wife to choose between him and her family.
On December 1, a user by the name, "Resident-simple," posted on the "Am I the [Expletive.]" or AITA forum on Reddit. The user asked if he was wrong in being fed up with the constant drama in his wife's family. 
The user started his post by talking about the constant drama in his wife's family. The user also said that his wife is almost always gets involved in it. 
THE FAMILY FEUD 
OP mentioned how it was natural for her family to talk to her and bother her regarding any disputes. However, OP mentioned that after she gets involved with the issue, things get ugly. 
"In the end, she only gets into an argument with someone, and the family turns on her. Every time she says she'll stay away from their issues, but once something comes up, she jumps at it."
OP made it clear from the first part of his post that there was a lot of drama going on in his wife's family, and it was bothering their relationship. 
CAUGHT IN THE WHIRLPOOL OF DRAMA
As the post went on, OP revealed that the drama didn't always make its way to their family. He mentioned how his wife used to pick her battles and steer clear of the things that weren't serious. 
Things changed since the past year when OP's wife jumped into every issue and made it a battle. The fighting came to an end for a month after OP told his wife that it was not good for her, but it didn't last long. 
According to OP, the reason he posted his query on Reddit was something that happened a couple of days ago. The couple was going out in the evening, but OP's wife called her sister, and the drama began. 
THE PLOT THICKENS
OP's wife got word of the latest issue in her family from her sister and started texting other members about it. The texting went on for hours and ended with her getting into an argument with her aunt and mother. 
She canceled the outing plan because she wasn't in the mood anymore. That instance was the last straw for OP. He told her that he understood how stressful it was, but all of the drama and fights had to stop. 
He finally told her to choose between him or her family because the constant involvement and fights were deteriorating their relationship. 
REACTION TO THE ULTIMATUM
OP wrote how his wife went from "angry to extremely distressed and crying." She accused OP of being manipulative and told him how he didn't have the right to push her family away.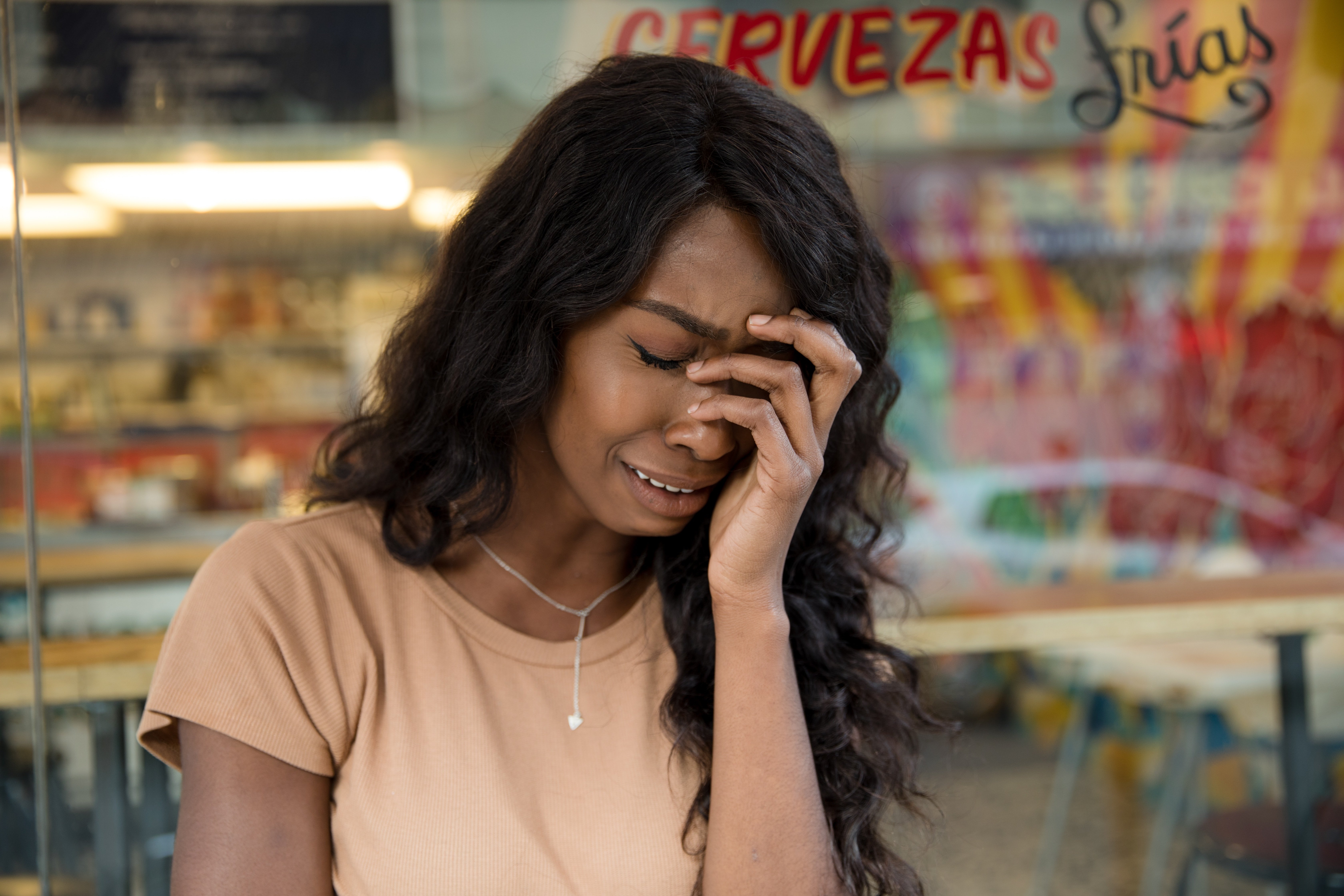 She later packed up some of her things and went to a friend's place to spend a couple of days. In the post, OP also mentioned how he tried to call her but to no avail as she had already blocked him.
After OP texted her friend, she told him how he should respect his wife's time and let her be for a while. OP felt like he was not in the wrong and took to Reddit to place his concern.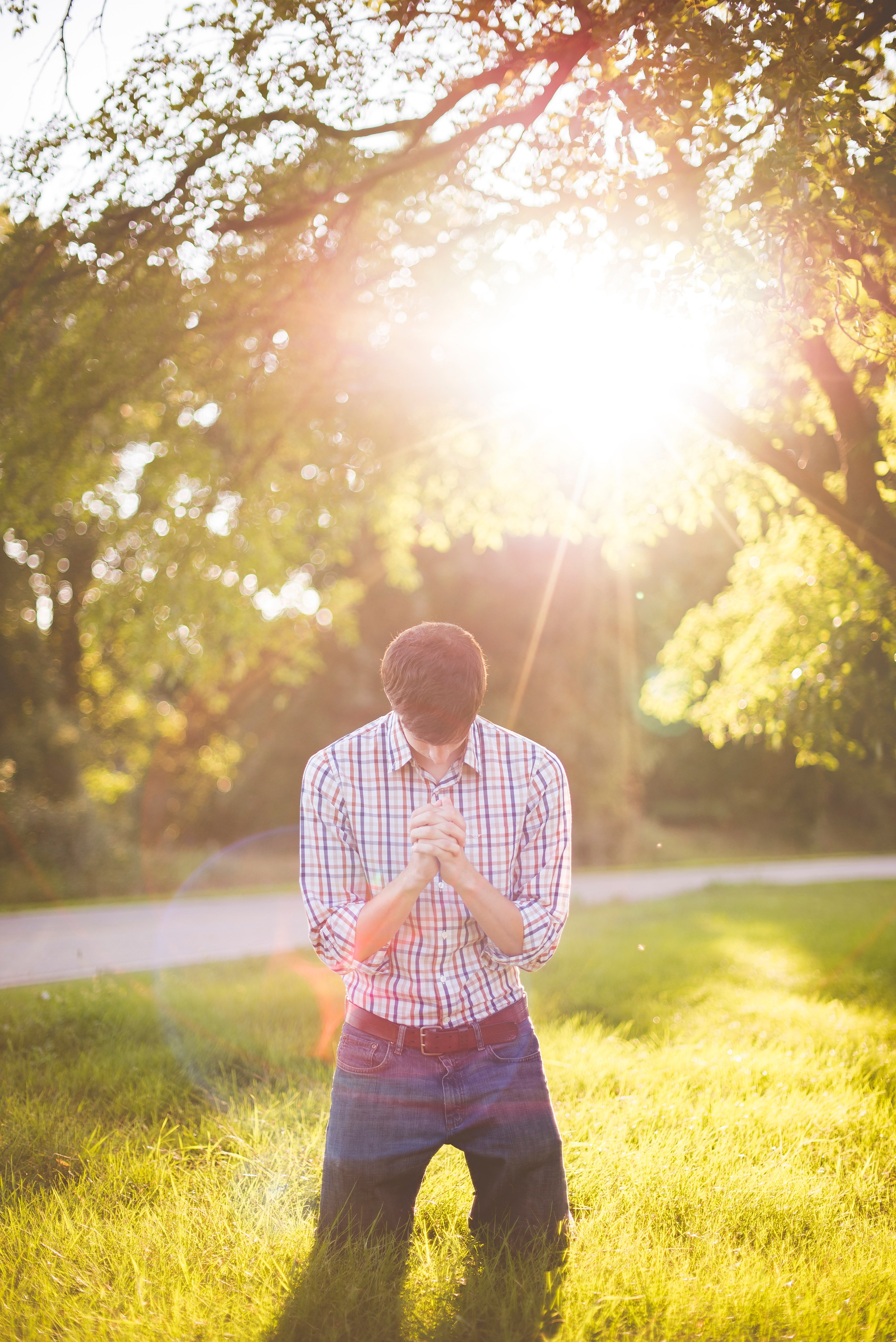 THE REDDIT VERDICT
The users of Reddit came to a consensus when it came to OP's condition. Most of the comments mentioned how OP's wife was not right to get involved in so much trouble. 
Another group of netizens added that she was a "Gossipmonger" or a "Drama Queen." Someone who had to be involved in some sort of drama at all times.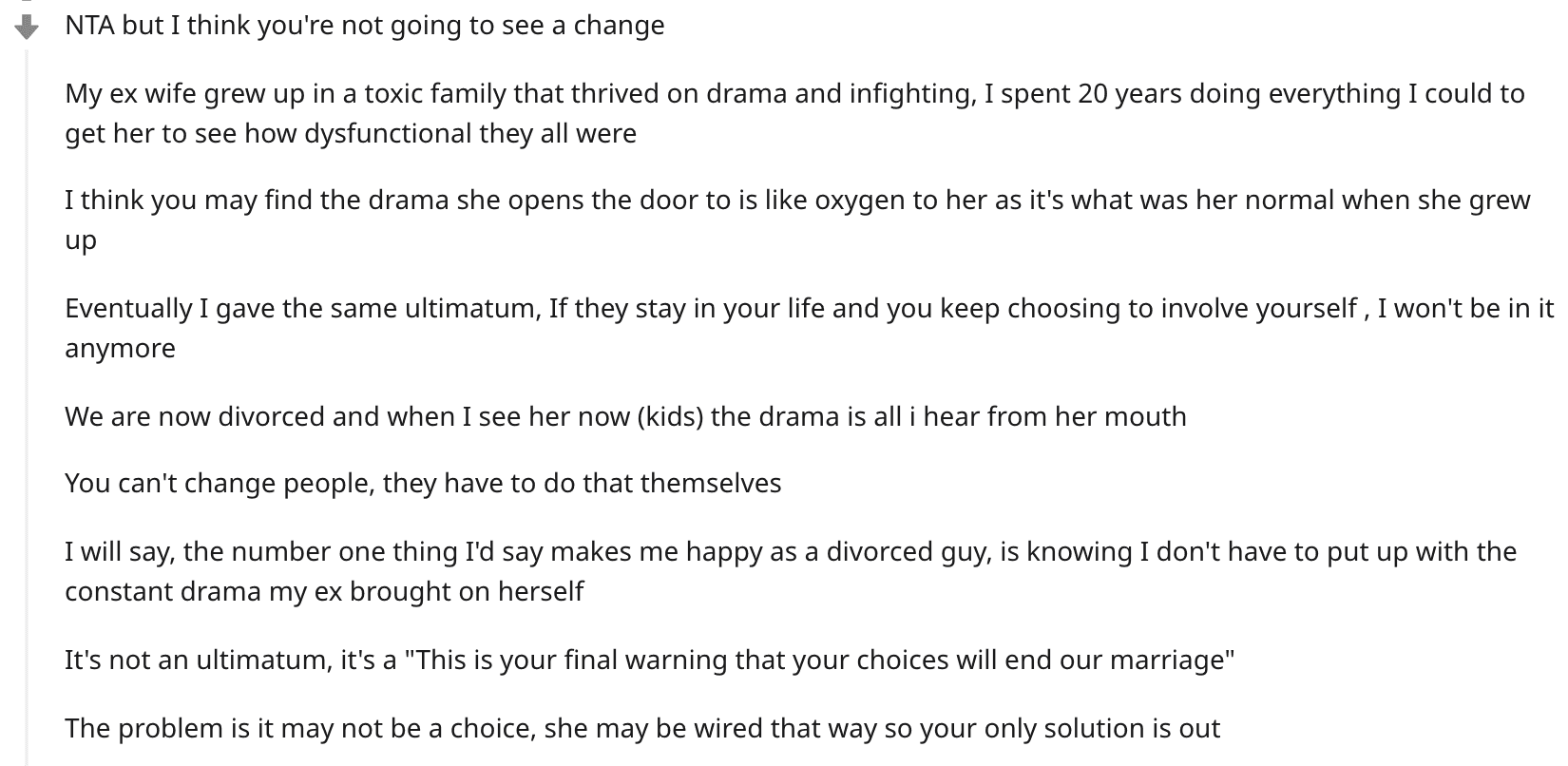 Users also added that her reaction to the ultimatum was also a way of creating drama, which she enjoyed being a part of. The users made it clear through their words that this relationship was coming to a close. 
Here's another story of a woman who didn't want to give half of the money from the sale of a house to her late husband's son.