Eddie Murphy's Daughter Zola Ivy Responds to Critics Saying She's so Skinny
Eddie Murphy's daughter Zola gave her Instagram followers a piece of her mind after she spotted some comments on her photos saying she was skinny. She revealed that if people began calling her names because of her weight, so would she and she wouldn't hold back from it. 
Zola Murphy believes that commenting on someone's weight is no good way to start a conversation, as it'll only lead to the person feeling conscious and uncomfortable. After she noticed that more and more people were commenting on her photos calling her "skinny," she decided to finally call them out. 
"Friendly reminder that you should never feel comfortable commenting on someone's weight because they are "skinny" or underweight."
SLAMMING PEOPLE WHO CALL HER "SKINNY" ON THE DAILY
On her Instagram stories, she let everyone know that she wasn't about to just allow everyone to call her "skinny." She added that there's no need to comment about someone's weight as they are already aware of it as it's their life. 
"Many people (like myself) are skinny because of genetics. NOT eating disorers or personal choice."
ZOLA'S BLOSSOMING MODELING CAREER
Zola Ivy is one of Eddie and Nicole Murphy's children, who is signed as a runway and print model with one of the biggest modeling agencies in the world, IMG.
Just last year, the eighteen-year-old graduated high school from a prestigious Beverly Hills private school, where she was on the honor roll.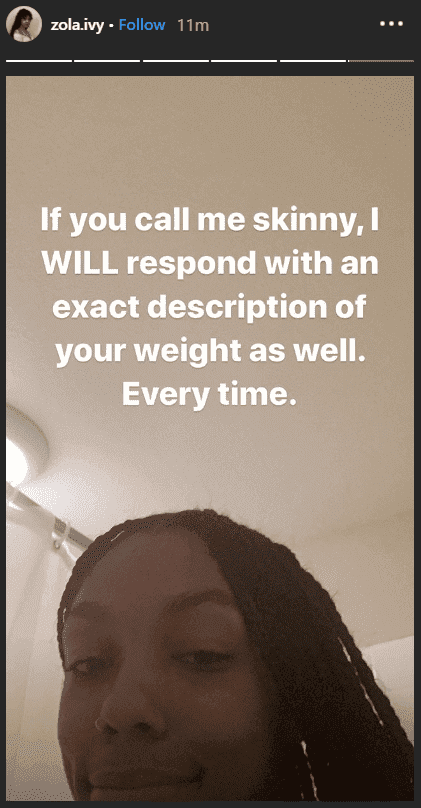 EDDIE MURPHY'S TEN CHILDREN
While Zola is all grown up, Eddie Murphy welcomed his tenth child into the world, this time with longtime partner, Paige Butcher. On November 30, 2018, she gave birth to a healthy baby boy who is adjusting seamlessly into their blended family. 
Prior to the birth of their little boy, they also welcomed their first child, Izzy, in 2016. Eddie is also the father to five children with Nicole Murphy, namely Bria, 28, Miles, 25, Shayne, 23, Zola, 18, and Bella, 16. His eldest sons, Eric, 29, and Christian, 28 were with Tamara Hood, and his daughter Angel, 11, is with Mel B, from the Spice Girls.