Mariah Carey Releases Trailer for New Mini-Documentary 'Mariah Carey Is Christmas'
Just in time for her favorite time of the year Mariah Carey is giving her fans rare insight into the making of her record breaking song, "All I Want for Christmas is You."
In honor of the 25th anniversary for her album, "Merry Christmas," Mariah Carey is teaming up with Amazon to release a documentary titled, "Mariah Carey Is Christmas: The Story of 'All I Want for Christmas Is You.'"
In a trailer released about the documentary, it features commentary from Randy Jackson, Variety music editor Shirley Halperin, Billboard's senior chart director Gary Trust and Mariah herself.
It is expected to be released later this month and will reveal intimate details behind the artist and the team that worked together in creating the holiday classic, "All I Want for Christmas is You."
The song, which debuted in 1994 was recently honored by Guinness World Records for its success. Accompanied by her children, she shared a picture receiving her plaque.
The song broke the record for being the highest-charting holiday (Christmas/New Year) song on the Billboard US Hot 100 by a solo artist.
Among other records it also spent most weeks in the UK singles Top 10 chart for a Christmas song. As a female artist it is the most streamed track on Spotify in 24 hours.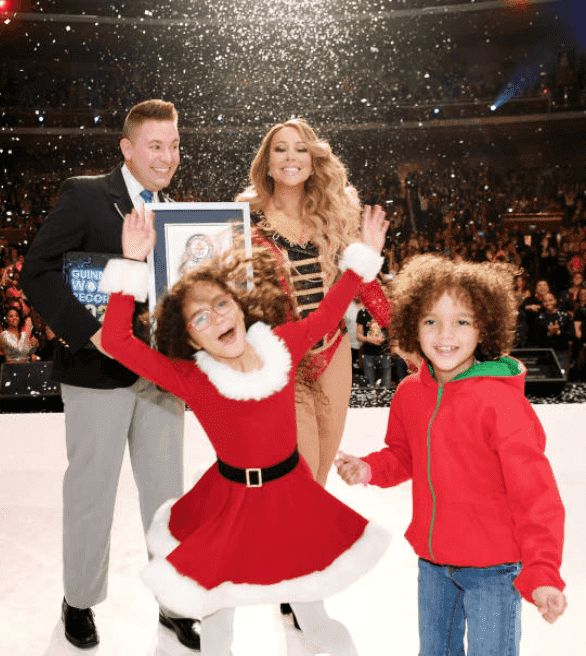 In an interview with Cosmopolitan she took a look back at the 25 years since the song's debut and reveals how she came up with the melodies, she says:
"I just sat down, decorated a little tree and put on It's A Wonderful Life and tried to get into that mood…I was going over all the things I think about at Christmas time that make me happy and how to turn it around and make it into a love song."
Making time to unwind during one of her busiest seasons, Mariah spent Thanksgiving with her blended family.
According to PEOPLE, she celebrated the holiday with a dinner party for family friends, which included her two children, Moroccan and Monroe, along with ex-husband, Nick Cannon, and her boyfriend, Bryan Tanaka.
Mariah, who admits that Christmas is the one season that fulfills her for the rest of the year, she lists a few of her essentials for the holiday.
Topping the list of her Christmas essentials is spending time with family. A few of the items include being surrounded by snow, making food from family recipes, baking, her Christmas playlist, and despite her love for diamonds, she says Christmas is the season for rubies.