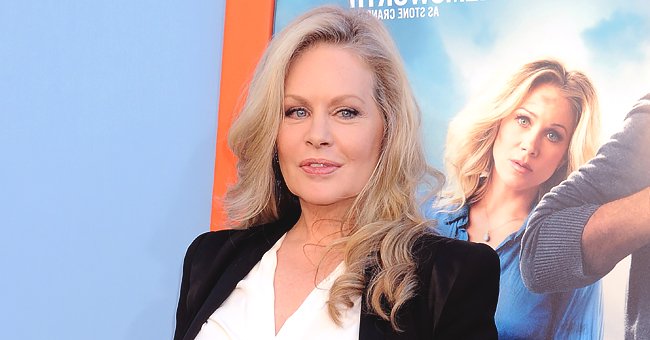 Getty Images
Beverly D'Angelo' Life after She Seemingly Disappeared from the Public Eye after 'National Lampoon's Vacation' Fame
Beverly D'Angelo has led a mostly domestic life after appearing in several films and shows, including the 1983 hit film, "National Lampoon's Vacation."
One of the more interesting life events was her custody battle with former husband, actor and filmmaker Al Pacino.
D'Angelo gave birth to twins, Anton and Olivia, in 2001. Two years later, she split from Al Pacino, and a custody battle ensued. The former couple eventually agreed to a co-parenting arrangement.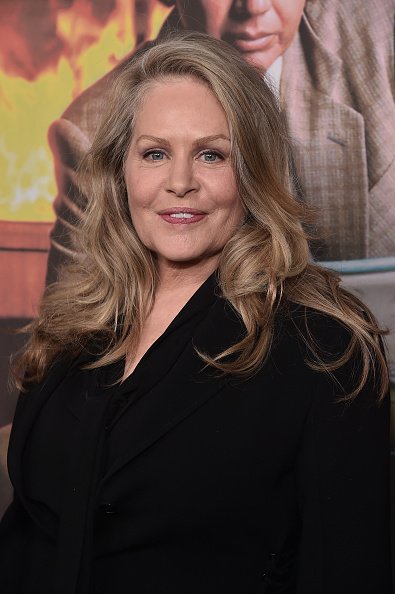 Beverly D'Angelo at Avalon on March 14, 2018 in Hollywood, California. | Photo: Getty Images
LIFE-CHANGING FILM ROLE
It was in 1983 when D'Angelo's life changed after landing a role in the film, "National Lampoon's Vacation." At 29 years old, she took the risk of playing the role of a mother, which catapulted her to fame.
She later starred in several films and television shows, including 1997's "Vegas Vacation," where she played a role that earned her the Kid's Choice Award for Favorite Movie Actress; and 1998's "American History X," which earned her a nomination for the Satellite Award for Best Supporting Actress in a Motion Picture.
Several roles came her way, including tough-as-nails prostitutes, party girls and barflies to rich, prim widows and depressed, and alcoholic mothers, as shown in her IMDB profile.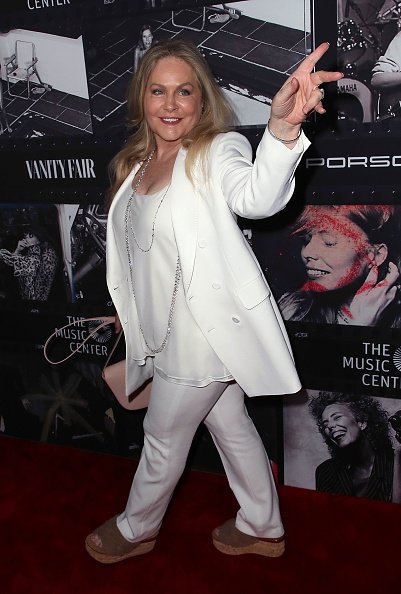 Beverly D'Angelo at the Dorothy Chandler Pavilion on November 7, 2018 in Los Angeles, California. | Photo: Getty Images
BORN INTO A FAMILY OF MUSICIANS
Born on November 15, 1951, in Columbus, Ohio, D'Angelo was the daughter of musicians Priscilla Ruth (Smith), a violinist, and Eugene Constantino "Gene" D'Angelo, a bass player who also managed a TV station.
Before becoming an actress, D'Angelo worked as an animator/cartoonist at Hanna-Barbera Productions.
Her performance on the show attracted the attention of producers on the West Coast and eventually landed her big movie roles.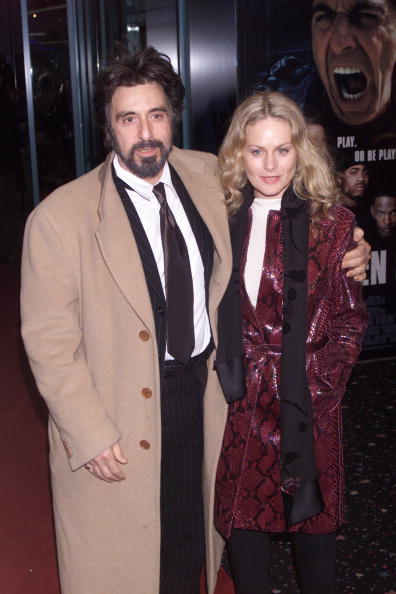 Al Pacino and Beverley D'Angelo at the UK premiere of the film "Any Given Sunday" on March 29, 2000 in London. | Photo: Getty Images
THE START OF HER CAREER
D'Angelo moved to Canada to pursue a singing career, ending up as a session vocalist in different places, from coffeehouses to bars. Her acting career began when she joined the Charlottetown Festival repertory company.
While touring Canada as Ophelia in "Kronborg: 1582", a rock musical version of Shakespeare's "Hamlet," she caught the eye of the renowned Colleen Dewhurst, who also became interested in the show.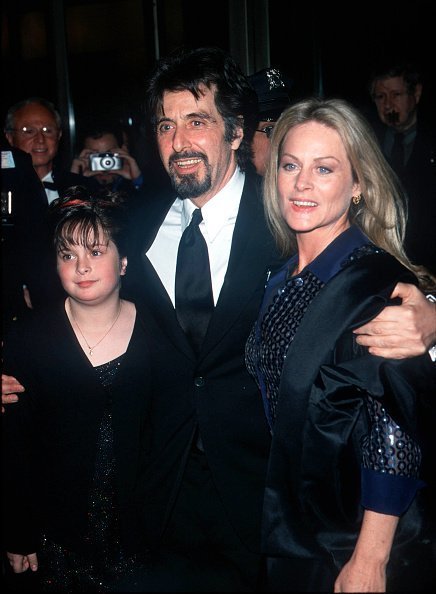 Al Pacino, Beverly D'Angelo and Julie Pacino at Avery Fisher Hall in 2000. | Photo: Getty Images
ATTENTION-GRABBING PERFORMANCE
With musical director Gower Champion on board, the show was revamped into the musical "Rockabye Hamlet," which made its way to Broadway in 1976.
Her performance on the show attracted the attention of producers on the West Coast and eventually landed her big movie roles.
Like D'Angelo, Al Pacino continued to have a successful career in the entertainment industry following their breakup. His daughter, Julie Pacino, from an earlier marriage, is also now following in his footsteps.
Recently, the estranged couple, Al Pacino & Beverly D'Angelo were spotted leaving a restaurant through the back door after having lunch together in Beverly Hills.
In the video, which was obtained by The Hollywood Fix, the ex-couple could be seen leaving the building as paparazzi flooded their way, taking pictures and asking questions.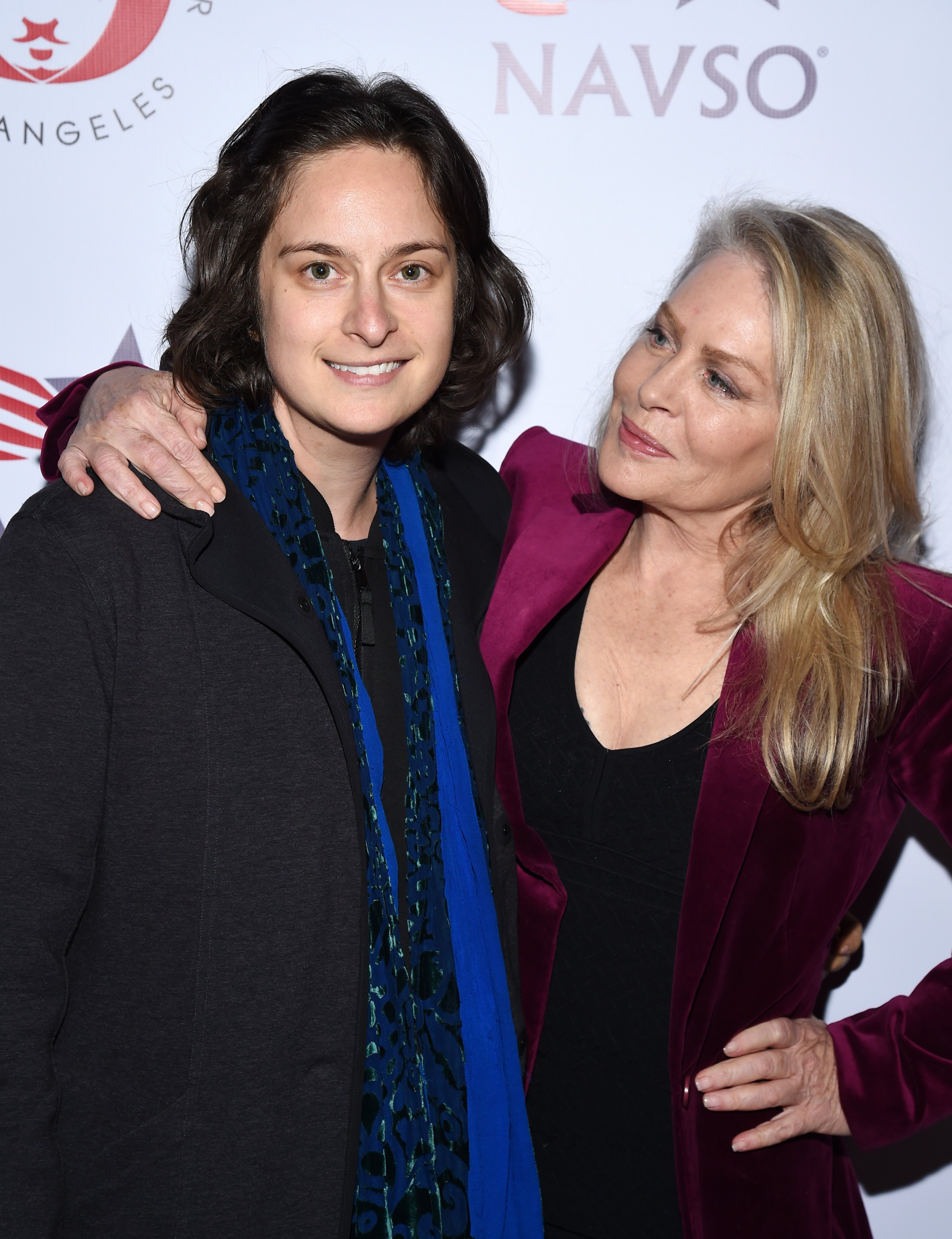 Producer and director Julie Pacino and actress Beverly D'Angelo at the VIP post show reception at Via Porto on March 08, 2020 | Photo: Getty Images
One of the questions asked was if they would be getting back together, and as expected, there was no reply from the duo.
Beverly D'Angelo is known for so many great works of art, and some of them include "Shooter," "Party Girl," "Vacation," "Mom," and so on.
Although Al Pacino and D'Angelo may or may not be getting back together, one beautiful thing that'll always remain true is that they'll be doting parents to their twins, Anton and Olivia.
The duo got together in 1997 and had what can be called a whirlwind romance, which lasted till 2013. D'Angelo once revealed how they made the decision to have kids. According to her,
"After we'd known each other for three months, [Al] looked me in the eyes and said, 'I want you to be the mother of my children.' That's all I had to hear."
Julie is a producer and director known for the films, Billy (2013), Tura and Shifting Past (2017).
Please fill in your e-mail so we can share with you our top stories!