Syleena Johnson Who Co-Hosts 'Sister Circle' Shows off 57-Pound Weight Loss and Said She Worked out 5 Days a Week
Syleena Johnson is hot and proud! She showed off her new body after losing 50-pound, and it came with a five-day-a-week workout, amid other things.
Summer might be over, but this winter, Syleena Johnson is bringing back the nostalgic feeling of sunshine and "Beach bodies" as she shows off her new body size, which is 50-pound less than it used to be.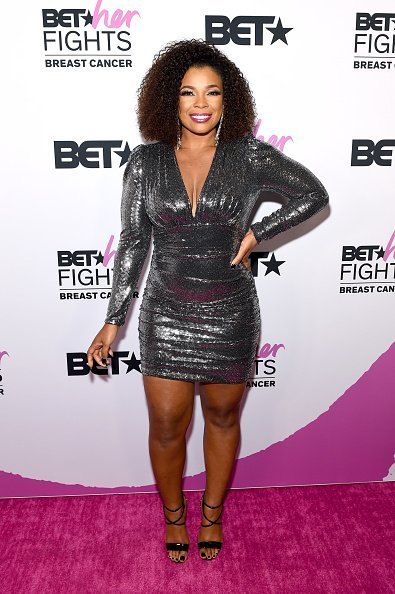 FIFTY POUNDS AND COUNTING
The singer shared her new look on Instagram in a before and after photo. The left side of the snap showed Johnson looking twice the size she looked in the second. In the accompanying caption, she shared a quote about self-love from Serena Williams,
"You can be whatever size you are, and can be beautiful both inside and out. We're always told what's beautiful and what's not, and that's not right." 
In the hashtags attached to the post, the "Sister Circle" host noted amid other things that she is fitter and more beautiful. Her followers applauded the weight loss, with many asking the singer for her secret to the "Fit life." 
TRAINING FIVE TIMES A WEEK
The singer's caption was to let her fans know that she was not losing weight for vanity, but a competition. She has been training with Coach KD since April, five times a week in the gym. Johnson's regimen includes changing her diet, fasted cardio, and weight training. 
The TV host has carried her fans along her journey, and documented it with the hashtag, "From1Stage2TheNext." However, as excited as the singer is now, there were times when she wanted to give up.
In an Instagram post shared during her time in South Africa, Johnson wrote that keeping up with her regimen was challenging, and asked for prayers.
WILL JOHNSON STAY ON THE FITNESS TRAIN?
The "R&B Divas" TV star persevered, and her dedication paid off. Interestingly, this is not the first time the singer is losing weight. In 2016, after giving birth to her sons, the mom-of-two embarked on a weight loss journey and lost about 70 pounds. 
Feeling inspired at the time, the "I Am Your Woman" crooner used her experience to help other women. She created the "Mommy Got Soul" workout DVD, designed to help new moms lose weight and get in shape.
The DVD consisted of kettlebell workouts, yoga, and a cool-down amongst others. Johnson eventually gained the weight back, but now, she's back on the fitness train, and working hard to live the fit-life permanenetly.