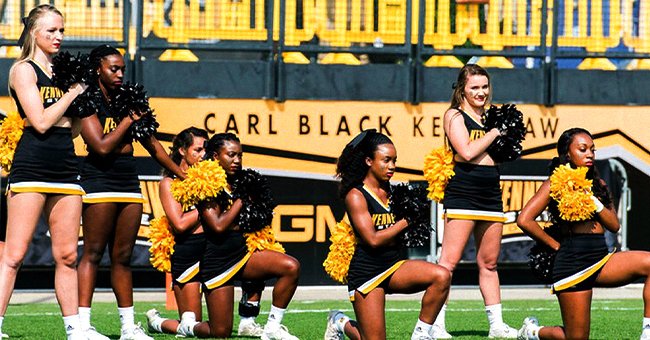 Twitter/WSBTV
Georgia Ex-Cheerleader Tommia Dean Wins $145K in Settlement after Getting Punished for Kneeling during National Anthem
Georgia ex-cheerleader Tommia Dean wins a $145,000 settlement after getting punished for kneeling during the singing of the national anthem.
A former Kennesaw State University cheerleader who knelt during the national anthem at a KSU football game has been given $145,000 as settlement.
Tommia Dean filed a lawsuit back in 2018 after receiving backlash to her public protest that included four other cheerleaders in September 2017.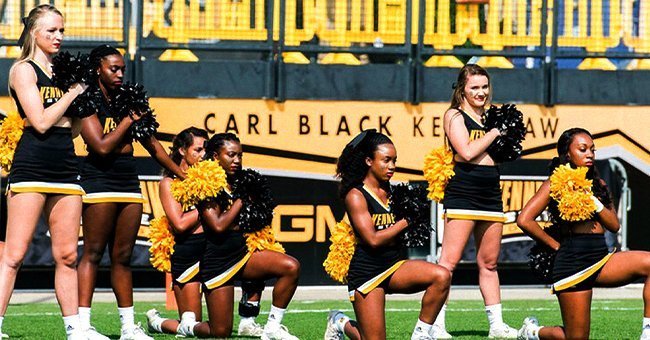 Tommia Dean and 4 other cheerleaders kneeling during a football game at KSU | Source: Twitter/wsbtv
REACHING AN AGREEMENT
As defendants in the civil suit, Dean listed KSU's then-president Sam Olens alongside KSU athletics department members Scott Whitlock and Matt Griffin.
Ultimately, her lawsuit was negated after she settled for $145,000, as the agreement stated.
"A compromise has been reached. The intent of this agreement is to buy peace of mind from future controversy and forestall further attorney's fees, costs, or other expenses of litigation, and further that this agreement represents the compromise, economic resolution of disputed claims and, as such, shall not be deemed in any manner an admission, finding, conclusion, evidence or indication for any purposes whatsoever, that the KSU defendants acted contrary to the law or otherwise violated the rights of Dean."
PROTESTS IN SPORTS
Kneeling during the national anthem began with Kolin Kaepernick in the NFL, and up until today, he remains a free agent.
While there are many who continue to fight against police brutality, as did he, there are some NFL stars who have resulted in giving back to their society in different ways.
GIVING BACK TO SOCIETY IN A DIFFERENT WAY
One of them is Richard Sherman, San Francisco 49ers cornerback, who decided to shell out $27,000 of his own money to pay for school cafeteria lunch debts.
For Cabrillo Middle School in Santa Clara, California, the 31-year-old paid a whopping $7491.27 to pay for cafeteria debts, and another $20,000 to the Tacoma Public schools in Washington.
REASONS BEHIND THE GENEROUS ACT
As to why he decided to do it, his foundation, Blanket Coverage, said:
"The last thing any child should have to worry about is being able to afford eating breakfast and lunch at school; we aim to do our part in eliminating that obstacle."
Please fill in your e-mail so we can share with you our top stories!