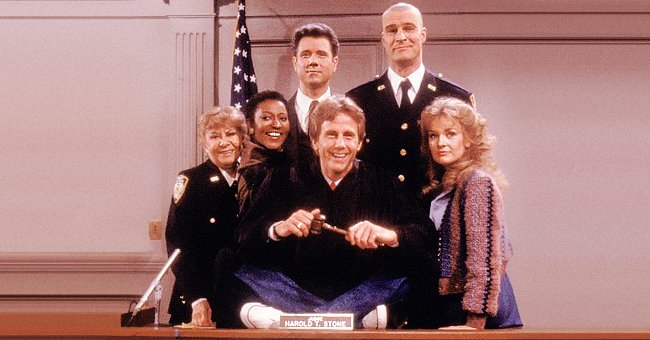 https://www.facebook.com/NightCourtTVShow
Harry Anderson and 'Night Court' Cast Members 27 Years after the Series Finale Aired
In the mid-1980s, "Night Court" premiered as part of NBC's distinguished Thursday night comedy block, which included "Cheers" and "Family Ties." Despite low ratings the first couple of seasons, it became a top 10 show. We looked into the characters and the actors who portrayed them and found some disgruntled feelings, an actor who didn't want any more awards, and a cursed role! Keep reading to find out!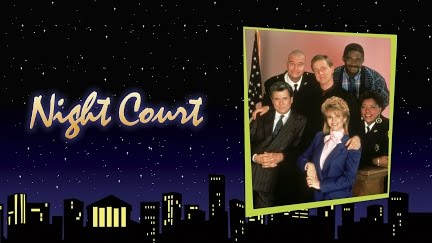 Image Source: YouTube/hullflyer
NIGHT COURT
In 1984, the unlikeliest of places became the setting for a sitcom. Set in downtown municipal night court for petty crimes, "Night Court" ran for nine seasons, starting as a mid-season replacement. "Night Court" was created without the pivotal comedian and magician Harry Anderson in mind, though Anderson often claimed that he was Harry Stone from the get-go.
Anderson had a following from his performances on "Saturday Night Live" and made several successful appearances as con man "Harry the Hat" on "Cheers." Anderson was always the sitcom's key figure, but John Larroquette won the role of breakout personality. He won several awards and droves of fans for his performance as the lecherous Dan Fielding.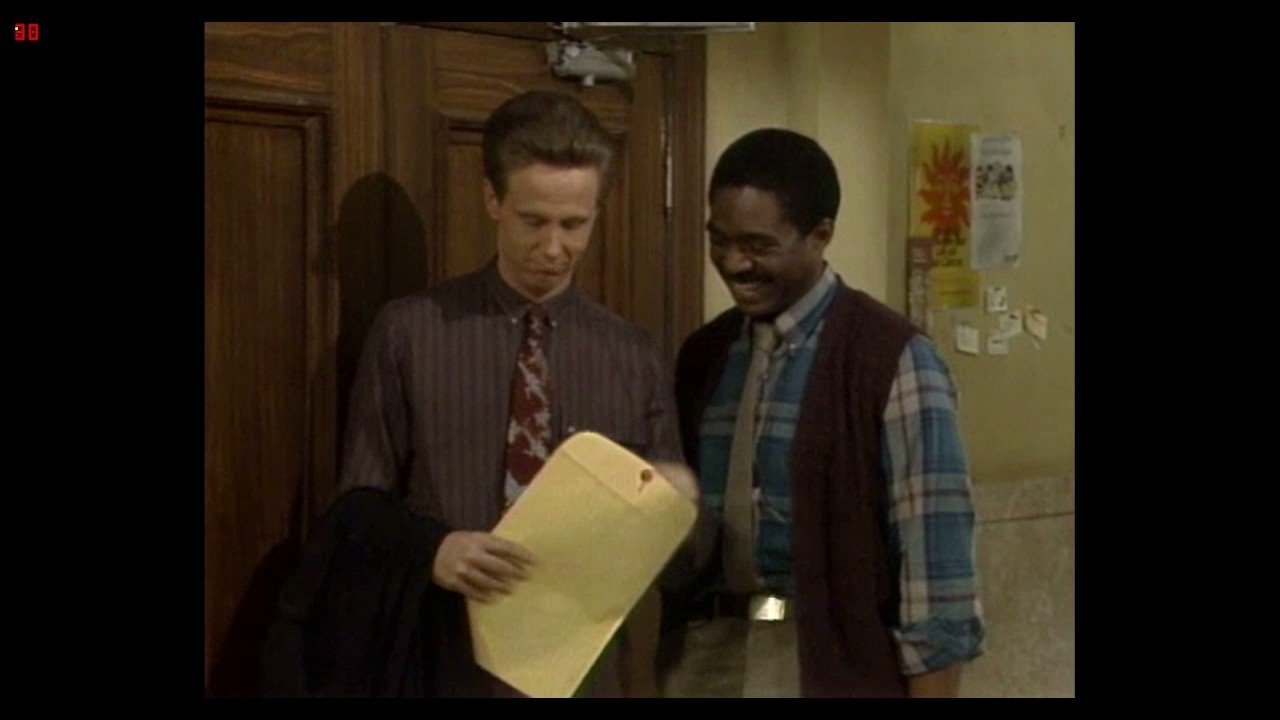 Image Source: NBC. YouTube/Night Court Fan
The characters on trial and the nature of their transgressions were often bizarre, or comically incompetent. Initially, the show had a realistic air, with emphasis on non-glamorous, non-violent petty crime. Time magazine called Night Court the most realistic law show on the air. It shed "real world" scenarios for slapstick comedy, wherein logic was sidelined for surreal humor.
"The show may not be in any way intellectual," Larroquette said, "and we don't make any pretenses of dealing with issues that are impossible to address or solve in the sitcom format ... But if you just want to forget it all for a minute and laugh at pies in the face and pants around the ankles, that's what we do very well."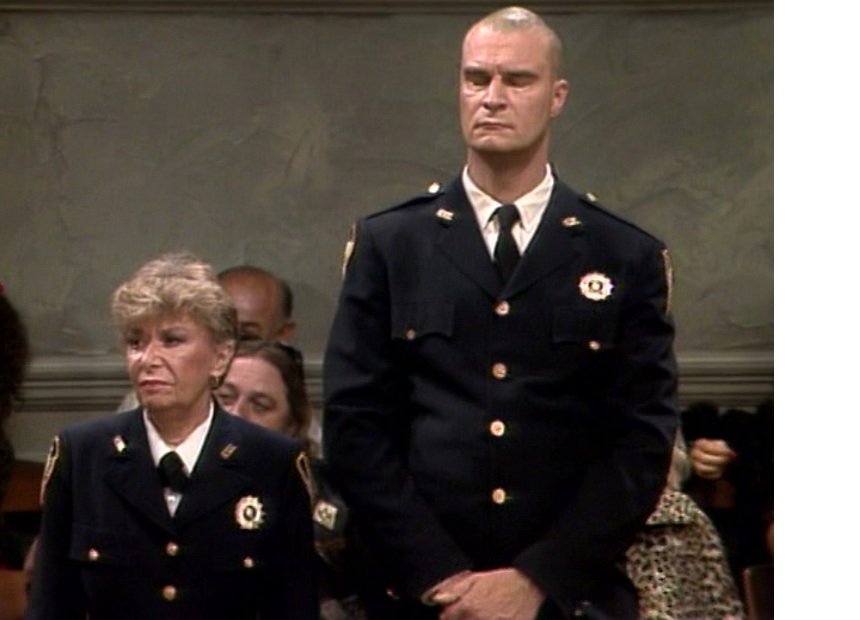 Image Source: NBC. YouTube/Movieclips
BEHIND THE BENCH
"Night Court" began with a realistic air because it was crafted from reality. Creator Reinhold Weege once sat on a bench in a Manhattan night court, amazed by its craziness. The middle of the night is a different beast, and newspapers had small, hidden stories about judges who refused to leave the profession.
"There were stories in the newspaper at the time of judges with serious emotional problems who the state had a hard time getting rid of," Weege said. "I thought, gosh, it would be terrific if we could get a judge through the system who was a little off-center, a little wacky."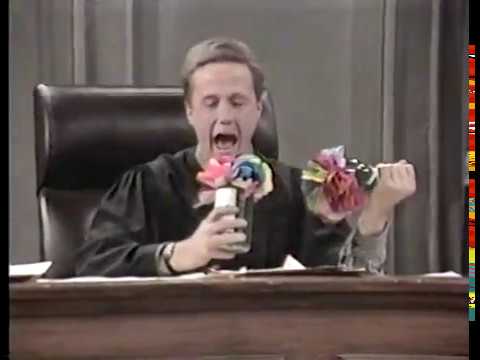 Image Source: NBC. YouTube/Rewind me
Weege couldn't have foreseen how off-centered the show would turn out. John Larroquette's character, Dan Fielding, was initially not so much wacky or off-center, but conservative and cagey. His character's womanizing persona and slapstick physical nature came later, inspired by ratings and Larroquette. A little wacky might be an understatement!
"If you look at the early episodes, my character was this sort of tight-lipped, vested, pipe-smoking, conservative fellow," Larroquette told The AV Club, "Of course I was putting garden hoses down my pants by the end of the series. I think what happens on a television series like that is that the creator gets used to the characters and the actors playing them. They learn to write toward their strengths. Reinhold starting writing toward that and creating the character that everybody knows."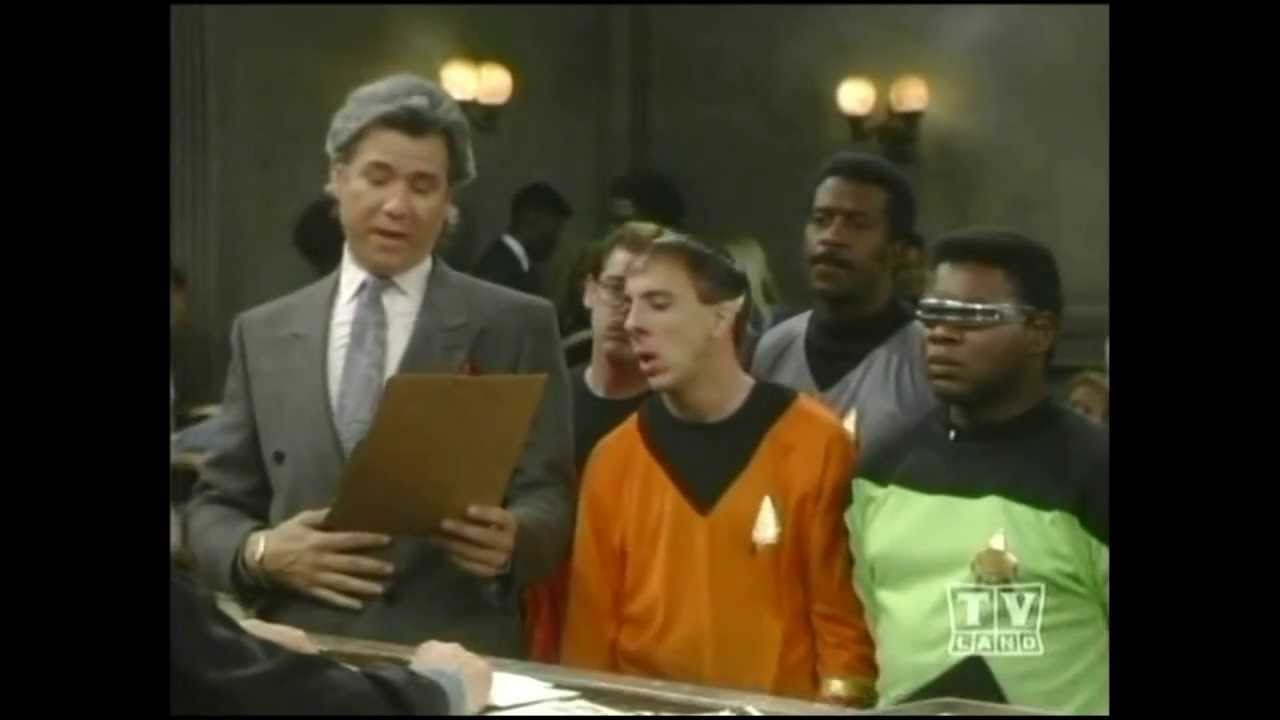 Image Source: NBC. YouTube/Chibi Neko
Later character development wasn't the case for Judge Harry Stone, though. One of "Night Court's" producers, Jeff Melman, was watching Anderson perform on Saturday Night Live one random weekend. Anderson stuck a needle through his arm during a magic trick, and Melman thought he'd be a good fit for the part of the Mel Tormé-loving magician and judge.
"The name Harry and the fact that he did magic was a coincidence," Weege said on TV Tales. "Harry said he was the guy, and I'll be damned, he turned out to be the guy."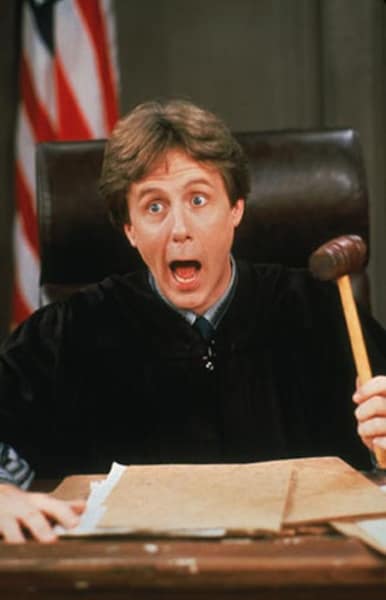 Image Source: NBC. YouTube/hollywood gossip
Sometimes a role is undoubtedly maligned. In the first two seasons, Selma Diamond played Bailiff Selma Hacker. Between seasons, in 1985, Diamond died of lung cancer at the age of 64. Florence Halop became the new bailiff, Florence Kleiner, for 22 episodes. She also had lung cancer and passed in 1986 at age 63.
The next bailiff, Roz Russell, went to Marsha Warfield, who was in her early 30s. "There's no way to say this without sounding callous, but if the two women before me had been 33-year-old black women, I would have been really nervous about taking the part," Warfield told People.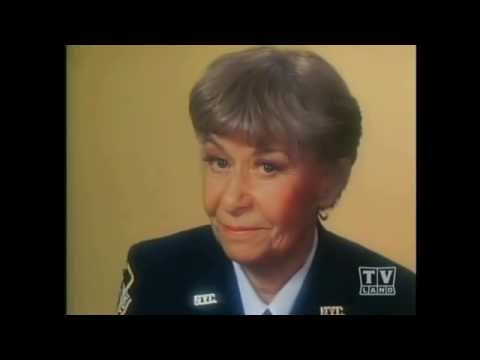 Diamond. Image Source: NBC. YouTube/victor osorno
Perhaps the wackiest character in the history of sitcom's is "Seinfeld's" Kramer. In a precurser, Michael Richards played Eugene Sleighbough on "Night Court." Eugene, who thought he was invisible, stood before the court, accused of burglary. He assumed he commited the crime unseen, when hundreds of people watched him commit the robbery.
He had rational justifications. When sitting in a doctor's office or restaurant, people say things like, "I didn't see you there." He is arrested for burglary, and his defense attorney claims he has a mental problem. At the end of the episode, Eugene returned to court in his birthday suit. He assumed his invisibility had been compromised because he'd been wearing clothes.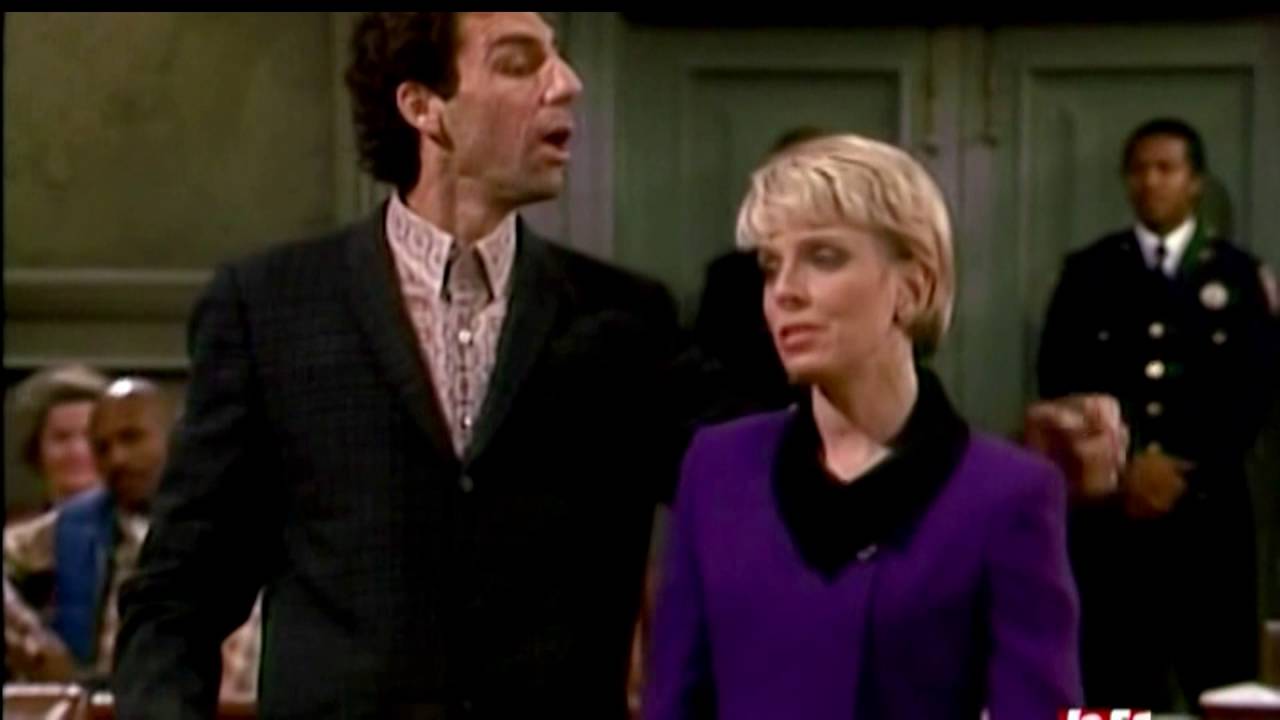 Image Source: NBC. YouTube/Night Court Fan
LAST MINUTE CHANGES
When Weege retired at the end of the sixth season, two of the show's writers, Stuart Kreisman and Chris Cluess, took creative control. NBC said season eight would be "Night Court's" last, and they could end it any way they wanted. And, so the storyline had Christine and Harry finally getting together. But, NBC renewed the show for a ninth and final season.
"When we found out we were going to go on for another year, we realized immediately that we were screwed creatively," Kreisman said to the Los Angeles Times in 1992. "It took us the first two or three episodes to undo all the stuff we set up [the previous] year."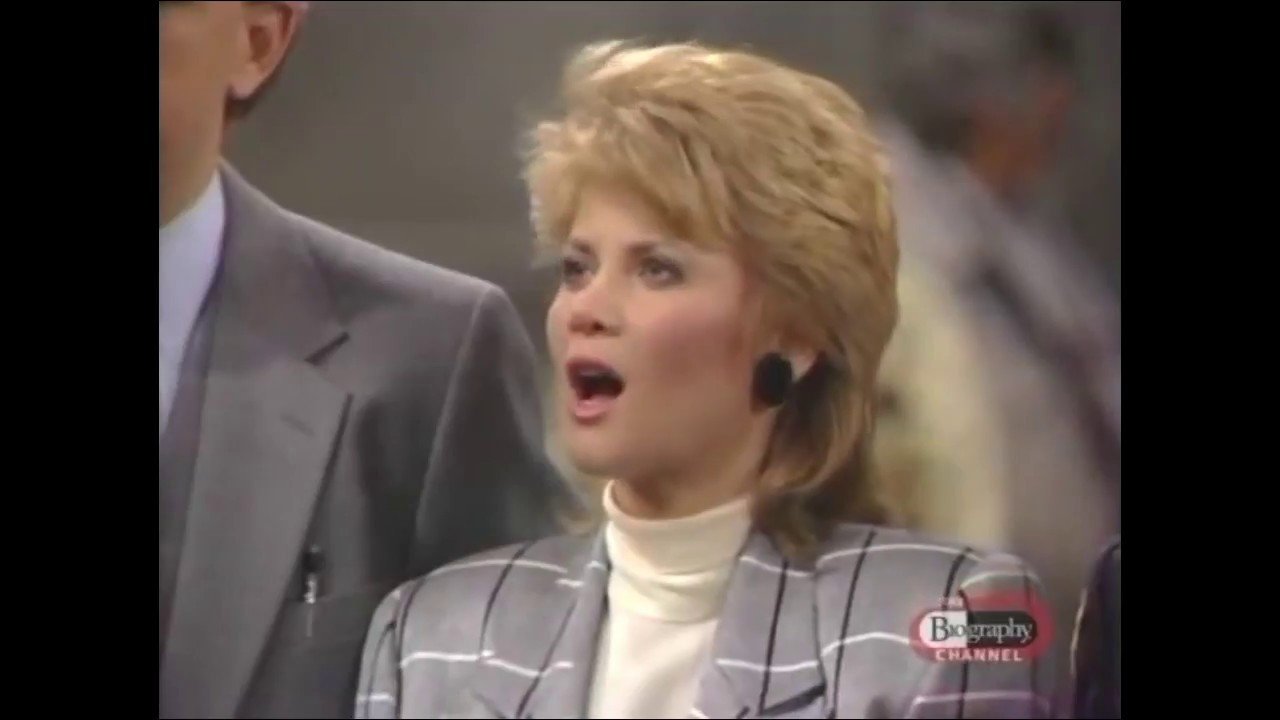 Image Source: NBC. YouTube/lukas hackett
During the ninth season, NBC officially canceled the show, but Warner Bros., who distributed the show, was trying to sell it for the first-run syndication. There was a possibility the show would continue on another network. The final episode was cobbled together, and Dan, rather than Harry, revealed that Christine was the love of his life.
"After nine years, a memo was handed out, that we got just before the [final] taping. It said, 'Please have your dressing rooms empty by Monday,'" Anderson said on "TV Tales." "That was how the show was canceled. With a note. And I thought that it was not very classy."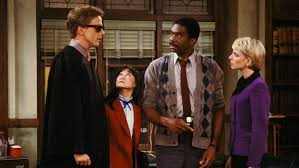 Image Source: NBC. YouTube/Night Court Fan
HARRY ANDERSON
Harry Anderson received three Emmy nominations in the category of Outstanding Lead Actor in a Comedy Series during "Night Court's" run. His career in the industry flourished after, with a significant role in the CBS sitcom "Dave's World." Apart from entertaining on-screen, Anderson also opened a magic shop and comedy club in New Orleans.
In 2006, Anderson and his wife, Elizabeth, moved from New Orleans to Asheville, North Carolina. In his final years, Anderson appeared in the television comedy series "Comedy Bang! Bang!" and "Gotham Comedy Live." Sadly, after years of making people laugh and smile, he passed away on April 16, 2018. He will always be remembered for his notable role as Judge Stone.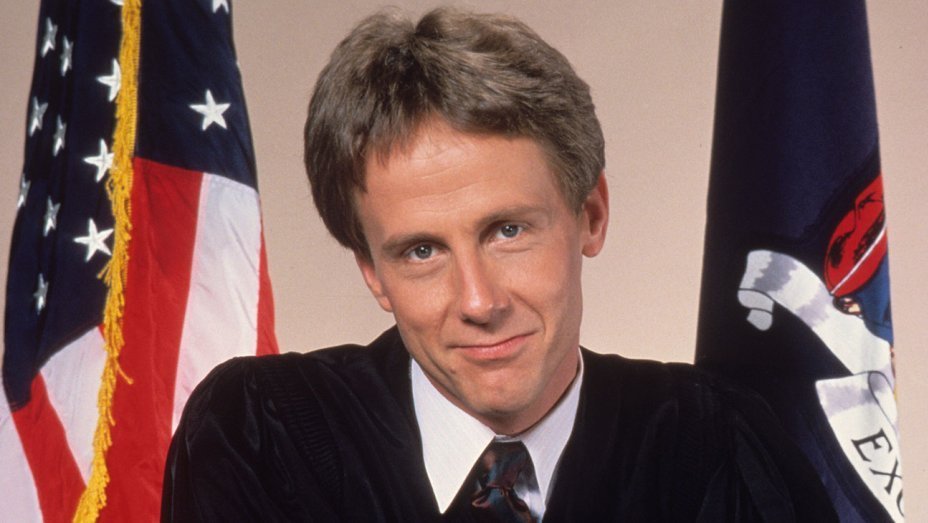 Image Source: NBC. YouTube/Night Court Fan
Harry Stone was a young, easygoing jurist and amateur magician who was conceived in a mental hospital while his parents were patients there. His eccentricities were coupled with great compassion and the heartfelt belief that, deep down, everyone is good. He got his position when the outgoing mayor made a number of appointments on his last day.
Harry was the only person on the judges' list who answered the phone and accepted the nomination. Harry was often self-righteous, loved movies and fashion from the 1940s, and above all else, Mel Tormé. Love for Tormé was true for Harry both on-screen and off.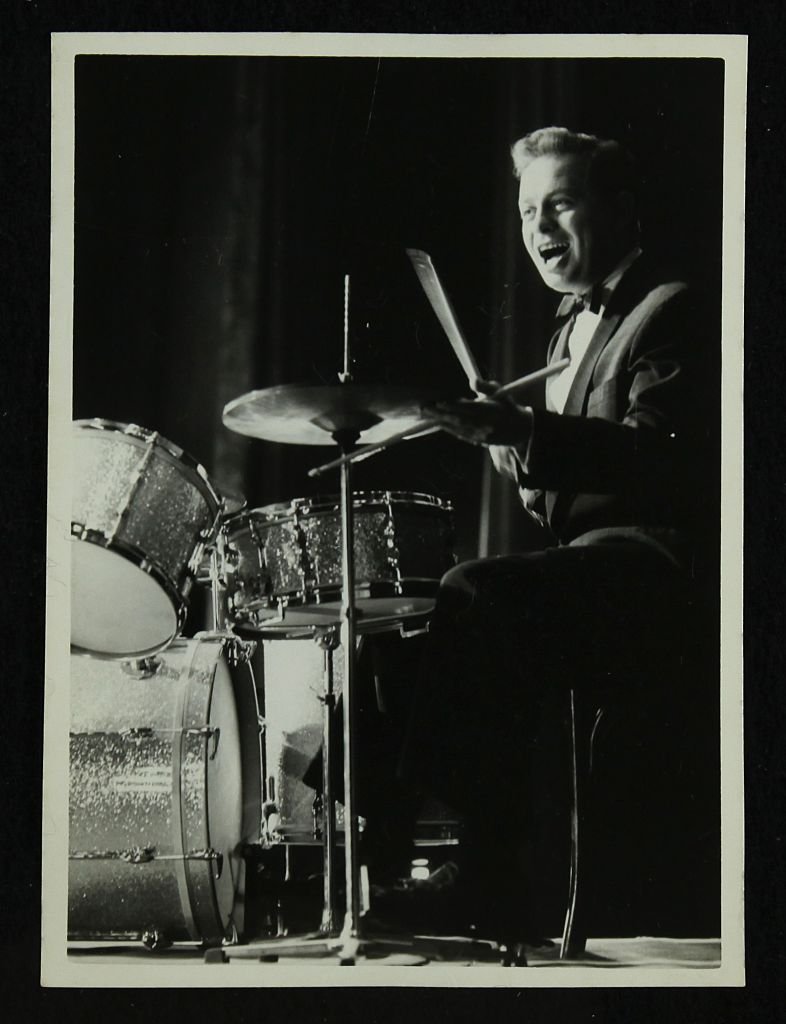 Mel Torme, 1950s. Image Credit: Getty Images
JOHN LARROQUETTE
Actor John Larroquette skyrocketed to fame as a sex-obsessed narcissistic prosecutor and Assistant District Attorney, Dan Fielding. Dan would do pretty much anything to get a woman to sleep with him, and was the source of witty and often cruel remarks regarding every other character.
When his homeless lackey Phil dies, the greedy lawyer was excited to discover that Phil was secretly wealthy and expected to be named the beneficiary of his millions - which he was! He was utterly pained to find he was Phil's beneficiary, but only as the manager of a charitable foundation.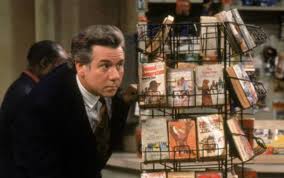 Image Source: NBC. YouTube/Lukas Hackett
Laraquette's comedic character on the show won him four Emmy Awards in a row in the category of Outstanding Supporting Actor in a Comedy Series. After his fourth win, Larroquette asked the Television Academy not to consider him for more awards for the "Night Court" character. Laraquette won four Emmy Awards in a row in the category of Outstanding Supporting Actor in a Comedy Series.
After the actor's fourth win, Larroquette asked the Television Academy not to consider him for more awards for the "Night Court" character. "It was a combination of two things," Larroquette told The AV Club. "I didn't think that the work that I had done was as good as it was."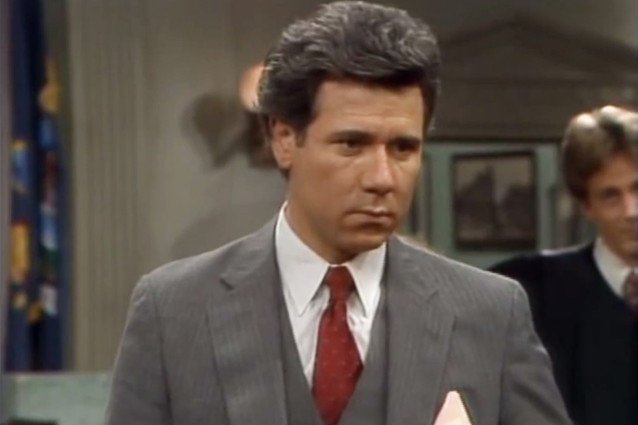 Image Source: NBC. YouTube/Admiral Titan Entertainment
"And more selfishly, quite honestly, I knew that the character had made a really deep impression on the American public, and on studios and producers and directors and writers, but it was going to end someday. I wanted to fade into the background with this guy so that there would be a possibility of eventually doing something else."
When the "Night Court" series ended, Larroquette created his own show called "The John Larroquette Show" and made appearances on "The Practice" and "Boston Legal." He also had a recurring role on "The Librarians" and "Chuck." As for films, Larroquette starred in "Camera Stone," which is part of the festival circuit.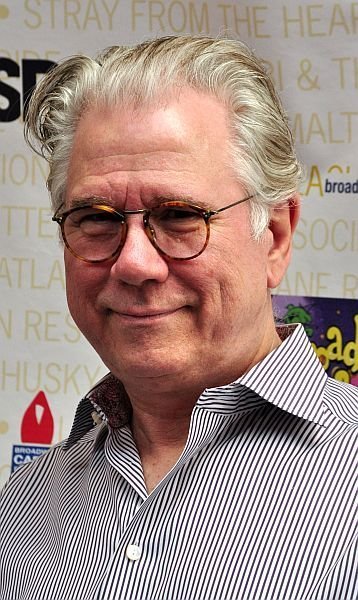 John Larroquette attends 13th Annual Broadway Barks Benefit. | Source: Wikimedia Commons
MARKIE POST
Markie Post's first appearance on the show was in an early second-season episode, in 1984. She was starring in "The Fall Guy" at the time but became a regular in the courtroom during the third season. She was Reinhold Weege's first choice for the part, but due to her other role, she could not take it.
ABC canceled "The Fall Guy "at the season's end, and Post joined the show full time in Season three. In the second season's episode, in which she guest-starred, Harry says to himself, "our children would be blonde." Her character, Christine Sullivan, was attractive, biblically honest, and a tad inexperienced in the ways of the world.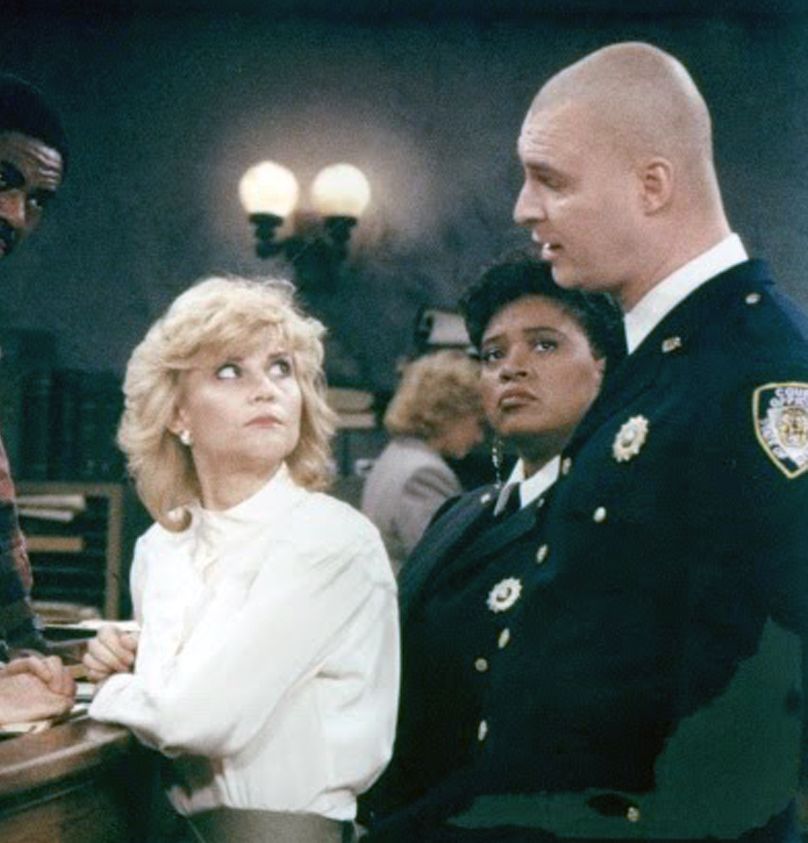 Image Source: NBC. YouTube/Night Court Fan
She was Dan's favorite target for barbs and lecherous advances and Harry's romantic interest. Initially, Christine doesn't find Harry much better than Dan, but she warmed up to him as the series progressed. There was a battle-of-the-sexes between the rival attorneys, and Christine seemed to always come out on top. She even gained some begrudging respect.
Christine and Post shared an adoration for Princess Dianna, and both had various memorabilia. Anderson said Post "WAS Christine Sullivan. She even apologized to a garbage can for bumping it!" Post had a recurring role as Bunny Fletcher on "Chicago P.D.," as well as various TV movies.
Image Source: NBC. YouTube/Night Court Fan
RICHARD MOLL
Richard Moll appeared in the role of the gentle giant Nostradamus "Bull" Shannon. Bull was a quirky, seemingly dim-witted hulk of a figure who was often childlike and fiercely protective of Harry. Bull was known for his catchphrase, "Ohh-kay," and clapping a hand loudly to his forehead when he realized he made a mistake.
The actor's character also gave a low-pitched moaning whine that became a loud wail as he stormed off in anger or sadness. Since "Night Court" concluded, Moll focused on voice overs in "The Animated Series," "Spider-Man," "Justice League," "Ghost Shark," "Anger Management," "Kirby Buckets," "Slay Bells," and "Cold Case."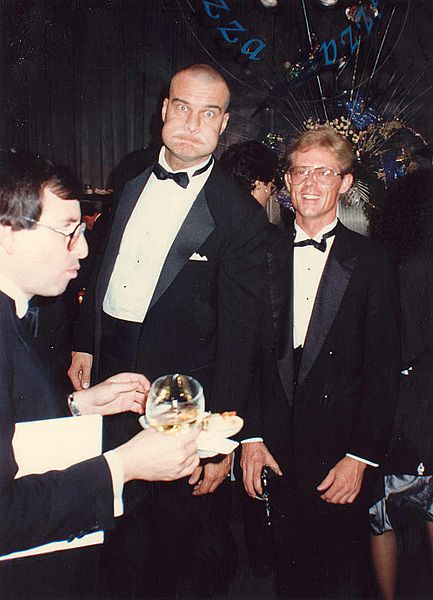 Richard Moll mugs for the camera while standing next to me at the Governor's Ball held immediately after the 39th Annual Emmy Awards telecast. | Source: Wikimedia Commons
CHARLES ROBINSON
Macintosh "mac" Robinson was an easygoing and pragmatic Vietnam War veteran. Armed with a good sense of humor, and a loyal friend to his coworkers, Mac was probably the most "normal" character. Dan once stated that in his will, he would bequeath all his suits, so Mac "would stop wearing those God-awful sweaters."
"Night Court" was Charles Robinson's big break. His catchphrase was to wail, "It was my favorite sweater!" after one of his loud cardigans was ruined. After the series ended, Robinson appeared on the series' "Love & War," "Grey's Anatomy," "Mom," "Key and Peele," "Charmed," "My Name is Earl," and TBS's anticipated anthology series, "The Guest Book."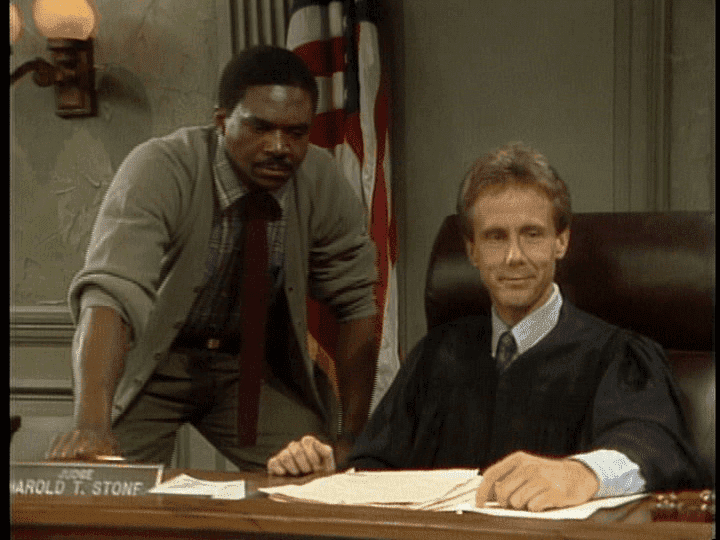 Image Source: NBC. YouTube/Movieclips
MARSHA WARFIELD
Marsha Warfield was a tough cop on the show, playing no-nonsense bailiff Roz Russel. While outwardly closed off and seemingly unfriendly, she was inwardly shy and self-conscious. Roz used the surly facade to prevent people from getting close. Over time, she formed a sweet and unbreakable bond with Bull and an unlikely friendship with Dan.
Warfield joined the show in the fourth season and stayed for the rest of its run. Afterward, she became a regular on the sitcom "Empty Nest" as Dr. Maxine Douglas and appeared on an episode of "Victoria's Closet" and "Touched By an Angel." Warfield has since traded screen acting for stand-up comedy and tours in Vegas.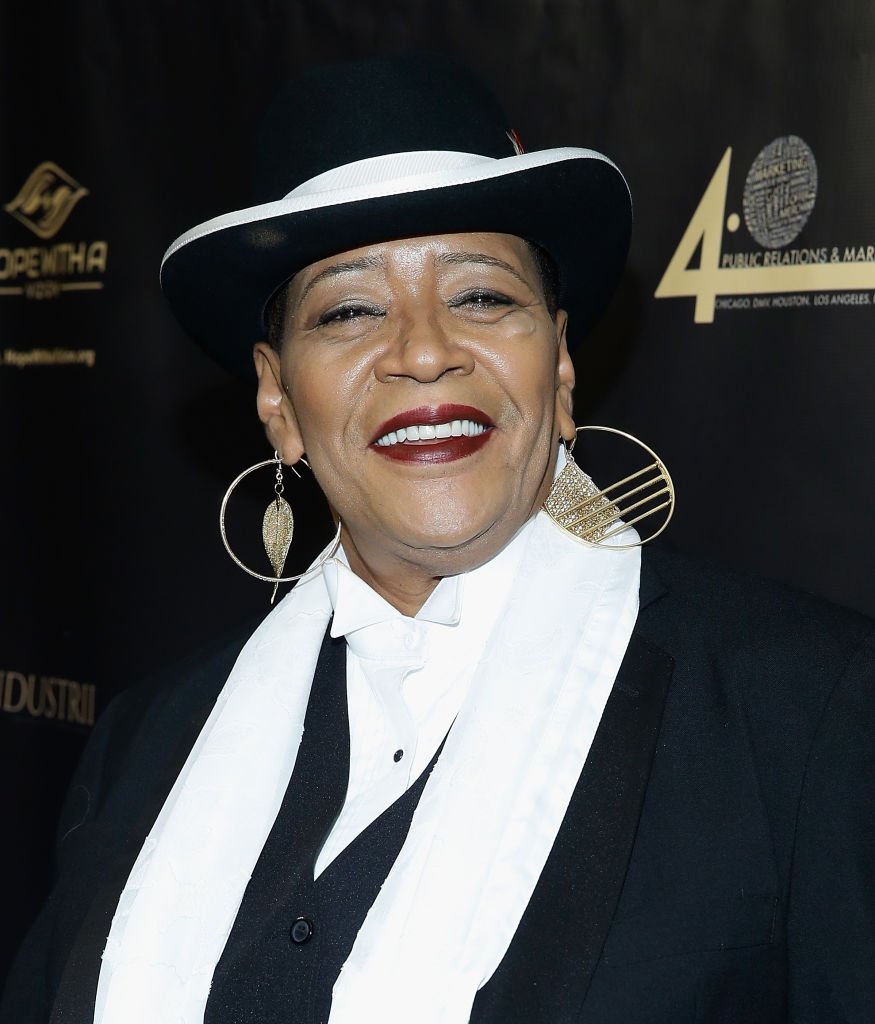 Image Credit: Getty Images
PAULA KELLY
One cast member who earned recognition on "Night Court" was Paula Kelly. She was cut from the show after the first season; Ellen Foley filled the public defender role for the second season, after which she was replaced by Markie Post. When Kelly left, the part of love interest was transferred to the new public defender characters.
Although she only appeared in one season, Kelly earned an Emmy nomination for Outstanding Supporting Actress in a Comedy Series. She also appeared in the television mini-series "The Women of Brewster Place," which garnered her a second Emmy nomination. In 1999, Kelly's final on-screen performance came with "Any Day Now." She narrated the documentary "Homeless in Hollywood" in 2011.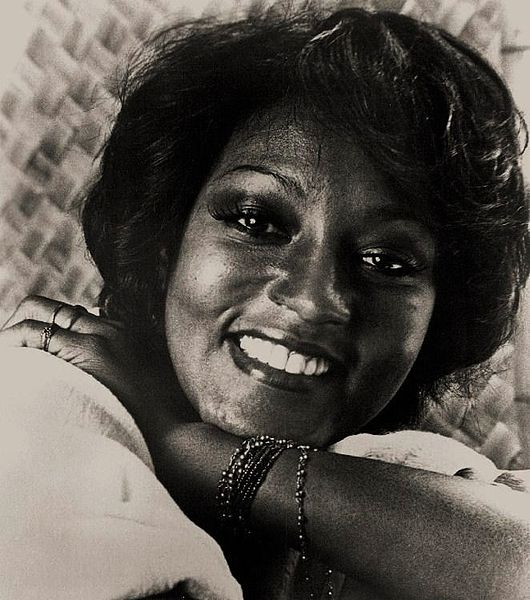 Paula Kelly in the musical revue "Bubbling Brown Sugar." | Source: Wikimedia Commons
DENICE KUMAGAI
Denice Kumagai played Quon Le Duc-Robinson, Mac's wife. Quon Le was a refugee from Vietnam, where she met Mac during his service in the Vietnam War. Her family purportedly let Mac stay at their home while injured. She could be somewhat naive about America and its customs but was loving and very devoted to her husband.
Initially, they married so she could stay in the country, and Mac claimed there were no feelings. That changed quickly. The commonalities of the US were new to Quon Le, and she didn't understand "buy now, pay later." In season four, moments after being sworn in as an American citizen, Quon Le gave birth to her and Mac's daughter, Renee Flicka Robinson.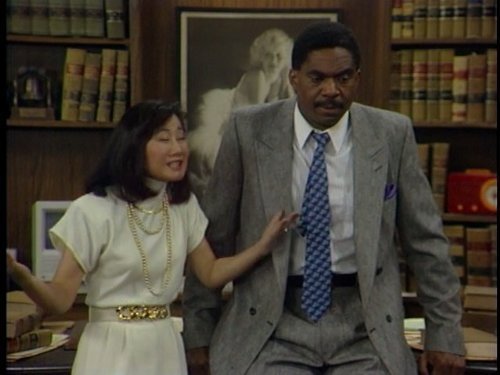 Image Source: NBC. YouTube/Night Court Fan
YAKOV SMIRNOFF
Yakov Smirnoff's role was as Russian immigrant Yakov Korolenko, a frequent visitor to the courtroom. Yakov later succeeded in getting his wife, children, and father out of the Soviet Union, to America. The character's catchphrase, uttered with fear, was, "Jay-ul? Oh, noooo! No jay-ul," whenever the word "jail" was said. The word carried a much heavier load for him.
He began his career as a stand-up comedian in Ukraine, immigrating to the US in 1977 to pursue a career in show business. His humor combined a mockery of life under communism and of consumerism in the United States. His fame rose to the White House, where to helped write speeches for President Reagan!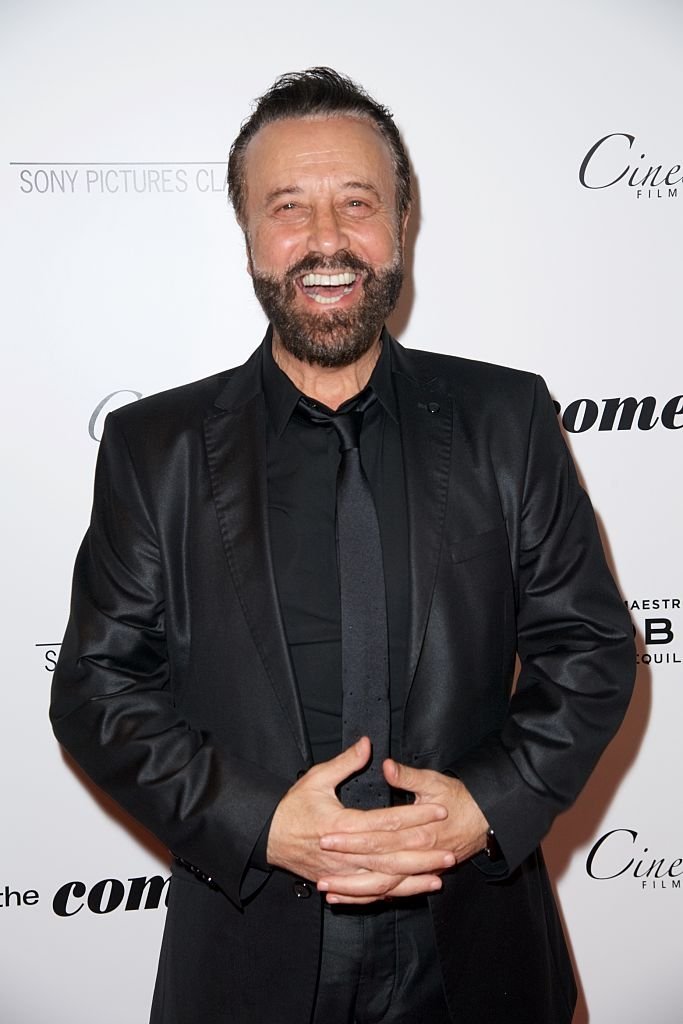 Image Credit: Getty Images
He proved indispensable for a speech given in front of Soviet leader Mikhail Gorbachev when Reagan visited the Soviet Union for the Moscow Summit in 1988. Speechwriter Dana Rohrabacher said that Smirnoff became "one of the inner circle" of speechwriting advisers during Reagan's final years in office, due to the quality of his suggestions.
In 2006, Smirnoff received a master's degree in psychology from the University of Pennsylvania. He has taught classes at Drury University and Missouri State University. He also gives seminars and conducts self-help workshops on the topic of improving relationships. Smirnoff continued on that route, earning his doctorate in psychology and global leadership at Pepperdine University in May 2019.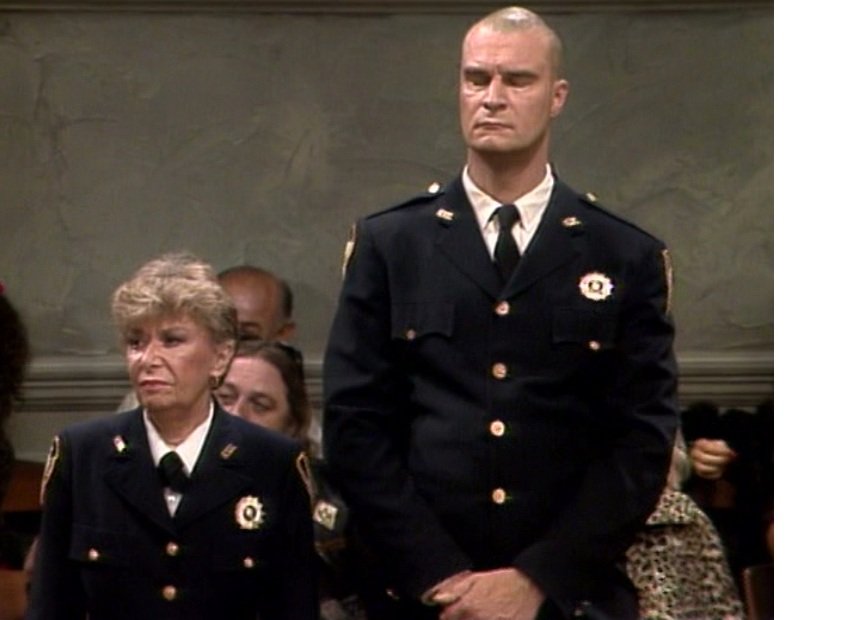 Image Source: NBC. YouTube/Night Court Fan
Although it had a rocky start, "Night Court" became part of the NBC dynasty, joining shows like "Cheers," "Friends," "Mad About You," "Seinfeld," and "30 Rock." It can be hard to stand out among such legacy's! What's your favorite?
Sources: Mental Floss, Entertainment Weekly
Please fill in your e-mail so we can share with you our top stories!