Kate Middleton Stuns in Tiara & Chic Black Midnight Dress for Queen Elizabeth's Annual Palace Reception
Kate Middleton attends Queen Elizabeth's pre-Christmas party in an elegant black dress. She commands attention by completing her look with a pearl and diamond-encrusted tiara.  
On Wednesday night, Queen Elizabeth hosted 1000 guests at the annual Diplomatic Reception at Buckingham Palace. The event is considered one of the highlights of the royal year.
According to PEOPLE, it is part of a pre-Christmas tradition, where men wear tailcoats, and women dress in lavish long gowns. Guests were entertained in the palace's State Dining, the Blue Drawing, and the White Drawing rooms.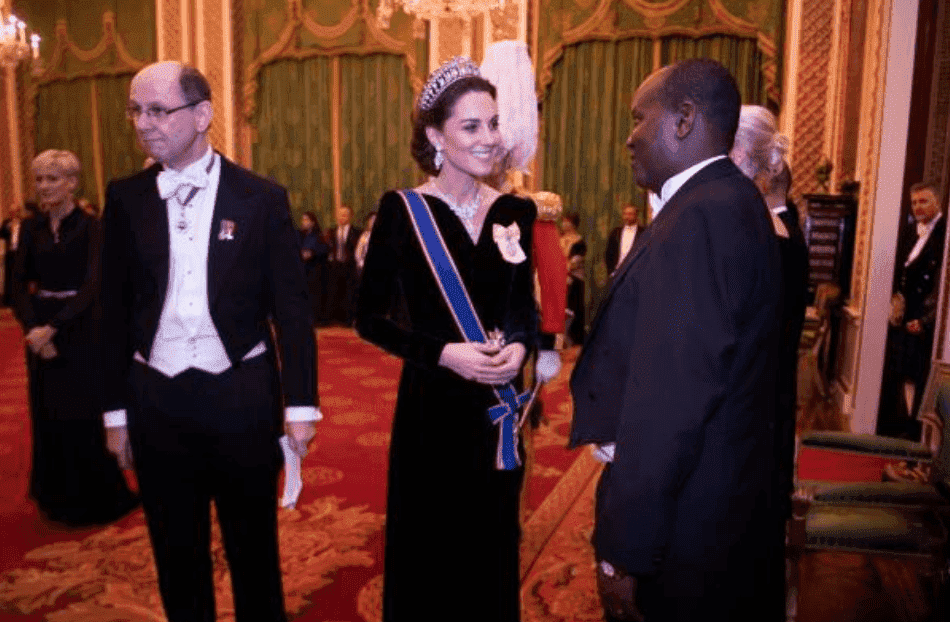 The Queen played host to members of the diplomatic corps. Also in attendance were members of the royal family, which included Prince William, Kate Middleton, Prince Charles, and 
Camilla Parker
.
Sticking to the tradition of wearing a gown, Kate arrived in long-sleeved, black velvet gown by her wedding dress designer, Alexander McQueen.
For her hair, she opted for a sophisticated braided up-do, which showed off her chandelier earrings and necklace by the Nizam of Hyderabad 
Commanding all the attention in the room was her "Cambridge Lover's Knot tiara." This is a favorite piece of hers, which she inherited from Princess Diana, who also coveted the piece.
Kate, who has been handed the Queen's patronage, "Family Action," wore the tiara that is over a century old. It is designed with diamond pretzel-shaped knots, with pearls hanging from them. 
Commissioned Queen Mary in between 1913 and 1914, the jeweler Garrard made a replica of a tiara owned by Mary's grandmother, Princess Augusta of Hesse, PEOPLE reports.
Members of the royal family, including Kate, wore personalized sashes and medals on top of their formal attire to signify the honors bestowed upon them by the Queen.
As the host, the Queen chose a gown by her favourite designer, Angela Kelly. For her head-piece she wore the diamond and emerald dripping, "Vladimir tiara."
A source tells the Daily Mail that Queen and Kate have established a "very easy relationship," after the two shy women took some time to warm up to each other.
Reportedly they have both made an effort to develop a strong bond, and Kate keeps her involved and informed about her great-grandchildren.