Vanna White's Grown up Son Nikko Regarded as 'Gorgeous' by 'Wheel of Fortune' Fans
"Wheel of Fortune" decades-long co-anchor, Vanna White shows off her 25-year-old son, Nikko Santo Pietro, and fans cannot seem to get over the cutie.
In the picture, the duo shared mother-son bonding time as they both smiled for the camera. However, Nikko's famous mother wanted her fans to catch a glimpse of the moment, so she tweeted a picture detailing where they spent quality time.
 "Hanging with my boy!!! #inthecountry #love."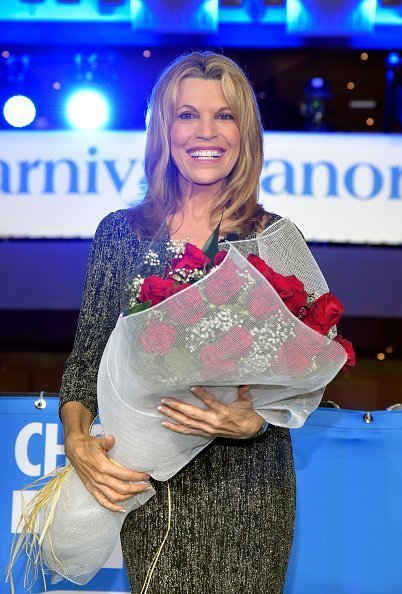 Vanna was, however, not the one getting all the attention from the actress's fans, but her son! Loads of fans gushed at his handsome face and inquired if he had a partner.
One fan went as far as stating interest in texting him with an "I'd like to buy an @." "He can tap my letter tiles any time," another fan wrote.
This is not the only time the tv personality will be showcasing spending time in the company of her boy.
Last year, when Nikko turned 24-years-old, she uploaded a video where she surprised him by going to pick him up at the airport. The excited mother who could be seen wrapping her son in a big and warm embrace captioned her tweet:
"I surprised Nikko in Seattle to celebrate his 24th birthday! What a surprise it was! Happy birthday my sweet son! I love you!"
While Nikko is not as popular as his mother, he never misses an opportunity to update his Instagram with details of himself, most often, his work. 
I surprised NIkko in Seattle to celebrate his 24th birthday! What a surprise it was! Happy birthday my sweet son! I love you! #birthdayweekend #love #fun pic.twitter.com/OoWw4KOQqQ

— Vanna White (@TheVannaWhite) June 10, 2018
The young adult markets homemade bread and clearly loves to bake. During a vacation, he took to his Instagram to share with his followers where he intended to touch down and how well his business is doing, while he excitedly held high one of his homemade bread. In his words :
"Aloha! I leave Cape Girardeau for vacation, and the bread requests continue in Hawaii. Happy holidays! #sourdoughbread #wildyeast #vacation #hawaii."
Apart from work stuff, the 24-year-old also captures happy moments with his mother and has a variety of images featuring himself and his Tv star mom on his social media page.
Vanna had her first child, Nicholas Santo Pietro, two years after she experienced a miscarriage. Nikko, as he is popularly called, is a product of Vanna's marriage to her former husband, George Santo Pietro. 
Nikko's sister, Giovanni nicknamed "Gigi" was born in 1997, a few years before their parents separated. Although their famous mother never remarried, she has enjoyed a few relationships since her divorce and has made her children and career a priority.
Apart from her ground-breaking fashion outfits and her dedication to her career, which has spanned for decades, updating her fans with specific information regarding her and her kids is no problem for her.