Joy-Anna Duggar of 'Counting On' Fame Responds to User Who Called Husband Austin 'Serious and Strange' & Fans React
Joy-Anna Duggar came all out to defend her husband, Austin Forsyth, after a fan called him "Serious and Strange" following an Instagram post, and her fans reacted.
The Duggars are all about love and peace, but once in a while, they enter defender mode when someone messes with the people they love.
Joy-Anna Duggar found herself responding in defense of her husband, Austin Forsyth, after one Instagram user called him "Strange" and "Serious."
Joy-Anna shared a photo of her husband and son, Gideon, in a bonding moment, and in the caption, she wrote that her heart skips a beat when she sees the two together.
She added that Austin is such a good dad, noting that he prays with their son every night before bed, and she loves her little family.
One follower of the reality star wrote that the dad-of-one looks "serious and strange," but admitted that the photo looks sweet.
The mom-of-one wasted no time responding, and she informed the user that while her husband can be "More serious," he has an outgoing personality.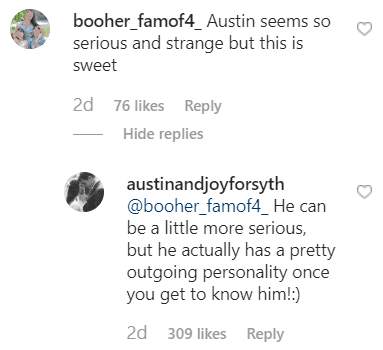 Joy-Anna's followers reacted to the comment, and her response, with one person writing,
"My husband is the same way! You and Austin are such an encouragement."
Another reasoned that the "Counting On" star's seriousness is scripted by the show to portray him as a no-nonsense person.
The user who sparked the comments returned to say "Strange" was not the intended word, but subdued, and agreed with Joy-Anna that her husband's personality shines through off-camera.
Jill Dillard, one of the Duggars, joined the conversation, writing that Austin is not the "Most serious of the bros." One follower noted that the photo only depicts a loving father bonding with his son. 
The user added it must be hard for the TV star to defend her husband continually. Another wrote that the Arkansas resident is jovial on the show, and described him, and his wife as a "Lovely couple."
Joy-Anna and Austin courting in 2016 and got engaged in 2017. That same year, they got married and welcomed their son the next year. The patriarch of the Duggar-Forsyth family recently celebrated his 26th birthday, and his wife celebrated him with a post on Instagram.
In it, the TLC star listed several fun facts about her husband, writing amid other things that he has twice the number of coats and clothes that she does. It is evident that the reality stars love and dote on each other, and despite people's opinions, they admire each other's personalities.