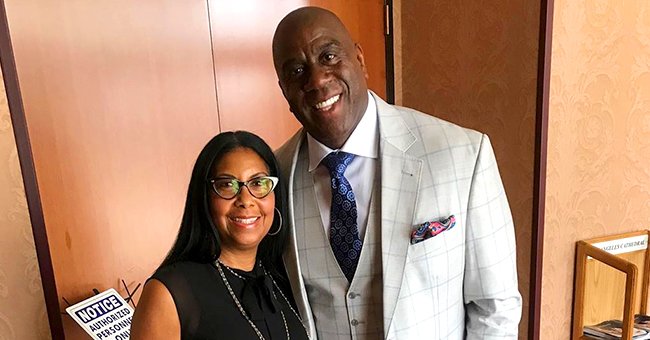 Instagram/magicjohnson
Magic Johnson's Wife Cookie Posts Pic with Granddaughter Gigi in White Dress on Her 11th Birthday
Magic Johnson's granddaughter held princess status as she celebrated her 11th birthday on Thursday. The young girl got tons of well-wishes, including a tribute from her grandmother.
Magic Johnson's wife, Cookie Johnson, took to Instagram on Thursday to share a heartwarming picture of her and her step-granddaughter, Gigi. The little girl is a daughter to Andre Johnson and his wife, Lisa.
Andre, Magic's eldest son, also shared a sweet post on Instagram to honor his daughter, as did Lisa. Magic also has another son, EJ. The posts are found below.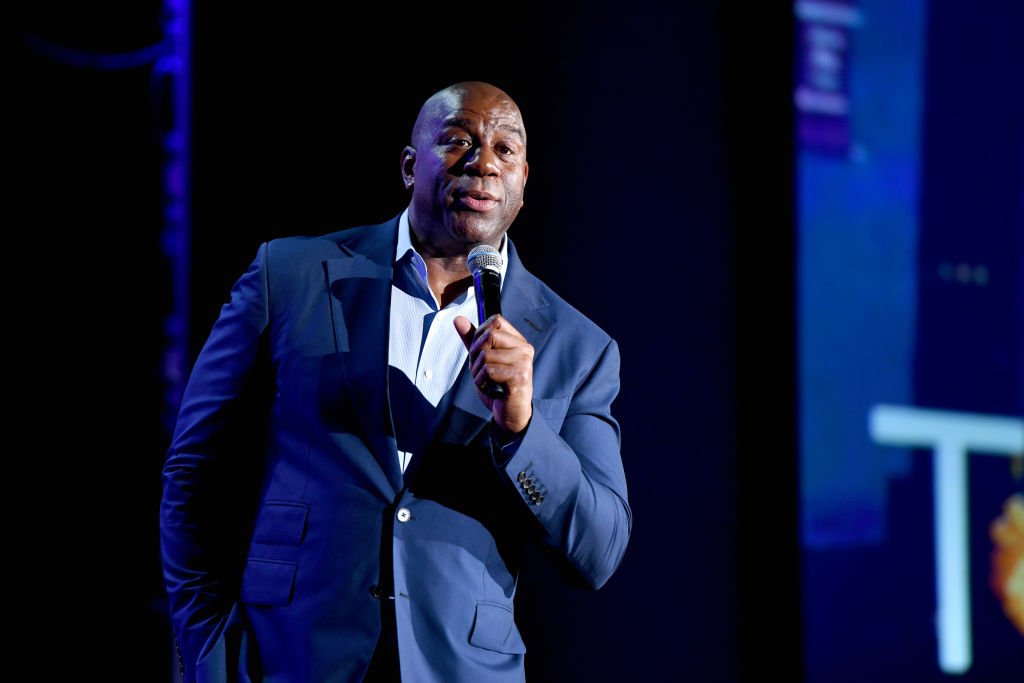 Earvin "Magic" Johnson, Chairman and CEO of Magic Johnson Enterprises speaks onstage during ONWARD19: The Future Of Search - Day 2 at Marriott Marquis Times Square | Photo: Getty Images
Cookie Johnson shares birthday post
Cookie shared a photograph of her and Gigi attending some unnamed event. The 60-year-old wore a cream leather jacket with a matching skirt and a white undershirt.
As for Gigi, she looked adorable in a sleeveless white dress with cream designs on the top. Her hair was out in loose waves, and she wore a cute smile on her face.
In her caption, Cookie encouraged the young girl to continue growing into the "beautiful, intelligent" lady she was becoming. Her followers all wished Gigi a happy birthday.
Gigi's parents celebrate her
Andre also posted a shot of his little girl along with several of her school friends to Instagram. He revealed in his caption that his daughter's friends sang to her for her special day.
Mom Lisa shared several photos of her daughter from when she was a baby to current day. "Love you to the moon and back (and back again)," she wrote in her caption.
Andre's a great-looking guy
Many would say that Lisa is lucky to be married to Andre, who appears to be a hunk of a guy based on some beach photos from Hawaii last year.
The 38-year-old stepped out shirtless with his dad, and it was hard to miss his bulky bodice as he enjoyed the waves. The father-of-one was covered in tattoos, with one of them representing his family.
Andre's mother is Magic's ex-girlfriend Melissa Mitchell. Magic and his wife Cookie also have an adopted daughter, Elisa, who is now in her mid-20s.
Magic's kids are advocates
Both Elisa and EJ are advocates for a cure of HIV/AIDS, a move that was inspired by their father having the disease. The famous basketball star's diagnosis was publicized in 1991.
That same year, Magic and Cookie got married. They celebrated their 28th anniversary back in September when Magic shared a touching caption along with a photo of their wedding day, among other pics.
The couple attend Samuel L. Jackson event
Later in October, the couple stepped out together for Samuel Jackson's wife's 70th birthday bash. They both looked stunning, with Magic wearing a blue suit and brown shoes.
Cookie looked gorgeous in a black knee-length dress paired with a white long-sleeve jacket and black stilettos. Daughter Elisa also showed up, sporting a brown suit over a black tube top and matching boots.
The star-studded event came as a surprise to Jackson's wife, LaTonya. Based on the picture, she and everyone else had a ball of a time. We hope Gigi did on her birthday, too.
Please fill in your e-mail so we can share with you our top stories!