College Athlete Jurnee Farrell Called a Hero after Sacrificing Volleyball Playoff Game to Donate Life-Saving Bone Marrow
A student from Howard University is being praised for choosing to miss what could have been her last college volleyball tournament for a good cause: donate bone marrow to save a life potentially.
Jurnee Farrell, a 21-year-old senior volleyball player at Howard University, has been playing with the school's team since her freshman year.
During her sophomore year, her coach Shaun Kupferberg encouraged Farrell and the rest of her teammates to sign up as a donator with Be The Match, a non-profit organization that maintains a  list of possible bone marrow and stem cell donors.
Farrell signed up, and two years later, she received a call letting her know she was the match for a 57-year-old female with acute lymphoblastic leukemia.
Tonight at 11 watch the @ABC7News segment on how @HUBisonSports student athlete Jurnee Farrell gave the gift of life to a stranger in need! @BeTheMatch #EveryDayHeroes pic.twitter.com/Gx6aC6xOTh

— Howard University (@HowardU) December 2, 2019
Black patients have only a 23-percent chance of finding a match, that's the lowest rate of all ethnic groups.
Although the organization let her know she would need up to 10 days of recovery after the donation,  and coincidentally that meant she would miss the final game of the conference tournament, it was a no brainer for Farrell.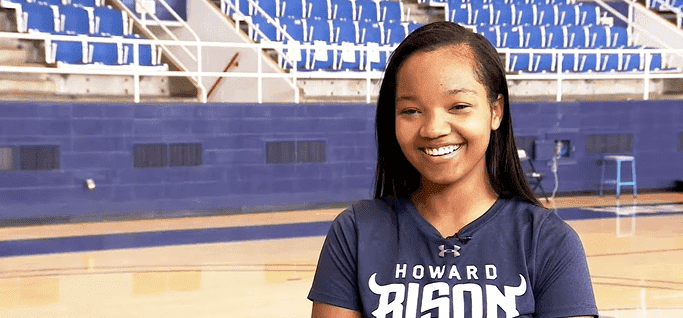 "I said, 'Yes, of course, I would do it,' because I was saving somebody's life… you only get one chance in life, I think, to save somebody else's, and this was my chance," she told ABC News.
"They're on a timeline, I'm not really," she added. "So I had to sacrifice that. It was okay. It was worth it."
Farrell underwent the procedure on November 19, and that same weekend, her teammates won the tournament while she cheered from the sidelines.
Coach Kupferberg said everything worked out as it should have and praised Farrell's act of kindness, explaining that, when it comes to contributions made in life, saving another human being is quite a significant accomplishment.
Farrell will make her triumphant return to the volleyball court at the  NCAA volleyball tournament, and she'll have to wait one year to find out if her donation was a success.
Then, she will have the chance to reach out to the woman who received her stem cells.
Be The Match and Jurnee are encouraging more African Americans to sign up as donors, revealing that black patients have only a 23-percent chance of finding a match, that's the lowest rate of all ethnic groups.
Farrell's message for people hearing her story was that, if you get the chance to save someone's life, you shouldn't hesitate.