Kate Middleton Seemingly Shrugs off Prince William's Hand during 'A Berry Royal Christmas' and Fans React
The Duchess of Cambridge seemed to shrug off her husband's arm as she taped a BBC show. As expected, royal fans caught it and shared their opinions via social media. 
On Monday night, Kate Middleton and her husband Prince William appeared in Mary Berry's "A Berry Royal Christmas," a segment focused around the holiday season. 
Soon, however, a part of a short promotional clip showing the 37-year-old royal couple in action led to lots of opinions being thrown around within the Twittersphere. The reactions are found below. 
Kate shaking off William's hand on her shoulder during #ABerryRoyalChristmas pic.twitter.com/NyzjdKC3rk

— Caitlin McBride (@mcbride_caitlin) December 16, 2019
Kate and William do a Christmas tv special
In the clip, the Duke of Cambridge spoke with an intimate group of people. At one point, he rested his hand on his wife's arm. Just as quickly, the Duchess moved her left side back. 
William immediately dropped his hand, and the pair continued to interact with the group around them. The split-second moment got lots of reactions online, though. 
Of course, many suggested that the incident was a telling sign of some discord between the couple. "This says so much!" one person said in part in a tweet.
If I was a royal reporter I'd be on high alert for a lifetime royal scoop. This says so much!

— . (@shweetbunny) December 16, 2019
Fans reacted with intensity
Another asked: "What just happened here???? Ouch!" In contrast, some people found the move perfectly reasonable considering the circumstances of the occasion.
A couple of users pointed out that Middleton was ensuring that the attention of the broadcast stayed on the volunteers and the program they were supposed to be showcasing. 
What just happened here???? Ouch!

— Sonia Garcia (@SoniaJacGarcia) December 16, 2019
"I wish people would stop trying to pick holes in their relationship," one person ended a defensive tweet. Of course, the royal family — especially the couples — are under constant scrutiny from the public. 
Others found humor in it
Typically, Middleton and William are known for showing fewer displays of affection than, say, Prince Harry and Meghan Markle. Still, Middleton's reaction seemed a bit off. 
By touching her, William, accidentally put the attention onto Kate, who simply returned the attention to the group they were with. A fabulous programme showcasing the work of the prominant royal line. Genius idea to team up with Mary Berry! #ABerryRoyalChristmas

— Ingrid (@iamurray) December 17, 2019
Many other users made fun of what happened, sharing hilarious GIFs to express their reactions. "She moved with a quickness," a user named Marie wrote.
Some media outlets completely ignored the incident, focusing instead on the humble attitude Middleton gave off as she worked with Berry, the famous 84-year-old cookbook author. 
She moved with a quickness 😂

— Marie (@sparklemarkle77) December 16, 2019
Kate impressed Mary Berry
The two women discussed their personal meal preparations. Middleton revealed that she grows her own vegetables and shared which of them are her kids' favorites. 
Middleton is mother to Prince George, six, Princess Charlotte, four, and Prince Louis, one. The segment also delved into fun outdoor activities the kids enjoy.
The Duke and Duchess visited four patronages in the show. Earlier this month, the Queen handed over one of her patronages to Middleton after a partnership of 65 years.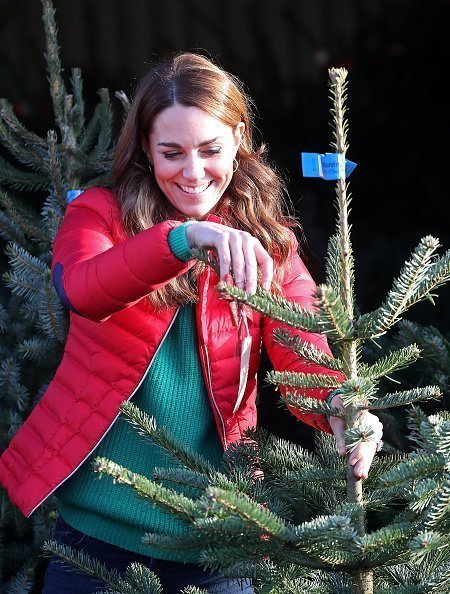 The Queen gives Kate a patronage
As her first royal duty with the patronage called Family Action, Middleton shopped for Christmas trees at the Peterley Manor farm in Great Missenden, Buckinghamshire. 
Dressed in festive colors, the Duchess also helped kids write letters to Santa. Her husband wasn't present for the occasion, but there are plenty more festive events the couple might attend.