Regis and Joy Philbin Have Been Married for 49 Years and Still Keep Their Sparkle Alive
Actor and talk show host Regis Philbin, best known for "Live! with Regis and Kathie Lee," has been married to TV personality Joy Senese for nearly five decades.
Born on August 25, 1931, Regis has been active in the entertainment industry since the 1950s, when he served as a page at "The Tonight Show." In 1962, he worked as an announcer on the show, as well.
Regis and Joy have accomplished what most celebrities haven't: maintaining a relationship for several years in the entertainment industry.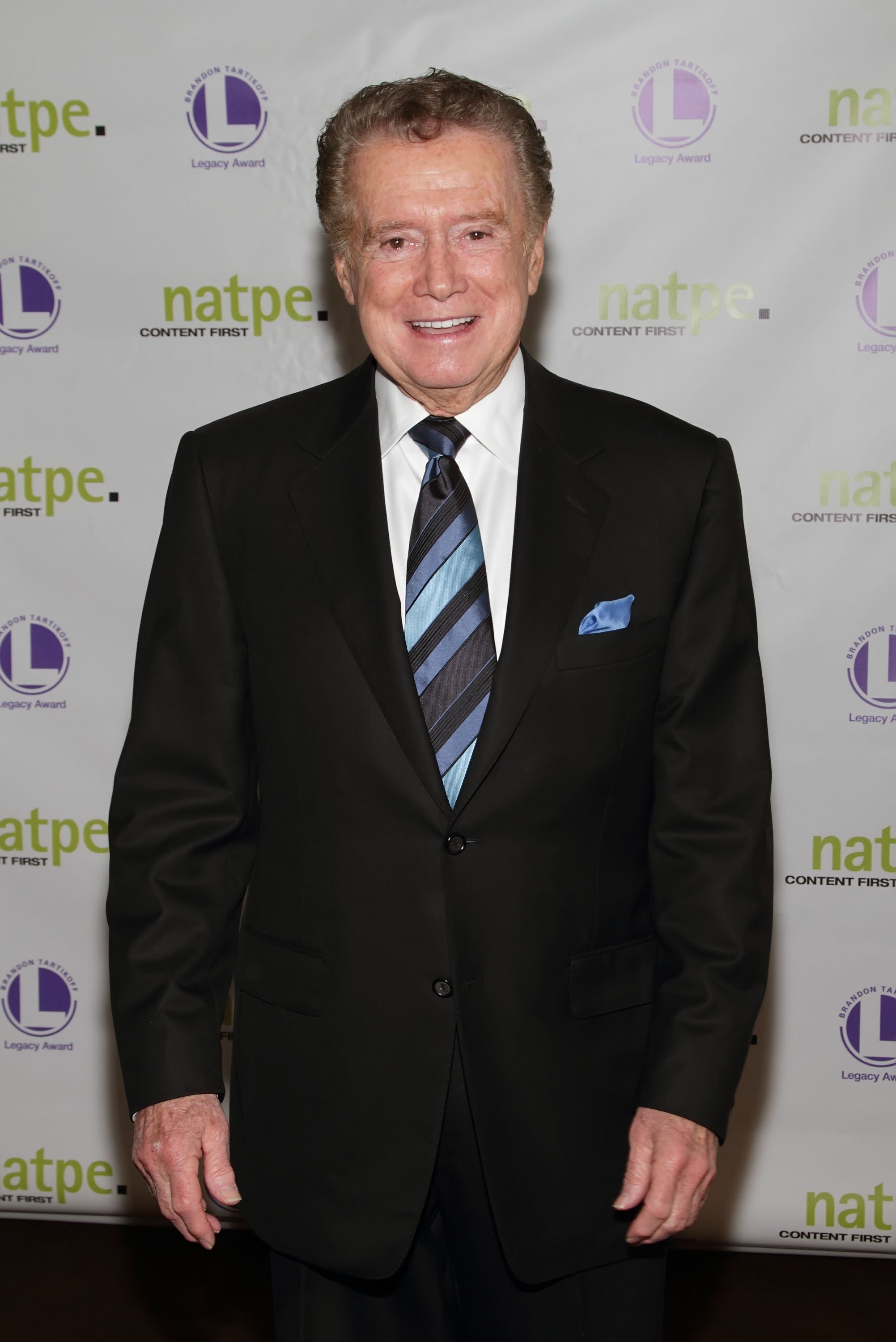 REGIS PHILBIN'S EARLY CAREER
His first job as a talk show host was on "The Regis Philbin Show" on KGTV, which was previously known as KOGO-TV. Since he had no writing staff for financial reasons, Regis had to start each show with his hallmark host chat.
It consists of discussing with the audience and his co-hosts about his life and daily events.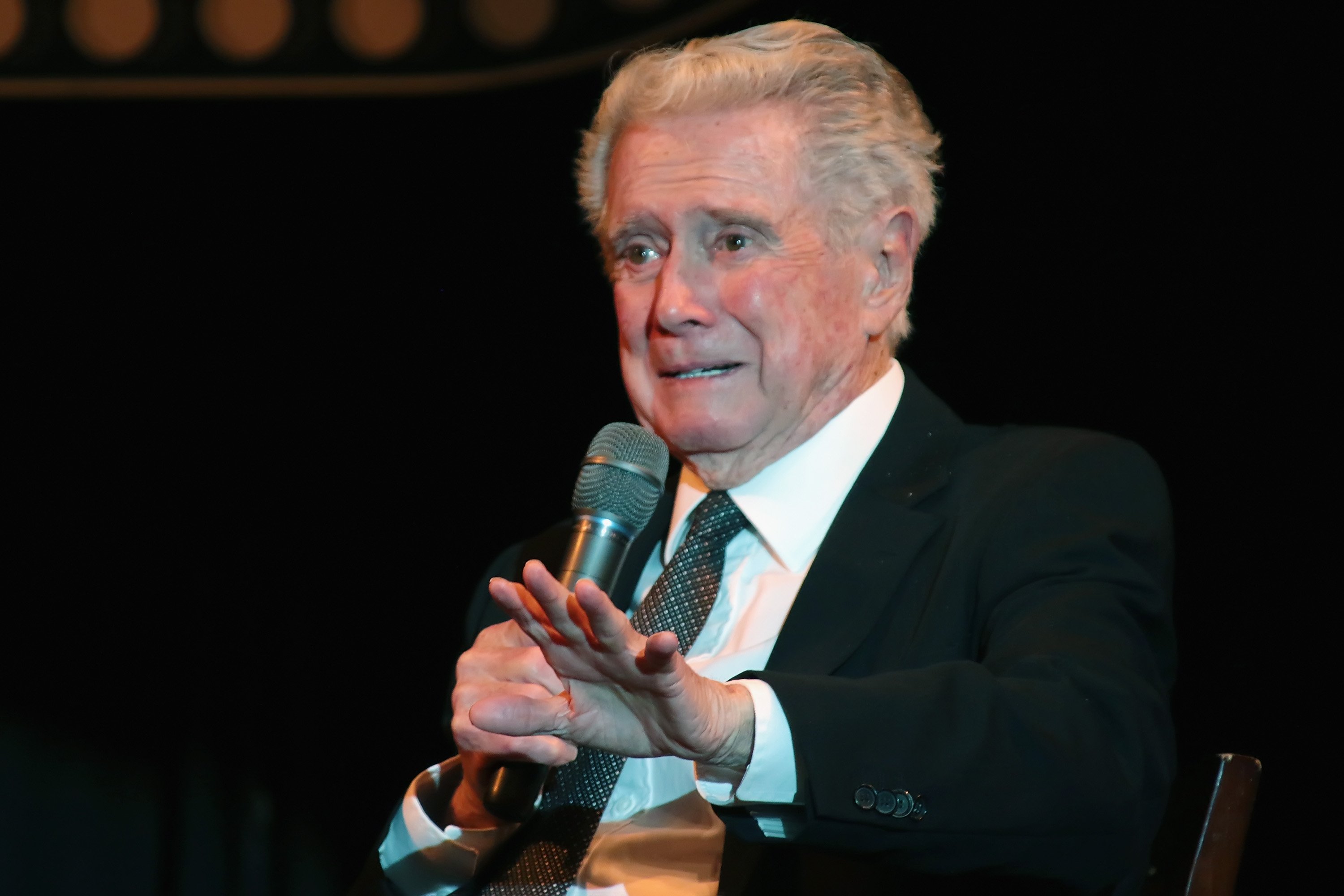 One of the most significant accomplishments in his early career came in the mid-70s when he joined the morning talk show "A.M. Los Angeles." Between 1975 and 1978, he worked next to Sarah Purcell. From 1978 to 1981, his co-host was Cyndy Garvey.
When Regis Philbin joined the show, it was at the bottom of the local ratings. His presence, thankfully, took it to No. 1.
REGIS PHILBIN AND KATHIE LEE GIFFORD JOINING FORCES
Although he had already a very successful career, his fame skyrocketed in June 1985, when he was paired with Kathie Lee Gifford in what was later known as "Live! with Regis and Kathie Lee."
The show became syndicated in September 1988 but unfortunately suffered a setback when Kathie Lee left in 2000.
Wishing to happiest of birthdays to @KathieLGifford pic.twitter.com/0NLeaaJIBj

— Regis Philbin (@regis) August 16, 2016
After months of hosting alone and having guest hosts from time to time, Kelly Ripa finally joined the show permanently in 2001. With her inclusion, the show was renamed to "Live! with Regis and Kelly."
Both of them worked together for ten years, getting high ratings throughout the whole decade. In 2011, Regis left the show and was replaced by former football player Michael Strahan.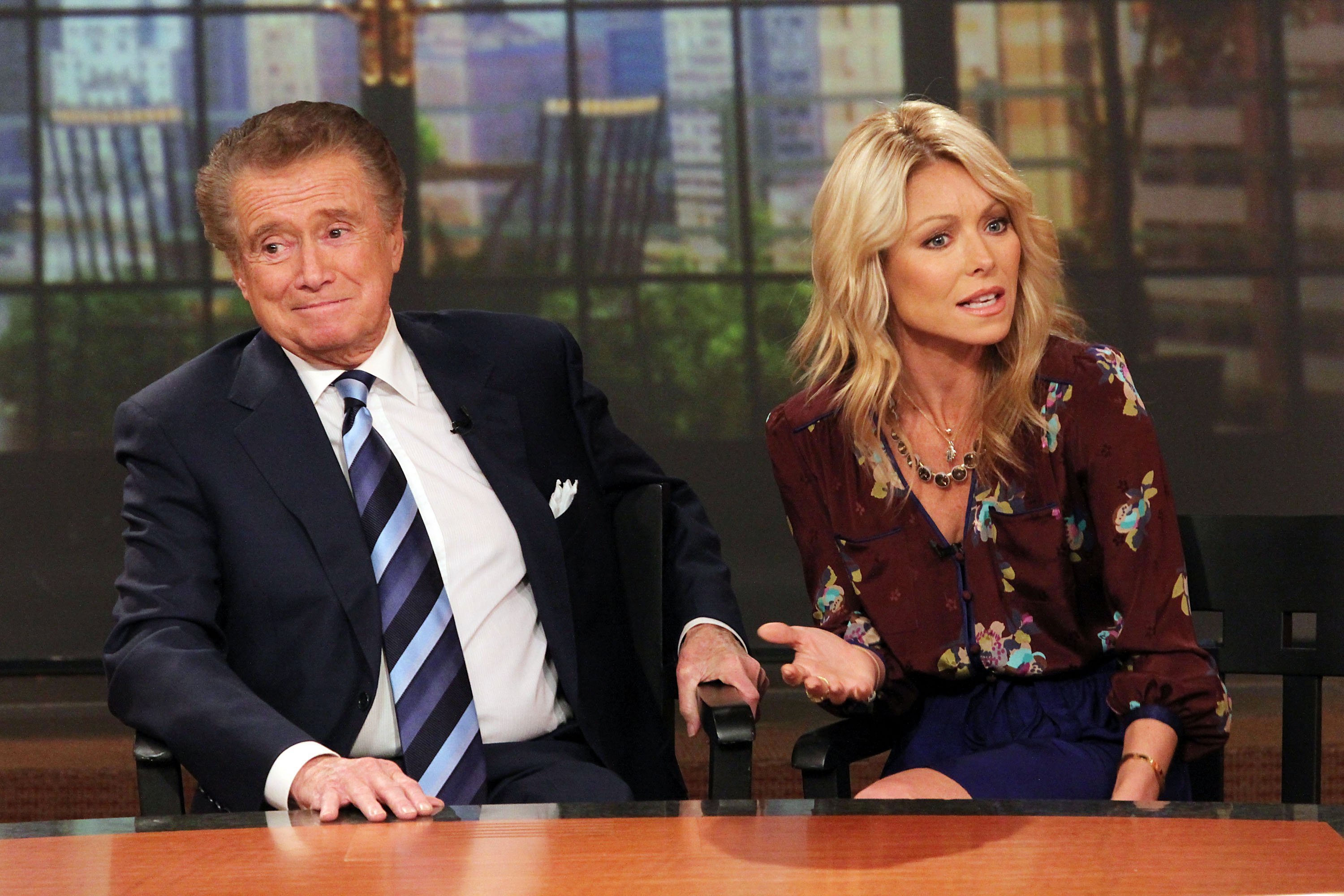 REGIS' RELATIONSHIP WITH CATHERINE AND JOY PHILBIN
As per his romantic life, Regis Philbin has been married twice. His first wife was Catherine Faylen, the daughter of the character actor Frank Faylen. They were married between 1955 and 1968, and welcomed two children to the world:
Amy, who pursued a career in singing but has chosen to stay away from the spotlight, and Daniel, who sadly passed away from natural causes in November 2014. He was born with a spinal cord congenital disability that forced him to use a wheelchair his entire life.
Regis' second wife is an interior decorator and now TV personality Joy Philbin. The couple tied the knot in 1970 and have two daughters together:
Joanna, an author best known for writing "The Daughters Take the Stage" series and "Rules of Summer," and Jennifer, a highly-talented Hollywood producer and screenwriter best known for her work on "The O.C."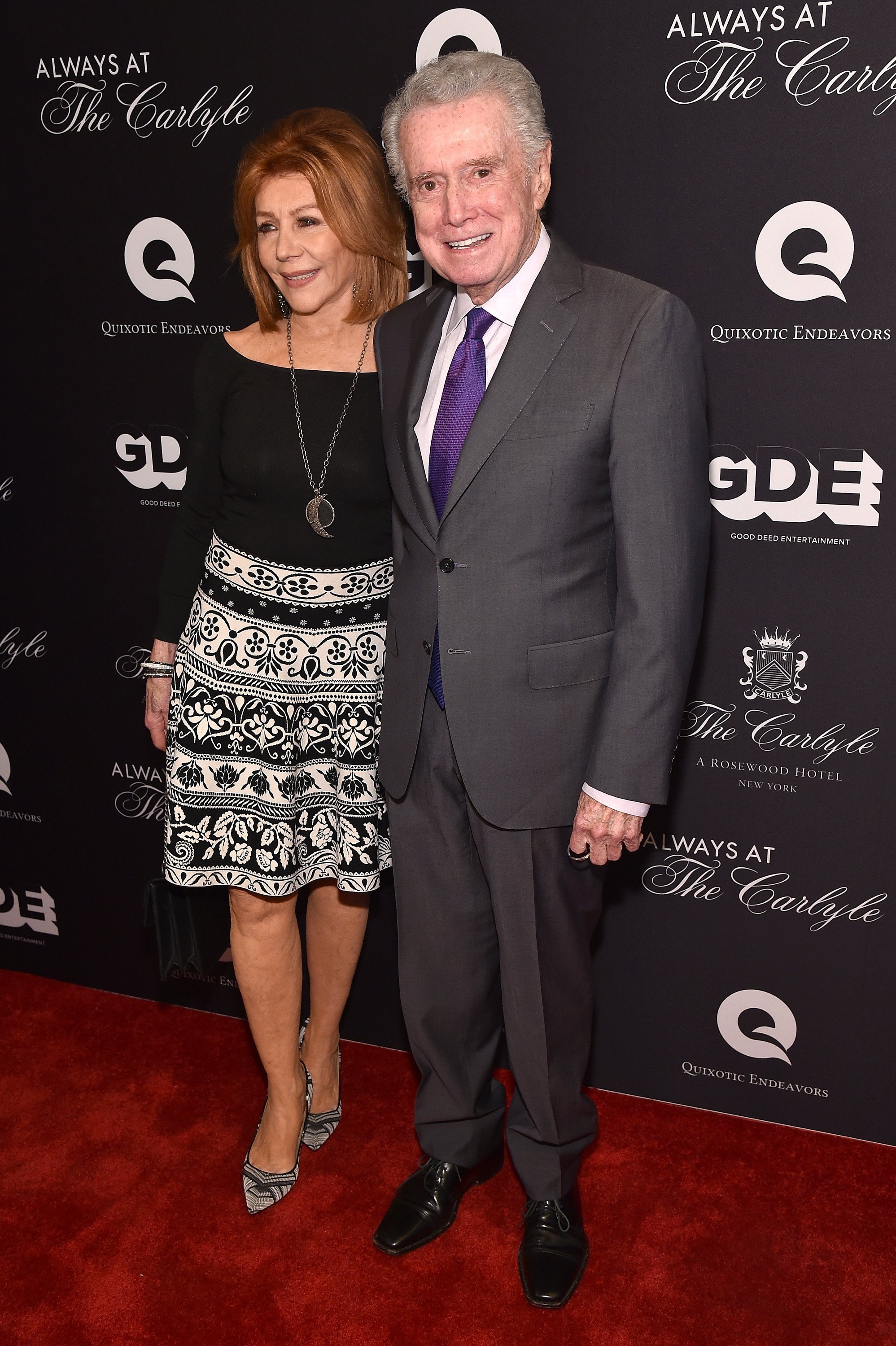 SECRET TO THEIR LONG-LASTING RELATIONSHIP
Regis and Joy have accomplished what most celebrities haven't: maintaining a relationship for several years in the entertainment industry.
They know that their case is not commonly seen, which is why they talked about their secret to having a seemingly perfect marriage for 49 years and counting.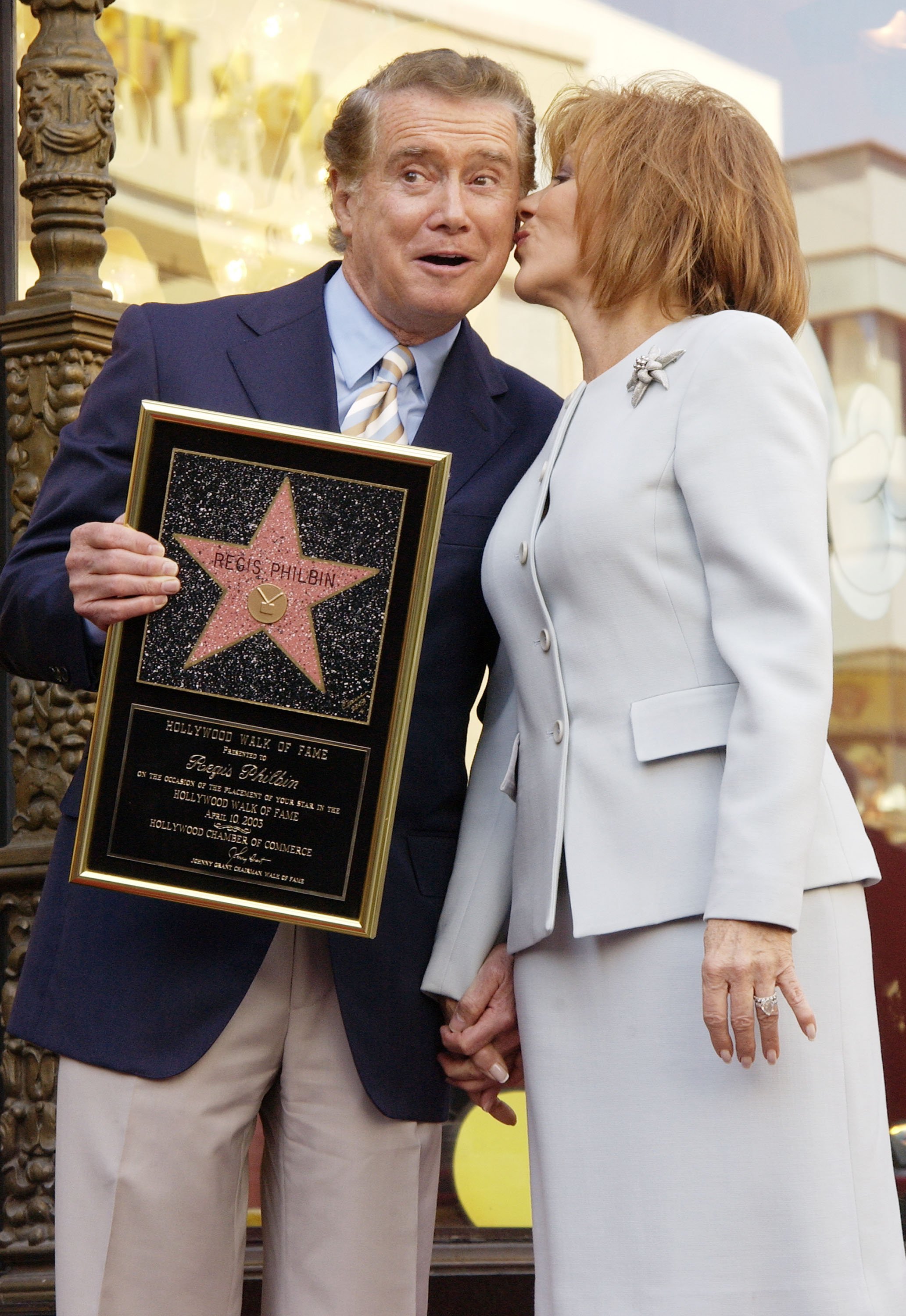 Jokingly, Joy responded: "He's always wrong, and I'm always right." After smiling to each other for a second, Regis admitted that it was a great question. While pointing at his wife, he said that "this" was the answer, referring to what she had said.
He later carried on with the joke, saying, "I'm always wrong? In front of my boys here?" to what Joy added, "well, you pretend to be wrong." Regis finally said, "don't write that, don't let anybody know what Joy said."
Although they might have been joking, they made clear that they are always having fun! In a different interview with Parade, Joy shared a much serious response to the same question about their secret behind their strong relationship:
"There's just something about Regis. There's always something new on the horizon, and it keeps our lives active and fun. I'd rather be with Regis than any other person in the world."
Nowadays, the TV personality is a recurring co-host on the "Rachel Ray Show." At 88 years of age, the least of his worries is money. Regis Philbin's net worth, according to Celebrity Net Worth, is estimated at $150 million!