Snoop Dogg and Wife Shante Broadus Enjoy Date Night in Elegant Looks at Diddy's 50th Birthday Party
Snoop Dogg and his wife recently made the most of Diddy's 50th birthday by tagging it a date night as well. The hip hop couple looked elegant in their chosen ensemble as they posed for several pictures.
Diddy threw a big birthday bash some days ago with the who's who in the entertainment industry. Snoop, 48, was one of the many high-profile guests and attended in the company of his wife.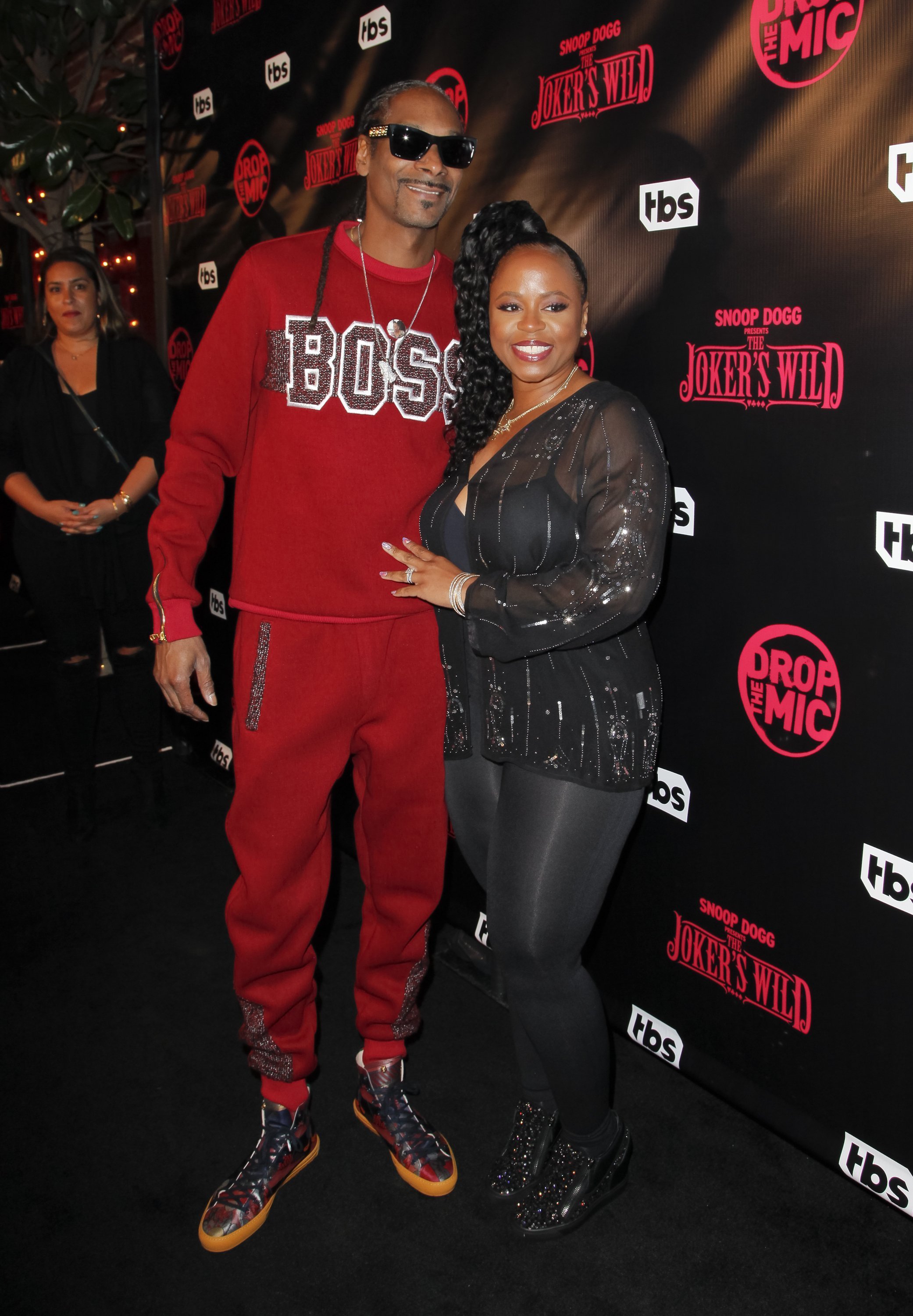 The "What's My Name?" rapper and Shante Broadus coordinated in grey outfits. Snoop paired a grey suit with a matching faux fur-lined jacket while dark sunglasses and black shoes topped it off.
Snoop and Shante have also had to deal with infidelity rumors on the rapper's part, with one of such incidents involving a love-child
Shante, on the other hand, looked classy in a shimmering halter-neck dress that went all the way to her feet. She paired the dress with a black blazer and wore minimal jewelry.
Snoop shared two photos from their outing: one picture of the duo sitting on a sofa and another snapshot of them posing with hands on their hips as they stood behind a painting backdrop.
"@diddy Thanks. 4 the invite," Snoop captioned a photo of his and Shante's elegant ensembles to the event. In her husband's comments, Shante gushed: "What A Night."
SNOOP & SHANTE'S LOVE
While Snoop and Shante are often seen wearing casual clothes on their Instagram, they know how to steal the show at events with their glamorous outfits and jewelry.
After being together for over two decades, Snoop (birth name Calvin Broadus Jr.) and Shante have become an inspiration for other couples, especially those in the entertainment industry.
ROSES & THORNS
Snoop and Shante's love story is not without hitches, however. In October, the "Gin & Juice" rapper made it clear that they had been through some rough times together.
Alongside a photo of the couple, Snoop thanked Shante for standing by him "through the ups and downs" and the "smiles and frowns."
THE BEGINNING
Per Scribol, Snoop and Shante met in high school long before fame and fortune. Their son, Corde, was born in 1994, and their second son, Cordell, was born in 1997, four months before their June wedding.
Snoop and Shante tied the knot at Marina Del Rey's The Ritz-Carlton hotel and welcomed a daughter, Cori, in 1999, but things would later take an ugly turn.
THINGS GO LEFT
In 2004, Snoop filed for divorce from his wife, citing irreconcilable differences. The entertainer would eventually rethink his choice and decide against it, blaming the glamorous entertainment industry for his disillusionment.
On more than one occasion, Snoop and Shante have also had to deal with infidelity rumors on the rapper's part, with one of such incidents involving a love-child named Julian.
LOVING THROUGH IT ALL
Through it all, Snoop and Shante stayed together and renewed their wedding vows on a 20-acre ranch in 2008. "[The ceremony] was such a beautiful surprise," Snoop reportedly said. "Because my wife didn't know what was going on."
Snoop does not take his wife's loyalty for granted. When he's not giving her a shout-out on social media for giving him a chance, he's thanking her publicly for understanding and forgiving him.