Steven Tyler of Rock Band Aerosmith Talks about past Drug Addiction & Credits His Band with Helping Him to Get Sober
It's been almost five decades since "Aerosmith" rocked the radio with their unique style as Steven Tyler belted out their hits. But the very thing that nearly cost the band their future in its early years also led to Steven's sobriety and the realization of another life-long dream.
Now 71-years-old Steven Tyler never wanted to be anything but a rock star. He had no plan B because Steven's unwavering desire to make a name for himself in the music industry wouldn't let him.
THE RUDE AWAKENING
During the 1970s, "Aerosmith" signed with their first label, or so they thought. When their albums started selling like hotcakes, Steven realized they'd been done in when they didn't get the promised royalties from the sales. As it turned out, the band's managers had a deal with the record label, and not them.
"Between our management and our money people, we did not get what we deserved, and those two things are what I will tell you. How did I survive in the music business? By being in a band that sat together in New Hampshire, New England in the 1970s, that had a dream," Steven said during a recent interview.
THE FIGHT AGAINST ADDICTION
According to the singer, the band members all used drugs by then, adding that their managers "loved that about them," because it meant that Steven and his bandmates weren't paying attention to money transactions.  
Steven realized that the drugs were destroying his life, and decided to get help for the first time in 1984, and again two years later. But facilities back then wasn't what it is now. Rehabilitation centers didn't exist, but mental institutions did, as Steven added: 
"The early '80s were terrible, and drugs took us down. I was the first one to get treatment."
A PIVOTAL POINT
In 1988, the band and management staged an intervention that sent Steven to rehab while they went on holiday to relax. Although it took Steven several years to get over his anger towards them, he credited the band and their managers for his sobriety. 
The band had hired Geffen Records, and their A&R man, John Kalodner, helped Steven and his bandmates, Joe Perry, Brad Whitford, Tom Hamilton, and Joey Kramer fight their addictions battles together. 
While Steven noted that his sobriety cost him "nothing less than everything," he chose to voluntarily check himself into a program at Sierra Tucson three years into being sober.
THE LIFECHANGING SONG 
While there, Steven met two severely abused women and born out of his protective nature while considering the women in his life, Steven penned the hit "Janie's Got a Gun." The song later led to Steven's passion project, Janie's Fund, a foundation that supports abused girls. 
It took twenty years before Steven met the people from Youth Villages that helped him make it possible. When he finally did, so did another dream come true for Steven.
STILL GOING STRONG
Steven recently wrapped up his last performance of the year as a part of his "Deuces are Wild" residency at the MGM Park Theater, but on November 29, the crowd got a surprise during his concert.
Toni Braxton was there to rock it up for the night being a longtime fan of "Aerosmith," and things became exciting after Steven spotted the R&B singer.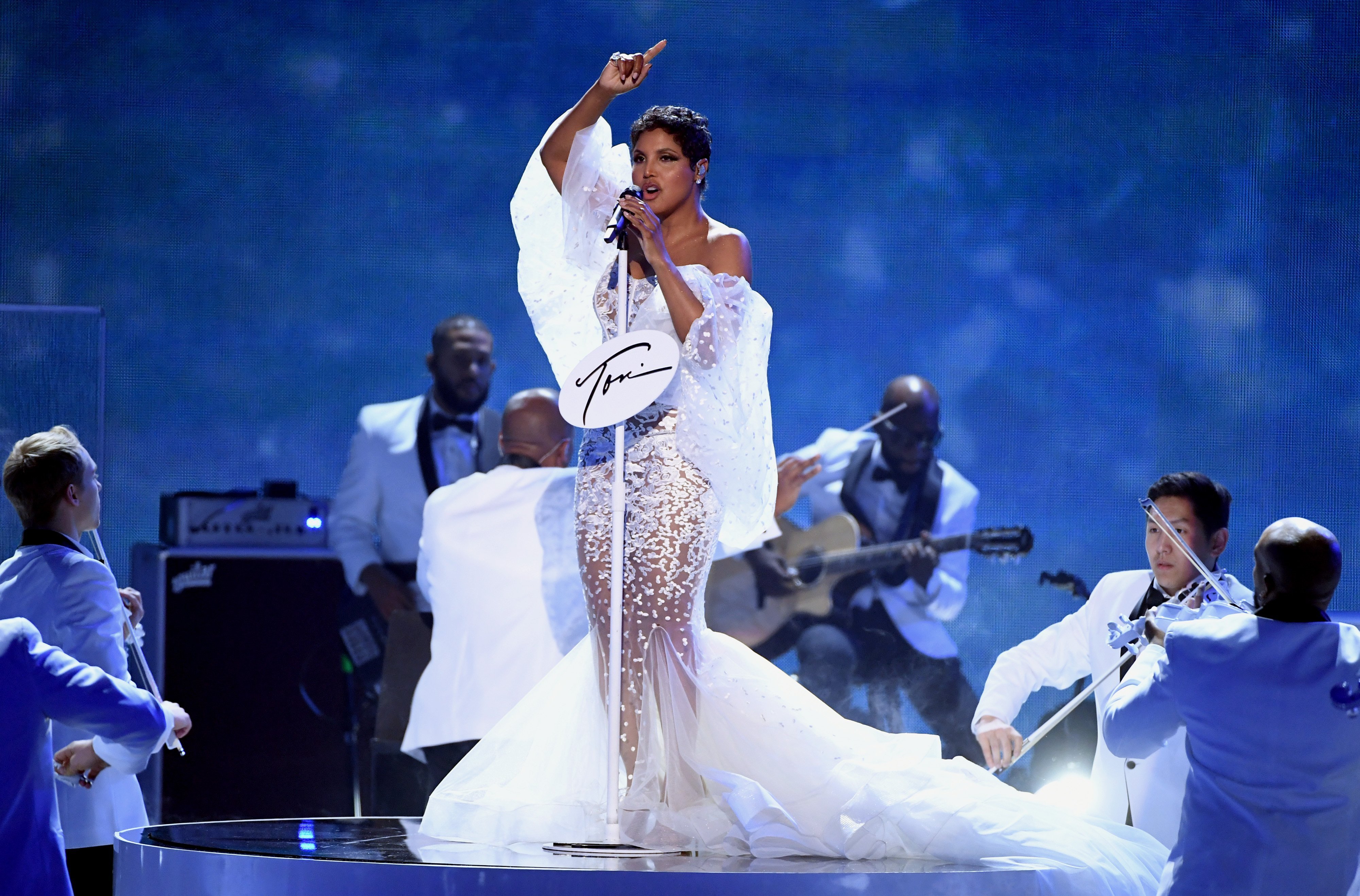 After Steven made his way over to her, Toni joined him on stage where they stunned the audience with a brief duet to the band's hit "Livin' on the Edge." 
The legendary R&B singer, Toni Braxton, dazzled in a white gown when she attended the AMAs in November. She last appeared on the AMA stage in 2001, and it also marked 25 years since Toni made her debut on that same stage.
When she first stepped onto the stage in 1994, Toni wore a similar white gown when she also raked in three awards for best soul/R&B album, best new artist, and adult contemporary artist.