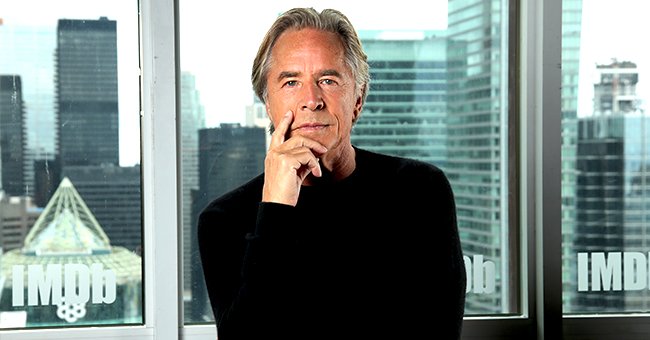 Getty Images
Don Johnson's Wife of 20 Years Kelley Phleger Shares Tribute & Sweet Photos of Her Husband on His 70th Birthday
Don Johnson's wife Kelley Phleger shares a series of pictures capturing some of the best moments in his career, as part of a birthday tribute for his 40th birthday.
Don Johnsons long-standing career has been the result of his starring role in some of television's most memorable storylines.
In honor of his 70th birthday, Johnson's wife, Kelley Phleger, shared some of her favorite moments that have made him the household name that he is today. In a caption she gushed:
"Happy Birthday to my DJ! Loving you up for 22 years ? Lucky ME!"
Don is most famous for his role as Sonny Crockett in "Miami Vice." He has also starred in other hits such as "Django Unchained," "Book Club," "Guilty as Sin" and, "Machete."
While many fans joined Kelley in sending him birthday wishes, one fan reminisced over the series of photos and honored the star by remembering their favourite movie from him.

A fan comments on Kelley Phleger's birthday message to Don Johnson | Source: instagram.com/kelley.johnson
Kelley is 20-years younger than Don, but after the star experienced 4 failed marriages, she managed to win his heart. In an interview with Daily Mail, he talked about his marriage and said:
"People don't develop to the place where they can have long-lasting, mature relationships till they're in their 30s, and for some of us. It takes even longer than that."
Don who is said to have successfully played the role of Sonny because at the time he was just as much of a womanizer as his character, he has completely turned his life around.
After living in the fast life at the height of his career, he has given up drugs and become more spiritual and worked on strengthening his mental wellbeing.
While sitting holding down a busy career, he has become a family man and maintains close ties with all of his children from his previous relationships.
A few years ago, he shared a rare picture with of his children when they attended the funeral for his father, Wayne Johnson.
Apart from focusing on his family, it is reported that he signed on to star the "Nash Bridges" two hour revival.
It has been revealed that the show's creator, Carlton Cruse and many of the original cast members will not be returning.
Please fill in your e-mail so we can share with you our top stories!