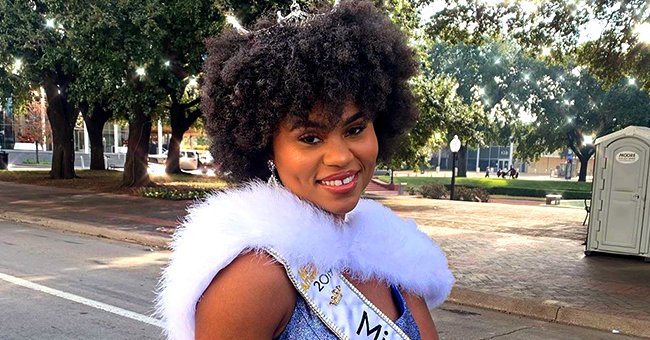 Instagram/missamericatx
Chandler Foreman Is First Miss America Contestant to Wear Afro on Stage
In a year that has proved historic for beauty pageants and beauty standards, Chandler Foreman has made history as the first Miss America contestant to rock her natural afro on stage.
Not too long ago, beautiful women were considered those with straight, flowing hair, but it's 2019, and things are changing for the better. Foreman, from Pearland in Texas, is part of that change.
Back in June, Foreman became Miss Texas after competing with tons of other beauties in her natural afro. The moment she was announced remains heartwarming because of the beauty queen's reaction.
Back in 2017, a biracial pageant winner, Rachael Malonson, made headlines for the wrong reasons after being crowned
As she got ready to compete in this year's Miss America pageant, also with her afro, Foreman took a trip down memory lane to the day she became Miss Texas.
Alongside the emotional video, she penned:
"My greatest honor has been serving this state. Thank you for loving me as I am. Thank you for seeing my heart, accepting my truths and supporting my mission to build authentic, extraordinary leaders. TEXAS, I love you and I hope to make you proud."
According to Chron, Foreman's appearance at the Miss America pageant makes her the first contestant to rock an afro at the national event. But the young lady almost missed the history-making opportunity.
Sheila Milner, a pageant director and former Miss Texas contestant, has been training Foreman and revealed she was initially reluctant to wear her natural hair given the standards associated with pageants.
"Chandler said she needed extensions to compete, but I told her that I loved her natural look," Milner recalled. "This was three years ago, and natural hair wasn't really accepted. But the judges loved her for who she was."
Now, Foreman joins the ranks of history-making beauty queens like South Africa's Zozibini Tunzi, who recently emerged as 2019 Miss Universe.
Tunzi participated in the highly competitive pageant wearing her natural, cropped hair, and her victory has been described as one for every black girl who thought she wasn't beautiful.
Also, for the first time this year, the titles for all five top beauty contests have been won by black women. Besides Miss Universe, the Miss World, Miss America, Miss USA, and Miss Teen USA are all melanin queens.
Pageants usually tend to be controversial either way, but it's good to see organizers recognizing the beauty in every race and color. It's also good to see these ladies support each other through their victories.
Back in 2017, a biracial pageant winner, Rachael Malonson, made headlines for the wrong reasons after being crowned Miss Black University of Texas. The problem: folks seemed to think she was too light-skinned to be genuinely black.
"The black community is supposed to support each other. If you're black, you're black," Malonson said at the time. "For me, I've always had to battle 'I'm not black enough.' But to not just place, but win the title is truly rewarding."
Please fill in your e-mail so we can share with you our top stories!