The Life of Martin Lawrence's First Wife Patricia 22 Years after Their Divorce
American actor and comedian, Martin Lawrence, was once married to author and motivational speaker, Pat Smith. Twenty-two years after their divorce, the former bride of Martins has soared to greater heights, making a name for herself, which does not involve adopting Emmitt Smith's last name.
Before her marriage to Emmitt Smith, former beauty contestant, Patricia Smith was the wife of actor and comedian, Martin Lawrence, in a marriage that lasted two years.
The 49-year old has moved on successfully since their divorce, adding several career qualifications and experiences to her resume, including a long-lasting marriage title.
PAT SMITH'S LIFE TODAY
The James Madison University alumnus, born Patricia Southall, on December 17, 1970, married the iconic comedian at age 25. They divorced two years later.
Today, 22 years after their marriage, the former Miss Virginia, besides being the wife of a famous personality, has taken up self-fulfilling careers that have made her successful. In addition to her Journalism degree, she now boasts of being a motivational spokesperson, author of a bestseller, and founder of Treasure of you.
She also went on to find marital fulfillment with an NFL all-time leading rusher and Cowboy's champion, Emmitt Smith.
PAT'S MARRIAGE TO MARTIN
The former Miss USA runner up became Martin Lawrence's wife in 1995, three years after their first meeting. The two met during one of the "Martins" star's Richmond appearance at a Def Comedy Jam in 1992. The motivational speaker was then working at L. Douglas Wilder's office in Richmond, Virginia. 
During their marriage, they welcomed a daughter, Jasmine Page Lawrence in January 1996 before the nuptials hit a rough road. In her book, "Second Chances," she wrote about her divorce:
"We were both very young, volatile with one another. We just could not figure out how to make it work."
The two finalized their divorce in 1997, with Pat moving out along with their little daughter at the time, harboring feelings of guilt, shame, and embarrassment.
PAT'S MARRIAGE TO EMMITT SMITH
Three years after her "scary" and "disappointing" divorce, the 49-year-old found love again in her current husband and NFL's Cowboy legend. The two first encountered each other at a music festival in Aruba and kickstarted a long distance relationship soon after.
Their love story has stood the test of time, encountering a major hurdle after the NFL player cheated with, and got his ex pregnant. They were on the verge of a breakup due to the hit on her self esteem, but after several prayer and therapy sessions, the author overcame her devastation and got married to her soulmate in 2000. 
Their relationship took another hit in 2013 when Pat's husband got cast in the third season of "Dancing With The Stars." In her book, "Second Chances," the journalism graduate admitted her insecurities and trust issues over Emmitt, partnering up with the beautiful "Cheryl Burke," leading to friction in their marriage.
Gratefully, the couple overcame that hitch as well and have endured their model marriage for nineteen years and counting.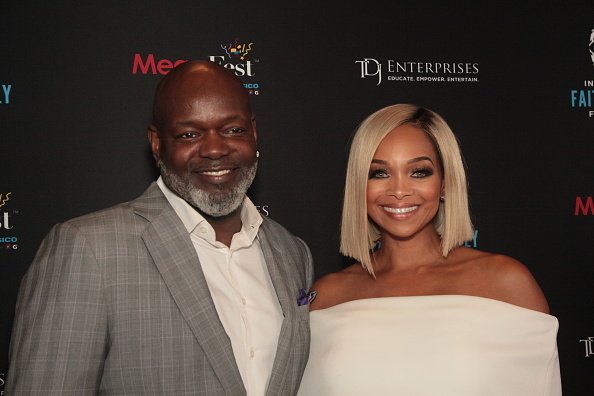 THE KEY TO THEIR MARITAL SUCCESS
During their eighteenth anniversary last year, the couple shared unique marriage advice to other couples out there, which has helped sustain their marriage this long. Pat wrote on Instagram:
"Keep servicing your marriage just like you do your vehicles. Don't wait until it's broken down to go in for service."
That invaluable nugget has worked for them so far, sustaining their "phenomenal" marriage to date. Together, they have three children, two sons, Emmitt IV and Elijah, as well as a daughter, Skylar. However, from past relationships, the football legend has a daughter, Rheagan, while Pat's daughter, with the "Martin" TV show icon, Jasmine, completes the big family of seven.
MARTIN LAWRENCE'S LOVE LIFE POST DIVORCE
Martins also moved on with his life after divorce from his first wife, Patricia. The same year of their separation, the actor started a relationship with a new love, Shamicka Gibbs, and the two dated for about thirteen years before they finally tied the knots in 2010 at Martin's Beverly Hills abode.
Their marriage was blessed with two daughters, Iyanna Faith, 19, and Amara Trinity, 17. The marriage lasted two years, with the comedian filing for a divorce in 2012, on the grounds of irreconcilable differences, and Martin Lawrence Kids were left in custody of both parents.
Shortly after, he began another relationship with his current partner, Roberta Moradfer, whom he proposed to in April 2017, and the two have remained engaged to date. Martins Spouse-to-be is an American businesswoman and advanced aesthetic nurse who owns a cosmetic spa, Efface Cosmetics in Santa Monica.
Thanks to their one-time union, Patricia and Martins have learned invaluable tips to help sustain their new love lives, with daughter Jasmine forever linking the former lovebirds.