'Xmas Card Struggle,' Tamron Hall Melts Hearts with Cute Photos of Son in Adorable Red Outfits
Tamron Hall shared photos of her first Christmas with her son, Moses and reveals that it was a "struggle" to get it right. 
Tamron Hall must be having the perfect Christmas now that she's spending it for the first time as a mother and wife.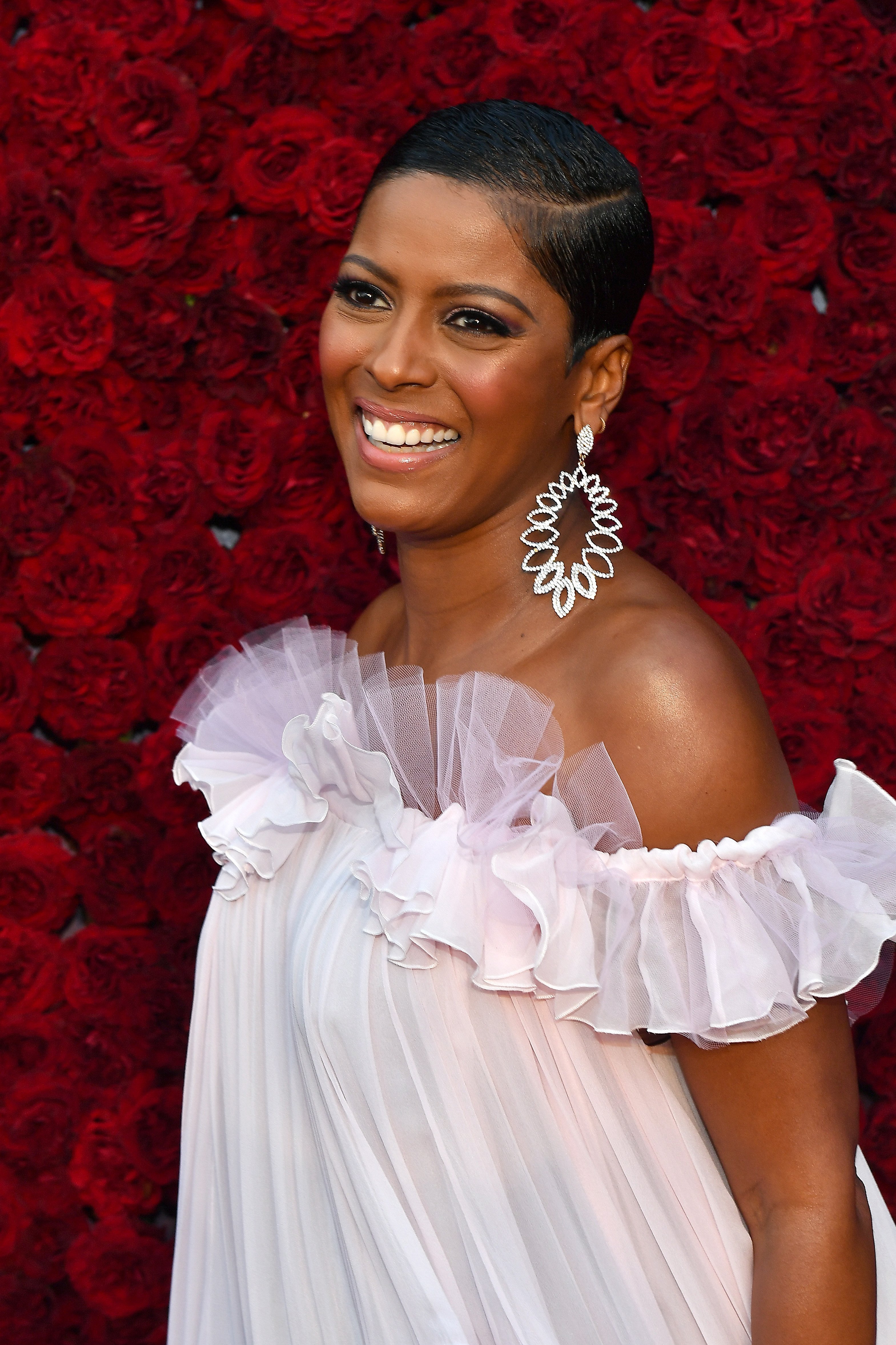 Tamron welcomed her son, Moses earlier this year with her new husband, Steven Greener and we're guessing a holiday portrait was in order to mark their first Christmas as a family. However, we learned from Tamron that it was a struggle to achieve this. 
A solo of Moses shared on the talk show host's Instagram didn't quite go as planned according to her. The "Xmas card struggle is real" she says. 
STRUGGLING TO TAKE THE PERFECT SHOTS
In the pic, Moses, decked in red, wasn't smiling and had his arms crossed over his chest. He appeared unhappy about having to sit through a photo session. "Mood : You want me to wear what!!!! I will not take another photo or change!!!" his mother playfully captions the photo.
"I don't know how y'all get kids to sit for these photos," she adds.
Tamron opened up about her fears and an incident with her son that drove her to tears. 
But Moses seemed to be in a better mood in another pic with his mother. This time he was all smiles hanging on to her dress while they sat side by side on the staircase. 
There was, however, one little snag, according to the host of "Tamron Hall." Their dog was not feeling the Christmas spirit and didn't want to join them in the photo. At the top right corner of the pic is a glimpse of Tamera's dog hiding from the camera. 
THE ROCKY ROAD TO MOSES
Regardless of these holiday photo mishaps, Tamron must be filled with joy to be spending her first Christmas with her son and husband. It was a long journey for the television star to get to this place. 
The 49-year-old had a high-risk pregnancy due to several medical factors. In fact, she delayed the announcement of her pregnancy unsure if her child would make it to full term. 
But on March 4, Tamron shocked the world when she made a dual revelation – she announced she was pregnant and that she had secretly wed Steven, the man she refers to as her "deepest, greatest love."
Tamron revealed later that she suffered infertility issues in the past which makes the birth of Moses even more special for her. When asked lately if she intends to have another child, she says she would love to have another but may take the surrogacy route this time.
WHEN MOTHERHOOD MADE HER CRY
For Tamron, being a parent is "magical" but she's also aware of the pressure of having to be responsible for someone else's existence. It is this that worries her, she admits.
Speaking to Good Housekeeping in September, Tamron opened up about her fears and an incident with her son that drove her to tears. 
At the time, Moses kept spitting up. Despite Tamera's efforts to change his milk, he still kept spitting up. Wanting to fix the problem and not knowing how, Tamera broke down at a Target parking lot due to frustration.  She realized two weeks later that the problem wasn't the milk. Moses just really needed time for his stomach to settle.
Tamron tries to keep a more open mind these days to welcome certain mishaps in her growing child's life and that probably includes the struggle of taking the perfect picture.
Moreover, she learned to rely on other people for support and guidance as she weaves her way through motherhood. Nothing gives her more comfort than speaking to another parent who's also been through what she's going through.