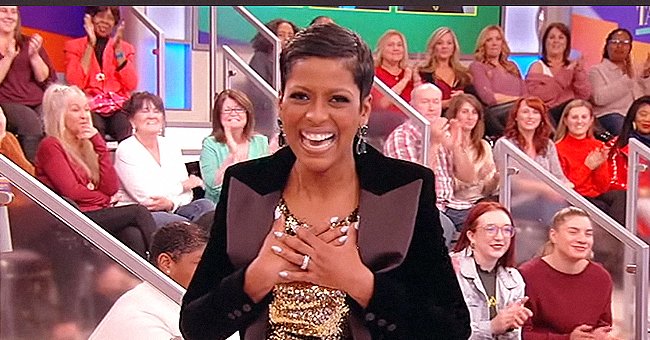 YouTube/Tamron Hall Show
Tamron Hall's Talk Show Will Be Back for a Second Season
Tamron Hall's talk show proves to be a runaway success and is renewed for a second season.
ABC Entertainment President Karey Burke has announced that Walt Disney Television is renewing Tamron Hall's syndicated talk show for a second season.
Tameron's show went on the air just 3 months ago, on September 9, 2019, and is already considered a huge success.
Tamron has tackled topics like the opioid epidemic, domestic violence, and infertility
Tamron Hall at the opening gala for Tyler Perry Studios in Atlanta, Georgia/ Source: Getty Images
TAMRON HALL SLAYS IN HER FIRST SEASON
According to the network, "Tamron Hall" had an 80% approval rating throughout the country - a brilliant result.
Burke revealed that Tamron's warmth and authenticity, and how she connects effortlessly with the audiences and her guests are at the root of the show's results.
TAMRON HALL - HIGHEST RATED NEW TALK SHOW
Burke went on to reveal that Tamron's shows had stunned the network by being one of the most acclaimed new talk shows in recent years. She said:
"As one of the highest-rated new talk shows in five years, Tamron Hall is connecting with audiences in such a powerful and unique way and we are thrilled to build on that momentum with a second season,"
DIVERSITY AND COMPASSION
Tamron has tackled topics like the opioid epidemic, domestic violence, and infertility - among others - with sensitivity and compassion. She has also welcomed guests like Tyler Perry, Patti LaBelle, and Kelly Rowland for in-depth interviews and has quickly gathered a devoted audience.
TAMRON HALL - LIVE FROM NEW YORK
Tamron has even brought her baby son Moses onto the show and has encouraged the tackling of issues such as breastfeeding, and the difficulties new mothers face in their daily lives.
The Tameron Hall show broadcasts live from New York and includes taped segments, many of which are captured around the country.
Congratulations Tameron Hall, and may you reign for many more seasons.
TAMRON HALL INTERVIEWS PATTI LABELLE
One of the most memorable moments in Tamron Hall's first season on her homonymous talk show was her interview with the iconic Patti LaBelle.
The stunning and stylish LaBelle whose energy and ageless beauty belies her 75 years, shared her secret of "eternal youth" with Tameron.
LaBelle revealed that staying young at heart is the true secret. Then LaBelle had the audience and Tamron in stitches, claiming jokingly that "good Black don't crack."
Patti LaBelle is has been singing for over 50 years, and is a legend in her own lifetime.
Please fill in your e-mail so we can share with you our top stories!