Nia Long from '47 Meters Down' Shares Adorable Photos with Look-Alike Son Holding Their Newly Adopted French Bulldog
Actress Nia Long adopted a French Bulldog. The "Fresh Prince of Bel-air" star excited at her new addition to the family took to social media to share cute pictures.
Adopting a pet gives almost the same feeling as welcoming a newborn. The excitement it brings is unusual, and such is the case of actress Nia Long who took in a French Bulldog. 
The actress took to Instagram to announce the new addition to her family. In the uploaded snap, Nia's eight-year-old son Kez Udoka clad in a yellow winter jacket.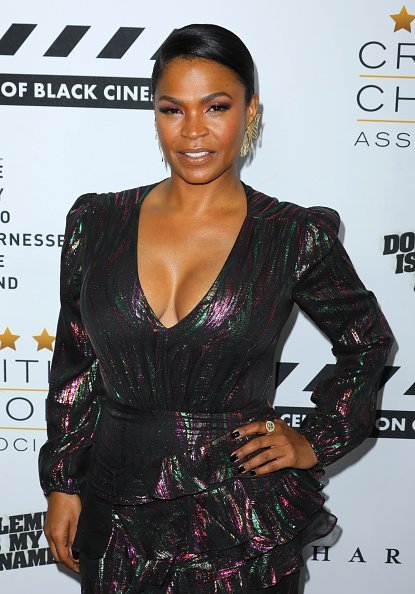 Wearing a broad smile, the adorable boy cuddles up dearly to the cute little puppy. In her caption, the "In Too Deep" actress shared that the name of her new pup is Brooklyn. 
Earlier this year, in March, the mother of two graced the red carpet of the "Nickelodeon Kids Choice Award," and her two boys accompanied her.
She also revealed that her new addition shares the same astrology signs as her as the bulldog was born on Halloween in October. In another Instagram post, the actress shared a selfie with her son and Brooklyn. 
In it, Nia is seen wearing a broad smile alongside her look-alike son and her new pup. The actress took to the caption to relay her love for Brooklyn. She wrote:
"We love you, baby Brooklyn. Thank you, @pitfallkennels."
Last month, the actress and her beau Ime Udoka threw a "Stranger Things" themed birthday party for her look-alike son. In attendance was Nia's older son Massai Dorsey.
Nineteen-year-old Massai surprised his brother on his big day. The college student traveled from Eastern Kentucky University to celebrate his younger brother's birthday. 
The blended family of four wore "Stranger Things" themed shirts as they struck a pose with the celebrant. Friends and family of the couple joined in to celebrate the youngster's birthday, including Nia's close friend and musician Estelle.
The "Made In America" star gave birth to her second son eight years ago in 2011. The celebrity mom welcomed her bundle of joy one year after she started dating former NBA basketball player Ime Udoka.
Nia and her beau took their relationship a notch higher when the former professional basketball player went down on one knee in 2015. 
Nia is a mother of two sons, Massai Dorsey Jr. and Kev Udoka. She shares her first son with ex-fiancé Massai Dorsey Sr. and her second with her current fiancé.
The actress's first son made it to college this year. The proud mom took to Instagram to congratulate him and relay her thanks to the boy's father for regularly attending his high school games. 
Earlier this year, in March, the mother of two graced the red carpet of the "Nickelodeon Kids Choice Award," and her two boys accompanied her.
The forty-nine-year-old actress asides acting and being a super mom contributes her time to the Sterling Children's Home in Barbados, as a motivational speaker.