Don Johnsons' Beautiful Daughter Grace Stuns in New Photo on Her 20th Birthday
American actor Don Johnson's daughter, Grace, celebrated her birthday, and her proud mother, Kelley Johnson, took to Instagram to give her baby girl a shout out.
Clocking a new age is always a huge feat, and this was evident when proud mom, Kelley Johnson, shared two lovely images on social media to celebrate her beautiful daughter.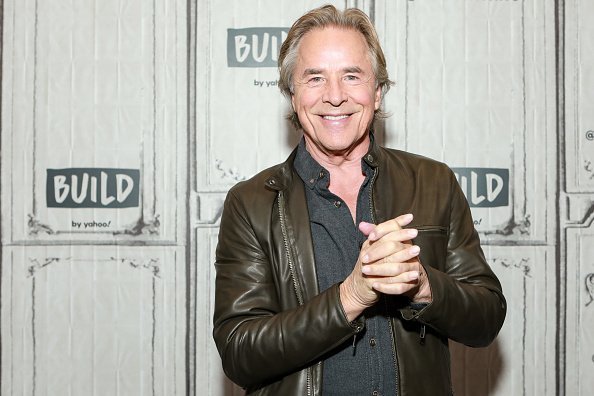 The first image was a selfie of Grace and her adorable parents. Don and his wife could be seen smiling broadly into the camera as Grace took the picture. 
The second photo showed a calm Grace with her eyes closed in a posture that looked like she was at peace with her environment. Kelley captioned the post,
"Happy 20th Birthday Atterton Grace !?❤️ you are our Dream come true!"
Many of Kelley's fans were thrilled and helped her wish Grace a happy birthday. Some were however swift to mention how much Grace has grown in the past few years with one fan writing,
"She grew up so fast."
Don Johnson is a proud father of five, and although he usually has his hands full thanks to his acting career, he is never one to shy away from spending quality time with his kids. 
Don Johnson had his first child, son Jesse Johnson with actress Patti D'Arbanville. Jesse was born few days after Don's first divorce with actress Melanie Griffith was finalized. 
The divorce, however, didn't last for long as Griffith and Don remarried a few years later, and soon after, the couple welcomed their daughter, Dakota Johnson. 
Dakota, who has grown to become a fine actress herself, wasn't the last of the Johnson brood and soon had younger siblings courtesy of her father. 
In 1999, Don married Kelley Phleger. Soon after they tied the knot, the lovebirds welcomed their daughter, Grace Johnson. Not long after the birthed another child, son, Jasper Johnson in 2002 and in 2006, birthed Deacon Johnson. 
However, Don is a dedicated father, and this was confirmed by a close friend of the family during an interview with Closerweekly. According to the friend, 
"He's trying to make up for lost time with his two older children even though they share a super close relationship. He's a doting, involved dad with the younger three, and nothing makes him happier than when his whole brood is together."
Not only is he an amazing dad, but Don has also done his best to stay grounded even with the glamor of Hollywood. During an interview with The Mirror, Don stated that,
"I never drank or did drugs while I was working. But, brother, when they said 'wrap' I would try to set the land speed record. I knew how to party too."
However wild he was in his early years, Don is happy to be over that phase and ready to embrace the world of fatherhood.