Slick Woods Shares Video of Recovery after Cancer Diagnosis and Undergoing Chemotherapy
Celebrities pour in their support for Fenty model Slick Woods after she gave an update of her battle with cancer and shared a picture of herself in a wheelchair.
Several months after revealing to the public that she would be undergoing chemotherapy, Fenty supermodel, Slick Woods gave her fans an update on her health, in a caption she revealed:
"Legs numb left hand still numb I hate this [expletive] and the London gave me a wheelchair."
It is reported, Slick was diagnosed with stage 3 melanoma cancer and is undergoing chemotherapy to prevent the disease from spreading further in her body.
Her health update had many of her famous friends pouring in with messages of support. "Empire" star Taraji P Henson gave her a special shout out with a series of emoji's of a muscle arm, prayer hands and kisses.

Slick's notoriety as a model, not only comes from her signature bald look, and gap teeth. Her success as a model had her working with many designers, and has walked runways for Jeremy Scott, Marc Jacobs, Mui Mui, and Fenty beauty.
During Rihanna's Fenty runway in 2018. She made headlines when she was rushed to the hospital after going into labor soon after her exit from the runway.
Slick who is now starring in the reality show "Love and Hip Hop Hollywood" with her boyfriend, Micky Munday admitted in interviews that she didn't realize that she was pregnant until she was well into her third trimester.
Rapper and "Love and Hip Hop" alum, Cardi B expressed her love for the model and shared her excitement in receiving a pair of Uggs Slick is currently endorsing.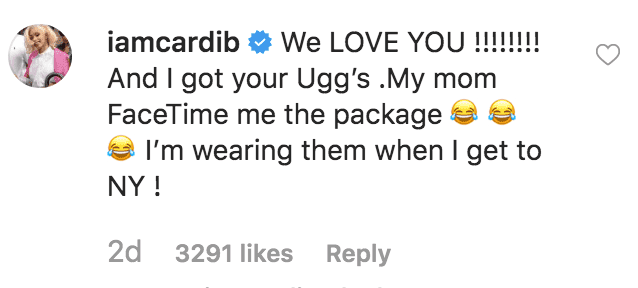 According to Daily Mail, Slick has not slowed down since her cancer diagnosis. As part of her latest campaign with UGG, in October, she was honored by the brand at an event in Hollywood.
Returning to the runway since giving birth to her son, Saphir, after the Fenty show in 2018, her first show back in September was at LaQuan Smith's 2019 New York Fashion Week Show.
Slick is also adding to her plate and venturing into a new career with her acting debut in the coming-of-age drama titled "Goldie".
In several posts about her health, she urged her fans not to treat her like a victim about her health and even joked about her chemotherapy in a caption that said: "at least I'm already bold."