Jessa Duggar Gave 'Counting On' Fans an Update on 2-Year-Old Son Henry's Struggles with Speech Delay
Two months after Jessa Duggar Seewald revealed to "Counting On" viewers that her 2-year-old son Henry struggled with speech delay, the reality star shared an update regarding the tot's progress.
On Tuesday, the 27-year-old "Counting On" star shared a picture of husband Ben with their two sons Henry and Spurgeon happily sporting matching outfits.
"As my dad would say, 'These are the best days of our lives, and we don't even know it,'" Jessa captioned the sweet snap. However, its when a fan asked about Henry's developmental progress in reply to the adorable picture, that Jessa shared the news: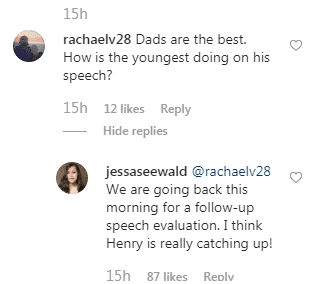 Early in November 2019, Jessa shared that she and Ben realized Henry wasn't "communicating like his older brother, or like other kids his age," around the age of 18 months, and they decided to have an ear, nose, and throat doctor check him out.
Up until that point, Henry mainly used grunts and verbal gestures to communicate. Because Henry had a "really bad tongue-tie," which got clipped after his birth, Ben and Jessa wanted to have him evaluated.
The tot's doctor confirmed that tests showed no damage to his hearing, with the delayed speech reportedly the only issue. Even so, it wasn't easy to hear the news as Jessa said at the time: 
"I feel like especially as a mom, it's easier for me to kind of stress out, like, 'Oh no, he's delayed. What's wrong with him?' And Ben is a little more level-headed, like, 'It'll be okay, we'll figure it out.'"
The doctor said that between the ages of 2 and 3 is crucial to the development of a child's speech, and having identified the issue, Jessa planned on "jump-starting" the developmental speech process.
Overall, Henry's development is on par for his age, and he was referred to a speech pathologist to help with the delayed speech. 
Apart from 2-year-old Henry, Jessa and Ben also have a 4-year-old son Spurgeon, and a 7-month old daughter Ivy who's birth didn't go according to plan.
The couple welcomed Ivy in May last year, and while Jessa planned on a hospital birth with a midwife present, she went into labor ten days early with her midwife out of town. After locating another midwife, Jessa ended up delivering Ivy at home, right on the family couch.
Henry might not be babbling just yet, but through his actions, it's clear how much he adores his baby sister. Late last year, Jessa Duggar shared adorable pictures of Henry holding his little sister on the sofa.
The two pictures showed Ivy snugly resting against her brother as they both smiled sweetly for the camera enjoying quality time together.