Jaleel White of 'Family Matters' Fame Shows off His Abs While Posing on a Boat in Recent Photo
Jaleel White shows off his ripped abs in a new Instagram post.
Actor Jaleel White has come a long way since he played nerdy and scrawny Steve Urkel in the 90s hit comedy "Family Matters." 
The once geeky teen is now a handsome, and well-built man and he's not afraid to show it.
Jaleel's portrayal of the irritating geek was so monumental that it has acquired a cult following
STEVE URKEL HAS WASHBOARD ABS
Never in a million years would fans of the hit comedy "Family Matters" have imagined nerdy Steve Urkel sporting washboard abs...
But the once scrawny, gangly teen has grown into a handsome man, with a ripped bod and a well-defined six-pack, as he proved in an Instagram post.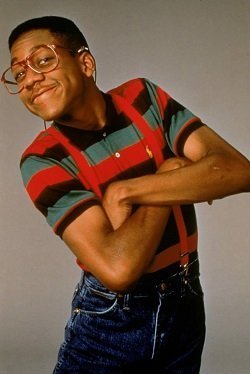 JALEEL WHITE HAS COME A LONG WAY
It has been over 25 years since Jaleel became a household name for his hilarious performance as Steve, and the funny-looking kid has become a handsome man and the father of a gorgeous look-alike daughter.
JALEEL WHITE IS CULT FIGURE
Jaleel's portrayal of the irritating geek was so monumental that it has acquired a cult following, with Steve Urkel being recreated in pieces of folk art, toys, and animated movies. 
In fact, it is in a great measure due to Jaleel that "Family Matters," which dominated ratings for 10 years, is one of the 22 shows in TV history to reach 200 episodes.
Jaleel may always be remembered as Steve, but the hunky actor has left the geeky, scrawny, hilariously unsexy character far behind...
JALEEL WHITE WAS ALMOST IN THE COSBY SHOW
When Jaleel White was 8, he was asked to audition for a part in "The Cosby Show." He was to be Rudy - a character originally meant to be a boy.
At the last minute, tiny Keshia Knight Pulliam walked in and "stole" the part right from under his nose.
Jaleel would go on to be just as famous as Steve Urkel, and even co-starred with Michelle Thomas, who also worked on "The Cosby Show" as Theo Huxtable/ Malcolm-Jamal Warner's girlfriend.
Sadly, Michelle Thomas would die tragically at the age of 30 from stomach cancer.