Kim Kardashian West from KUWTK Shares Adorable Photo of Son Psalm Bonding with Cousin Stormi Webster
Kim Kardashian's youngest son Psalm was entranced by his cousin in an adorable photo shared by the reality star on Sunday. Both of them are too cute. 
Much like her fans, Kim Kardashian West can't get over the sweetness of the little people in her life. The 39-year-old has four kids with husband, Kanye West. 
North West, six, Saint West, four, Chicago West, one, and Psalm West, eight months, are all little angels. They're lucky enough to have tons of little cousins to play with.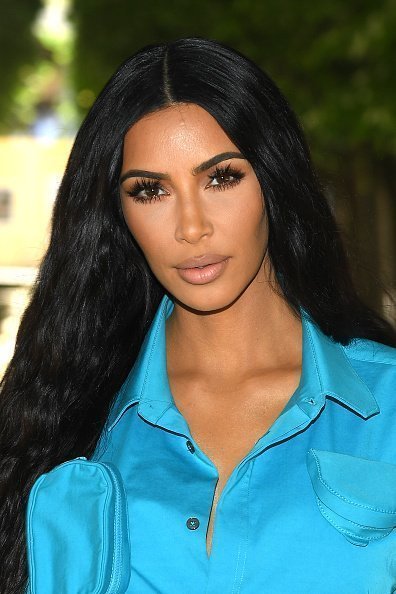 Cousins Stormi and Psalm 
Stormi Webster, Kylie Jenner's one-year-old daughter, had a playdate with baby Psalm that resulted in the cute photo Kim shared. In it, the little girl had her face near Psalm as if for a kiss. 
Jenner shares her gorgeous daughter with ex-boyfriend and rapper Travis Scott. The pair are rumored to have ended their relationship late last year but remain co-parents to Stormi. 
The baby boy stared straight at his cousin as he sat wearing maroon clothing. Stormi, who wore a white linen outfit, leaned a hand across Psalm, her little bracelet dangling on her wrist. 
Flashback of Saint & Psalm
"My sweet Stormi and Psalm," wrote Kim in the comments. The doting mother loves sharing pictures of the little ones on her popular social media platform. 
On Saturday, she posted a flashback of her son Saint sitting next to her while she held onto baby Psalm and pouted her mouth for a selfie. The curly-haired boy put up a peace sign for the camera. 
The beauty mogul wore a black bra piece that showed off her cleavage and very little stomach. She wore her striking black hair in a half-updo style. 
Saint wants a picture
Last summer, Saint again spent time with his baby brother in another heartwarming shot the "Keeping Up With the Kardashian" star shared via Instagram.
In her caption, Kim revealed that it was Saint's idea to take the snap, which has now amassed over four million likes from fans of the celebrity family. 
The best of brothers
The actual shot showed the two boys laying in bed. Saint wore blue pajamas patterned with black moons and scars all over it. His curly hair was again let loose. 
As for Psalm, the tiny tot was swathed in white cloth. His brother's arm rested over him, and both boys were looking into the camera. The picture was the definition of brotherly love.