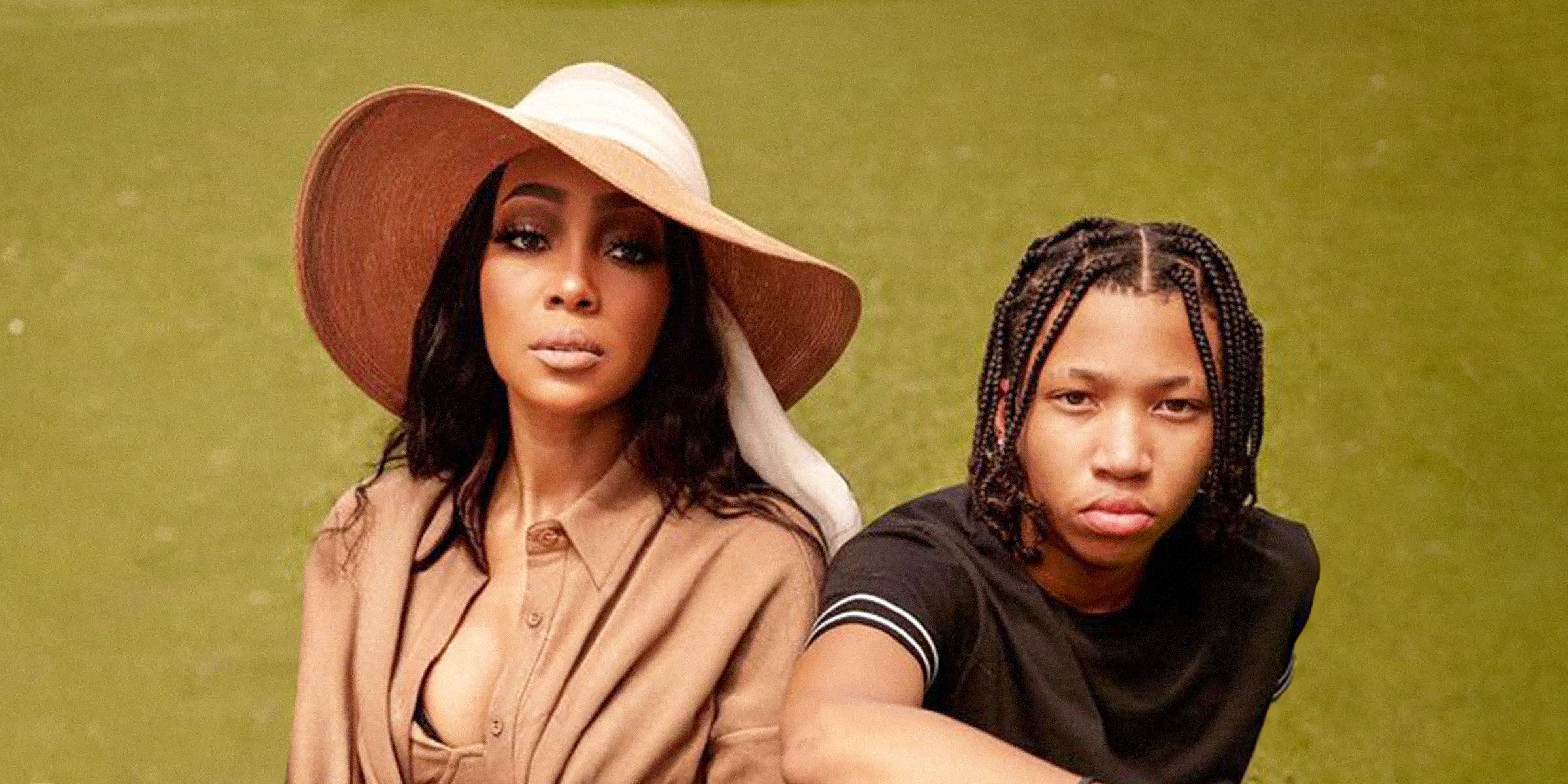 Monica and Romelo Montez Hill | Source: Instagram/monicadenise
Romelo Montez Hill Is Monica's Son Who Loves to Play Basketball
The chart-topping pop and R&B artist Monica has three children, two boys and a girl. One of her sons, Romelo Montez Hill, is maturing into a fine basketball player.
Romelo was born in January 2008. He is the second son of Monica and her ex-fiancé, rapper Rodney Ramone Hill Jr., also known by his stage name, "Rocko." His older brother, Rodney, was born almost three years earlier, but they look nearly the same age. They also have a younger sister from their mother's marriage.
Despite Romelo being young, he has already developed some beautiful skills on the court and looks to have a bright future in the sport. He is also pretty popular, with an impressive Instagram following even for some seasoned public figures.
Romelo Is All Grown up Already
Pictures of the mother and her sons clearly show that Monica's boys look like warriors ready to defend their queen mother. Despite the almost three years age difference between Romelo and Rodney, the brothers look virtually the same, as Romelo has already caught up to his older brother physique-wise.
Another thing the boys have in common is that they spend a lot of time with their mother, who seems to cherish every moment with them. From her social media posts, it is clear to see Monica's love for her children. In one of her Instagram posts about them, she shared pictures of the brothers with their sister and a caption:
"YOUNG LEGENDS ...Taking them places, showing them things & exposing them to life outside of what we see [brings] them joy! You will see levels of greatness because they are all chosen! The most high will keep them & I will support them ! 4 EVER"
Romelo and his siblings travel to many places with their mother, including to Romelo's basketball games. He seems to have an excellent talent for the game and looks like he could go far with the sport. His mother describes him as a hard worker and exceptional.
Romelo Montez Hill's Dad Is a Rapper
Monica has been married once, but it was not to Romelo's father, who she dated in the early 2000s. The couple almost married but ended their on-and-off relationship before they tied the knot. However, in the nearly-a-decade they were together, they welcomed two children, Rodney in May 2005 and Romelo.
A few months after his parents' separation, Romelo's mother began dating basketball star Shannon Brown in 2010. The pair married later that year in a secret ceremony held in Los Angeles. They followed that with a second wedding some months later, with family and friends in attendance.
Romelo got sibling number two from his mother's side on September 3, 2013, when Monica gave birth to a baby girl, Laiyah Shannon. Unfortunately, the couple divorced in March 2019; a single mother has raised Romelo and his siblings since then.
Romelo Calls Himself an Athlete
Romelo documents his many activities on Instagram, including his basketball activities. In his account description, he describes himself as an athlete and backs that with many videos and photos of him doing his business on the court.
Despite his young age, he already possesses exceptional skills and strength and, perhaps in anticipation of more incredible things to come, already boasts many Instagram followers. That number stands at over 118k, and some stellar names can be spotted in the comments section, including his mother's famous cousin, Ludacris.
However, it's not entirely clear which team Romelo plays for; his jersey has Celtics written on the front. Still, as he is still of high school age, he probably participates in his high school's basketball team.
Although basketball seems to be his primary sport, there are also snaps of him participating in other sports, such as football and track and field. Although the posts for those other extracurricular activities are very few, especially compared to the basketball ones, Romelo looks like a well-talented multi-sport athlete.
Please fill in your e-mail so we can share with you our top stories!