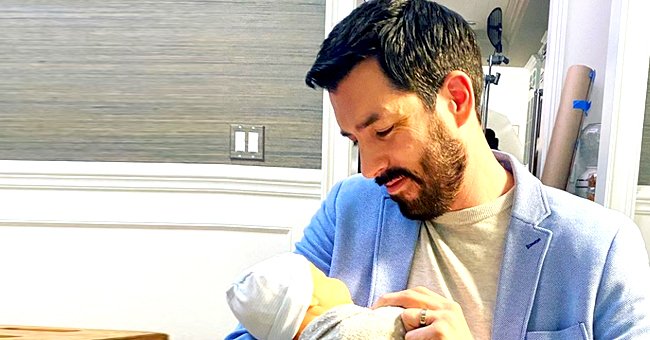 instagram.com/mrdrewscott
Drew Scott from 'Property Brothers' Teases Fans with Photo of Himself Cradling a Baby Doll
Drew Scott is having a head start on the "dad" role. The "Property Brothers" star shared a picture of himself nursing a baby doll on set, and fans think it's a hint that a mini-Scott is on the way.
"Property Brothers" star, Drew Scott took to Instagram to tease fans with a photo of himself practicing fatherhood on set, looking natural in the father-baby pose.
Fans of the 41-year-old took the hint, congratulating him for a supposed new baby on the way, while others lauded him for being a natural at the father role.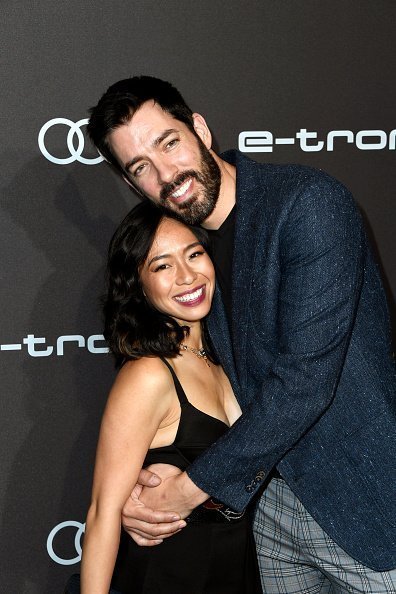 Linda Phan and Drew Scott at Sunset Tower on September 19, 2019 in Los Angeles, California. | Photo: Getty Images
The post featured the reality star, seated on a chair while cradling a supposed baby wrapped in a blanket and smiling down affectionately at the delicate bundle. His caption read:
The practicing father looked the part, in denim pants and blue jacket, winning him the thumbs up from fans.
FANS GAVE DREW THE GO-AHEAD
Fans took to the comment section to confirm if, indeed, the post meant Drew was an expectant father. One teased the icon saying, "Family renovation project?" while another questioned him about the prospective baby's gender.
Since the revelation, Drew's fans have been left looking out for the expected Linda's baby bump.
Another fan was more direct, asking Scott if there was something he wanted fans to know. The fan wrote, "Are you giving us a hint?" One fan concluded that the 41-year-old would be an amazing dad while congratulating him.
DREW SCOTT VALUES PARENTHOOD
Drew has been known to acknowledge his successes to his parents and hopes that he makes such impacts on his kids someday. He once revealed:
"Everything We've achieved in life is because of our mom, and our dad and everything they did for us as kids."
Like his parents, the television icon plans on becoming a great parent, a feat he has been working on for months, with his wife of almost two years.
SCOTT PLANS ON HAVING BABIES SOON
The direct implication drew fans' attention, as the subject was soon directed to the real estate mogul's comment, leaving fans excited for the twin.
Since the revelation, Drew's fans have been left looking out for the expected Linda's baby bump in a bid to share the couple's joy. And the wait continues!
Please fill in your e-mail so we can share with you our top stories!