Drew Scott from 'Property Brothers' Posts Photos from Date Night with His Wife Linda Phan at the 2020 SAG Awards
Drew Scott, the co-host of television series, "Property Brothers," attended the 2020 Screen Actors Guild Awards with his wife, Linda Phan, and shared photos of their incredible night. 
In a post on Instagram, the actor shared the photos of himself and Linda. The first picture showed Drew and Linda as they posed together for a quick snap, smiling and holding each other. 
Drew wore a dark blue suit jacket, which he paired with a light blue buttoned-up shirt and black bow tie. He also wore dark grey pants and held a cup on his left hand.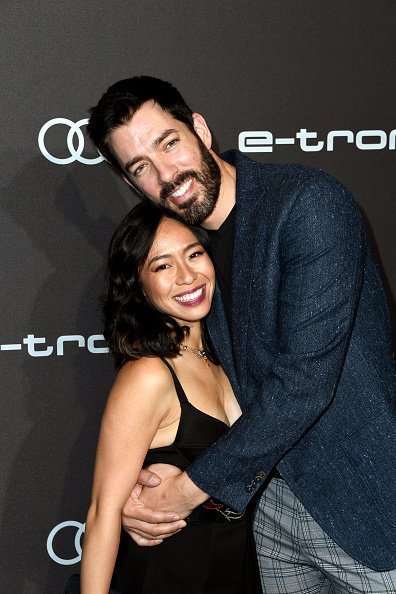 Linda, on the other hand, wore a beautiful black dress, which featured a cutout at the top, as well as a purple detail on the left sleeve. She didn't wear any accessories on her neck. 
The second photo showed the couple, now back home, resting on a black sofa, with Linda lying on her husband's lap, while Drew tried his hands on a puzzle scattered on a glass table. In his caption to the post, the actor wrote:
"Every #sagawards has a beginning and an end[emojis]."
Drew Scott and Linda Phan got married in 2018. The couple does not have kids yet, but that status could change sooner than later, given a comment the actor made on Joanna Gaine's Instagram post last year.
Joanna, who is Drew's fellow HGTV star, shared a cute photo of her then 6-month-old son, Crew, who she gave birth to in June 2018. The picture showed that the baby had outgrown his onesie. 
The show follows the brothers as they help in turning the dreams of prospective real estate owners into a beautiful reality
Joanna took note of that in her caption, where she wrote that it was time for her baby's next size up. Drew Scott, in his comment, implied that he and Linda would have kids soon. He said:
"We'll be having kids soon so I'll hit you up for hand me downs [emojis]."
Fans who saw Drew's comment became excited for him and expressed that they were looking forward to seeing Linda with a baby bump. 
Drew Scott and his twin brother, Jonathan, co-host their HGTV show, "Property Brothers," and they are arguably everyone's favorite twins on television. 
The show follows the brothers as they help in turning the dreams of prospective real estate owners into a beautiful reality. The success of the show and countless others ensured that the brothers rank among the highest-earning HGTV stars. 
Drew and Jonathan were born in Vancouver, Canada, on April 28, 1978. Their parents are Jim and Joanne Scott. The twins, who have an older brother named James Daniel (JD), are also of Scottish origin.