Blake Shelton & Gwen Stefani Perform New Song 'Nobody but You' at 2020 Grammys and Fans Have Mixed Reactions
Blake Shelton and Gwen Stefani made their relationship Grammy performance official when they took to the stage together for the first time on Sunday night. For some fans, it wasn't all they expected. 
Among the many incredible solos and collaborative performances at the Grammy Awards on Sunday, Blake Shelton and Gwen Stefani were the only real couple to do a duet on stage. 
Shelton, 43, and Stefani, 50, performed their song, "Nobody But You," which is featured on Shelton's latest album, "Fully Loaded: God's Country." The clip is found below.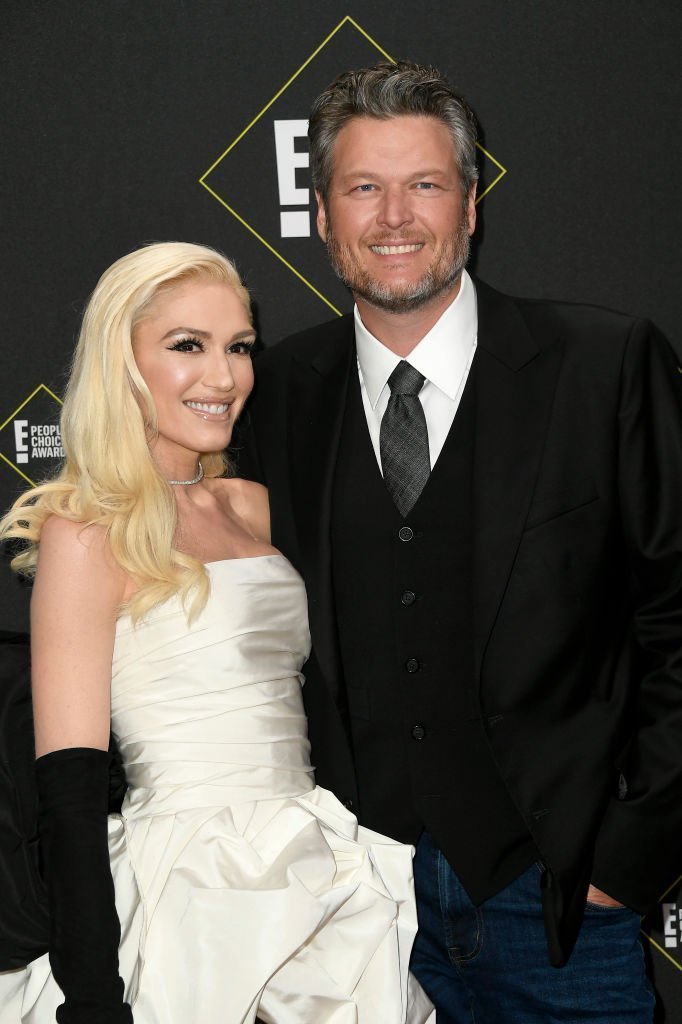 Blake and Gwen perform
For her part, Stefani wore a gorgeous flowing white gown complete with red and green jewel decor and a matching crown. Shelton looked smart in a classic black tux with a long tie. 
The "Hell Right" singer opened the performance with his usual mic and guitar look. Later on, Stefani joined him, and the pair gave the star-studded audience a passionate delivery.
Shells like in "Shelton"
Before stepping out on stage at the Staples Center, Shelton and Stefani gushed about each other on the red carpet. There, Stefani also showed off a white tube dress with matching high boots. 
The "Hollaback" singer claimed that her dress, which was covered in seashells, was inspired by her boyfriend's last name. The pair also spoke about the origin of their romantic song.
Viewers' negative reactions
Unfortunately, following their performance, the pair received a lot more hate than one might expect for a song that's all about love. Criticism ranged from their voices to their chemistry. 
Gwen if you not spelling "bananas" then we don't want to hear it #GRAMMYs pic.twitter.com/0Mcv0Bs14L

— Ricky Spanish (@hoodopulence) January 27, 2020
Of course, a lot of memes were involved as people expressed how they felt. Many of them showed stars — and even muppets — displayed blank faces showing they were unimpressed. 
me waiting for this Blake/Gwen duet to end #GRAMMYs pic.twitter.com/jNnSjoLBuH

— A.J. | he/him/his (@ajhisnandez) January 27, 2020
A wide spectrum of feedback
Some people went further than that, noting that they just wanted it to end. For others, it was deeper. The couple just didn't appear to have enough chemistry between them. 
Some viewers took a more neutral, glass-half-full stance. Twitter user Jessica Blankenship could appreciate the fact that the couple is just happy, and that's all that matters.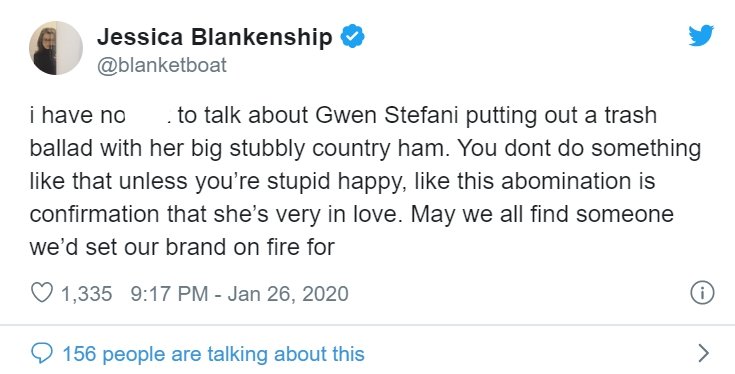 Thankfully, some enjoyed the performance, even wanting to cry thanks to the genuine emotion of the duet. They might have cried sometime before that, too. 
In another interview on the red carpet, Stefani reportedly gave credit to her beau for saving her "entire" life. She then poured more praise onto her boyfriend in a sweet display. 
Gwen and Blake's faces and the hand holding I just 😭🥺 pic.twitter.com/XTH10LhfRk

— OklahomaWeather (@forthegwen) January 27, 2020
Hinting at future marriage 
Shelton and Stefani's video for "Nobody But You" was released last month via YouTube and a few other streaming services. Since then, it's prompted a lot of marriage ideas among fans. 
With lyrics like, "I don't wanna look back in thirty years and wonder who you're married to," it's hard not to see the pair tying the knot. We hope Stefani's Grammy white dress was a preview of things to come.