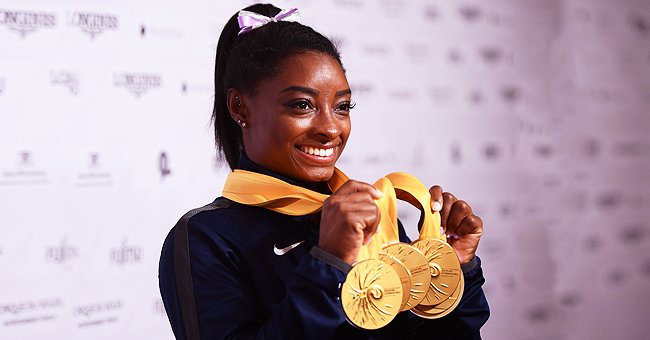 Getty Images
Simone Biles Says She's Interested in Joining Navarro Cheerleading Squad After Watching Netfix Series 'Cheer'
Award-winning American gymnast, Simone Biles, has caught the bug of the Netflix documentary series, "Cheer," and said she wants to join the Navarro Squad.
Americans have been swept away by the fever of cheerleading brought about by Netflix's documentary series, "Cheer." Simone Biles was left impressed by one cheerleading team in particular, and tweeted:
"Netflix series CHEER had me convinced after 2020 I'm trying out for Navarro Cheer."
Simone would be competing for gold at the Summer Olympics in Tokyo later this year, but she may have her wish granted if Netflix's reply to her tweet is anything to acknowledge. The response read:
"I showed this tweet to @monicaaldama, @Lexi_Brumback, @Jerry_K2TR, @MorganSimianer, @GabiButlerCheer, @L_Marshall17 today and they said, YOU'RE IN!"
Navarro Cheer coach, Monica Aldama, also replied to Simone's tweet and welcomed her to the team. It wasn't only Netflix and the Navarro Cheer team that were pleased, as many fans were also delighted.
"Cheer" is a six-episode Netflix documentary series that features one of America's leading cheerleading teams. The show is filled with emotions and shows the athletic ability of the cheerleaders.
Two episodes in, and JJ Watt is now obsessed with the show proclaiming that Jerry Harris was the heart and soul of Navarro College.
Some of these abilities include flipping and flying, which Simone Biles is very much capable of doing, given her skills in gymnastics.
The Olympic and world gymnastics champion is not the only celebrity caught in the Navarro Cheer fever, though, as others like Reese Witherspoon, Lena Dunham, and JJ Watt have also tweeted about it. Reese's tweet read:
"...I started to think about all the female coaches who we never see in movies or TV that are changing kids lives. And I cried again!"
In her tweet, Lena Dunham said that she is a Lexi with La'Darius moon and Gabi Butler rising, before going on to ask her followers about their opinion.
NFL player JJ Watt, in his tweet, created a dialogue between himself and Kealia, with Kealia telling him that they should watch Cheer on Netflix because it was a good show.
Watt, in his reply, said that they could give it a shot. Two episodes in, and JJ Watt is now obsessed with the show proclaiming that Jerry Harris was the heart and soul of Navarro College.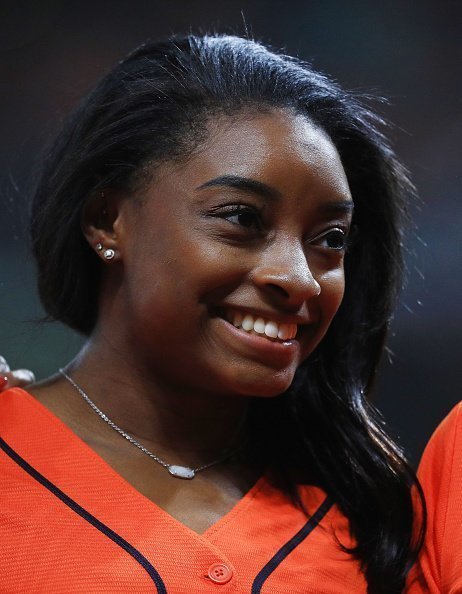 imone Biles at the 2019 World Series between the Houston Astros and the Washington Nationals on October 23, 2019 | Photo: Getty Images
Watt also added that if Jerry Harris didn't make the mat, he would riot. Those behind "Cheer" should ensure Watt gets his wish to avoid any rioting.
"Cheer" fans would be waiting to see if Simone joins the Navarro Cheer crew. For now, her goal would be to do very well at the Summer Olympics and come home with gold.
Please fill in your e-mail so we can share with you our top stories!