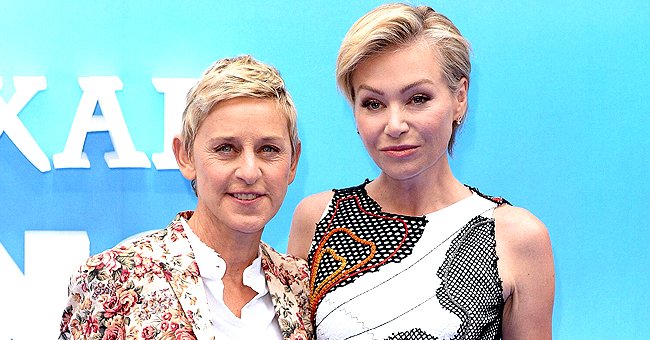 Getty Images
Ellen DeGeneres Debuts Alexa Super Bowl Commercial Shot with Wife Portia de Rossi on Her Talk Show

Ellen DeGeneres and her wife Portia de Rossi teamed up for Amazon Alexa's Super Bowl 2020 commercial, and the result is nothing less than hilarious.
Because Ellen has the "power," she debuted the new Amazon Alexa commercial set to air in full on Sunday, during her show yesterday.
LIFE WITHOUT ALEXA
With funny commercial began with Portia and Ellen leaving the house together, and Ellen telling Alexa to turn the thermostat down.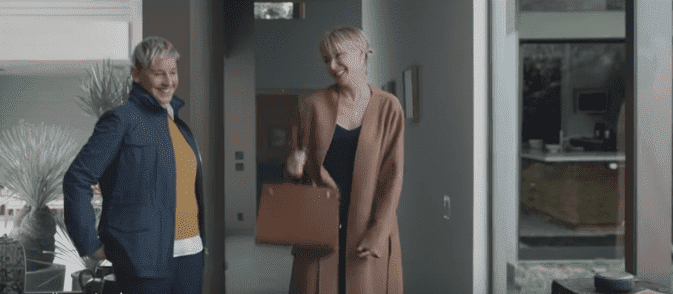 Ellen DeGeneres and Portia de Rossi in the 2020 Super Bowl commercial for Amazon Alexa. | Source: YouTube/ TheEllenShow
After giving Alexa the instruction, Ellen found herself wondering what people did before the arrival of artificial intelligence. With this in mind, the scene cuts to a stately dressed woman embroidering.
The woman asks her maid named Alessa to turn down the temperature by two degrees, and promptly, the maid obliged by taking flaming logs out of the fireplace and hurling them out the window.
In another scene, an Old West rider and a man on a wagon asked their passenger named Al to play his favorite song. After Al blew some notes into a jug, the man demanded another song.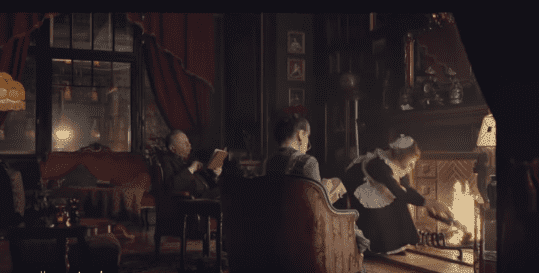 A scene during Amazon Alexa's 2020 Super Bowl commerical. | Source: YouTube/ TheEllenShow.
The humor continued as a queen asked her court jester Alexine to tell a joke. Unable to come up with one, Alexine laughed and said, " You'd think I'd know loads, look at me."
When a president of the United States asked his assistant Alesha to remind him to "delete those tapes," she politely agreed before telling the camera that she "ain't deleting" anything.
And so, the commercial cut back to the present as Ellen and Portia got into their car. "I don't know what people did before Alexa," Portia said to Ellen, who then asked the artificial intelligence to play her favorite song.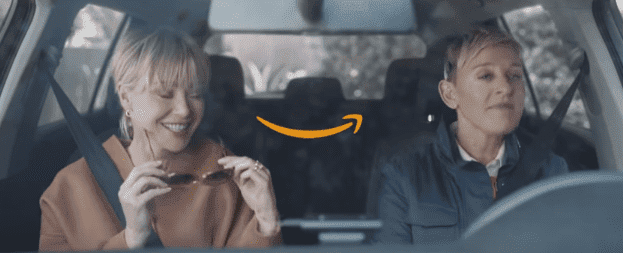 Ellen DeGeneres and Portia de Rossi in Amazon Alexa's 2020 Super Bowl commercial. | Source: YouTube/TheEllenShow.
Usher's "Yeah" roared to life through the car speakers, which comically resembled the tune Al played during the Old West rider scene.
Other major brands, including Porche, Hyundai, Doritos, and Snickers, released their Super Bowl commercials ahead of the big day on Sunday.
HYUNDAI'S MEMORABLE AD
The Korean automaker used a brilliant way to get the new Sonata's remote smart-parking feature stuck in the consumers' minds with their 2020 Super Bowl commercial.
Starring John Krasinksi and Chris Evans, among others, the actors put on their best Boston accents to show off the car's "Smaht Pahk" feature in the comical ad.
THE DORITOS DUEL
Doritos took a walk on the wild side with their Western-themed commercial. During the country-rap hit "Old Town Road," actor Sam Elliott and Lil Nas X, and Billy Ray Cyrus engage in a dance battle.
With their price being a bag of Cool Ranch-flavored chips, the three celebrities busted out their best and funniest moves.
THE SECRET'S OUT
The Amazon Alexa commercial is not the first one Ellen DeGeneres debuted on her show this year. On Monday's episode of "The Ellen DeGeneres Show," the 62-year old host shared Secret's new 2020 Super Bowl ad that aims at kicking inequality.
With the spotlight on equal opportunities for male and female athletes, the antiperspirant brand enlisted the help of US women's soccer stars Crystal Dunn and Carli Lloyd for a kicker commercial.
Please fill in your e-mail so we can share with you our top stories!